Adobe
How to Add Fonts to Adobe InDesign
Adobe InDesign is a helpful and useful program in graphic design, and details matter just as much as the content. Fonts play an important role in content messaging, and knowing how to add them will contribute to the overall look and style of your InDesign projects.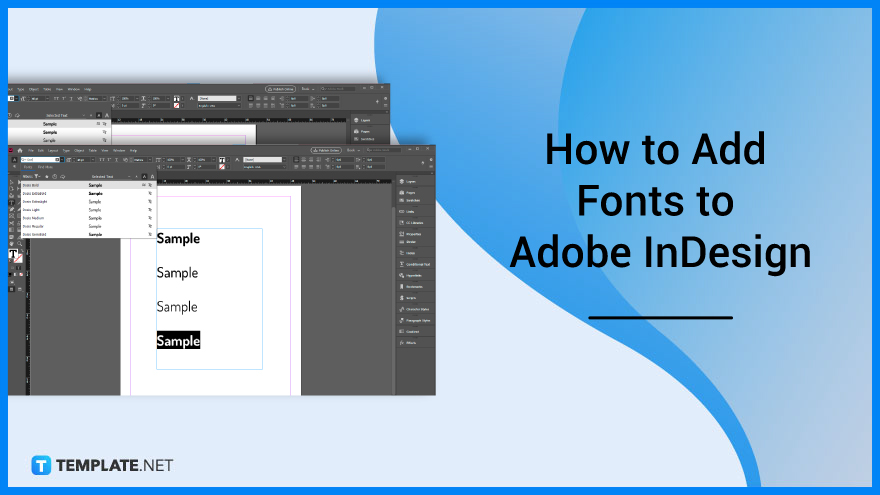 Download the Free How to Add Fonts to Adobe InDesign in PDF

Download
How to Add Fonts to Adobe InDesign
Using the right font for the design is defining factor, and knowing how to add fonts to maximize more creative typography to Adobe InDesign is another. Below is a step-by-step process to know how to add fonts.
Step 1: Install Fonts

Adobe InDesign is equipped with various fonts that work well with certain design niches, however, other designs need a specific kind and style of font that might not be in the built-in fonts. Instead, look for your preferred fonts online, and install and download them to get started.

Step 2: Unzip the File

Usually, the installed font comes in a zip file, make sure to locate the file, unzip and access the individual files accordingly.

Step 3: Save the Font File

Save the font file/s to your computer, then go to Control Panel then proceed to Appearance and Personalization, then Fonts, and select Filet then Install New Font to open the Add Fonts window.

Step 4: Locate Font to Install

Locate the font you wish to install and then click Install.

Step 5: Open Adobe InDesign

After steps 1 to 4, open Adobe InDesign to confirm that the installed font is available in your fonts options. If not, restart your computer and repeat the abovementioned steps.
FAQs
What are examples of built-in InDesign fonts?
Adobe InDesign is equipped with a variety of font options including active Adobe fonts such as Acier Bat Text Gris, Aglet Slab, and Adobe Clean, and some favorites like Calibri, Cambria, and Century Gothic, and all classes fonts like Monaco, and Optima.
Why is InDesign not recognizing fonts?
All of your fonts must be activated on InDesign to be recognized.
What file format is Adobe InDesign?
Adobe InDesign utilizes INDD file format.
What does INDD stand for?
INDD stands for InDesign Document, the default file type for Adobe InDesign.
Where is Adobe InDesign used?
Adobe InDesign is used for layout and page design needs.
How do I get more fonts in InDesign?
To get more fonts for InDesign, you can install more fonts using paid and free third-party applications.
Who uses Adobe InDesign?
Adobe InDesign is commonly used by graphic designers, marketers, publishers, and journalists.
What file formats does Adobe InDesign support?
Adobe InDesign supports various graphics and image formats like TIFF, GIF, JPG/JPEG, BMP, and EPS.
What is the benefit of using Adobe InDesign built-in fonts?
For once, you will have an efficient design process because you will cut the added hassle of installing and adding other fonts.
How to view the fonts in Adobe InDesign?
To view the fonts in Adobe InDesign, Go to the Character panel or simply click Ctrl + T on your keyboard and then the Font Family drop-down.
How do I see all fonts in InDesign?
To see all fonts in Adobe InDesign, you may open the dialog box then choose Type then proceed to Find Font.