Agency Templates
10+ Agency ID Card in MS Word | Pages | Publisher | Illustrator | InDesign | Photoshop
An agency ID card is a specific type of identification card that is used for most corporate offices, pro-profit or non-profit organizations, academic institutions, and business establishments. The importance and the benefits and uses of ID cards may vary from one company to the other. While it can be used to improve customer responses like that of medical ID cards, it may also help in ensuring safety and security on school campuses. If you're on the hunt for agency employee ID cards to edit and customize, the list of agency ID card templates below could be helpful for you.
Table of Content
10+ Editable Agency ID Card – MS Word, Pages, Publisher, Illustrator, InDesign, Photoshop
1. Sample Advertising Agency ID Card
When we talk about an advertising agency, we are often referred back to the terms "creative agency or ad agency." This agency is responsible for and dedicated to planning, handling, and creating advertisements. Build a team as you utilize this Sample Advertising Agency ID Card template. Promote and market products, services, and ideas with people whom you can fully trust. In doing so, secure and download the template today.
2. Travel Agency ID Card
Get to create Travel Agency ID Card and easily identify people whom you work with, in the office. This template is perfect to help you make a team or two in promoting business travel tours, promos, and discounts. The template is made available in 2×3.5 inches with bleed. Don't miss the chance to download this now!
3. Creative Agency ID Card Template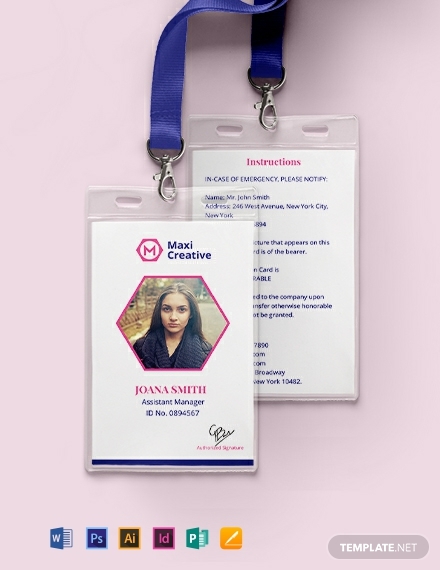 Creative agencies often look for ID card templates that are intended for them and the business they're running. This Creative Agency ID Card can be exclusively yours as you download the template. The file is also easily editable and 100% customizable using Illustrator, InDesign, Pages, and other file formats. What are you waiting for? Start downloading it and produce creative agency ID cards now!
4. Elegant School Principal ID Card Template
This Elegant School Principal ID Card Template is useful for any administrative positions in the agency like the Principal. The template makes use of elegant design and made available in 2.13×3.39 inches with bleed. To fully personalize and edit this template, download it with ease and confidence. For sure, you won't regret your decision.
5. ID Card Design
People are fond of producing ID cards with a Simple ID Card Design. This type of ID card design template can function more when used by your people in an agency, an organization, or a business corporation. Grab it today and start to edit the details easily using your Mac and any iOS devices or your personal computer. Don't forget to download it to start out.
6. Restaurant ID Card
To better enhance the agency's security and integrity, you have to simplify and provide your employees' ID cards. As it has become a crucial part of the business world, like restaurants, this Restaurant ID Card will be of great help for you and for your business. By downloading this template, it will be easy for you to edit the employee's name, photo, job title, and the department he/she belongs to. So, download today and make quick personal identification a snap.
7. Free Corporate Blank ID Card
This Free Corporate Blank ID Card is intentionally designed for any type of business company. We designed the template in a way that has to appear more elegant and professional. Since this template is blank, it will be easy for you to modify and change the colors, dimensions, and other details that you need to change. You can be creative by providing different color combinations, whichever way it suits you. Download this template today for free to easily identify your visitors and employees, and maintain the safety the agency and people need.
8. Free Student ID Card
School campuses should be made secure and safe for the benefits of the students. Hence, this Free Student ID Card can help you turn that mission into reality. Make sure to produce enough ID cards for the students as you utilize and download the template.
9. Free Office Blank ID Card
Looking for free office ID cards that you can freely edit and customize? The search is over, for we have provided you this Free Office Blank ID Card template for free. This template is available in 2.13×3.39 inches and can be easily edited in MS Word, Pages, and Publisher file formats. On top of that, the template is handy for every office employee like office maintenance employees, guards, writers, etc. Start downloading it now!
10. Professional Office ID Card Design
If you're looking for a professionally designed office ID card, then, this Professional Office ID Card Design is the best for you to download. Make your office ID card fun and beautiful to look at using this template. Create and produce as many office ID cards with professional design and layout. Enjoy the benefit as you download it!
11. Content Marketing Office ID Card
Content Marketing Office ID Card is useful for content marketing agencies. Content marketing agencies are business agencies dedicated to create, publish, and distribute content for targeted audiences online. If you need an ID card for your content marketing agency, don't hesitate to download this template today!
6 Easy Steps in Making Agency ID Cards
Step 1: Identify Which Agency Identification (id) Card Template to Use
These agency ID cards cover a wide type of agencies to which each card template may serve a purpose different from the other. To help you decide which template to download, consider identifying first the purpose and the agency you're part of. From there, download the appropriate ID card templates.
Step 2: Input the Information Correctly
Like most membership cards, ID card information may include the name of the employee or student, the logo of the institution, company, or organization, and other relevant details relating to the person who will be holding the ID card. Make sure to input the details correctly.
Step 3: Include an Agency or Company Logo
An agency or company logo can help you identify a person if he/she is part of the company or not. The logo should be clear and identifiable enough for safety and security purposes.
Step 4: Add a High-Quality Photo
There are photo ID cards that are also made available on our website. Although a few agencies require ID cards with no photo attached to it, some are just too particular with the photo ID. It would help your employer, manager, or the guards in the building to identify you easily. It makes the passage easy and free from any hassle.
Step 5: Proofread All the Details and Correct Errors
This part demands you to re-check and proofread all the details provided while editing the agency ID card templates. See to it that all are correct. Avoid misspelling the names and other important information. Remember that IDs are good as passports to any transactions, like getting other IDs.
Step 6: Update if Needed
Sometimes, the ID card information needs to be updated such as the address and the job role. You might not be in the same place you were living in last year, and you may be promoted in your job. Hence, there is really a need to update ID cards of any agency.
More in Agency Templates