Agency Templates
Agency Poster
An agency poster is an effective advertising and promotional tool, be it in business, firms, organizations, and companies. Additionally, these posters can be used by other organizations and institutions to transfer and have an impact on academic knowledge, experiences, and research. All these agencies may vary in purpose, and so with the design and layout of the agency posters that they need to produce. Below is the list of agency poster templates that you can utilize to help you with the marketing plans as well as organizational strategies.
Table of Content
In creating agency posters, you have to keep in mind the best poster design and layout. Explore this article, and see the opportunities that await you!
1. Travel Agency Poster Template Download
Running a travel agency would require your skills and patience to produce amazing travel company advertising materials such as travel brochures, flyers, and most importantly, posters. This Travel Agency Poster can help you do your job right. Furthermore, the template can help promote your brand. Download the template today to use and customize it!
2. Advertising Agency Design Poster Template
One way to sell your products or services, and promote events is through advertising posters. This Advertising Agency Poster could be a powerful material to promote or sell a product, a service, or an idea. To make use of the template, start downloading it now!
3. Creative Agency Poster Template
Creativity is often key to creating stunning works. Be as creative as you are in personalizing this Creative Agency Poster that is made available in file formats such as MS Word, Publisher, InDesign, Illustrator, Apple Pages, and Photoshop. To start, download the template with confidence and ease today!
4. Marketing Agency Poster Template
5. Printable Travel Agency Poster Template
6. Free Travel Agency Poster Template
7. Free Travel Advertising Poster Example
To better advertise and promote your travel tours, travel discounts, and travel promos, use this Free Travel Advertising Poster. Let your travel offers are known to people in the easiest and fastest way possible. By using this template, you can put paradise on their travel maps. What are you waiting for? Download this now!
8. Free Campaign Design Poster Download
A campaign is an active socio-political work organized to reach a particular goal. Some organizations are focused on campaigning for the rights against child labor or a campaign for women empowerment. Either way, your campaign job could be so much fun and empowering if you utilize our Free Campaign Poster. Download the template and make people aware of such issues.
9. Free Promotional Poster Template
Promotion may include personal selling, advertising, sales, direct marketing, public awareness, event marketing and exhibitions, and trade shows. If your business agency is looking for a Free Promotional Poster Template to promote late-night promos and holiday sales, download this template to get you started. Don't miss this rare opportunity that would help you attract more customers.
10. Conference Modern Poster Template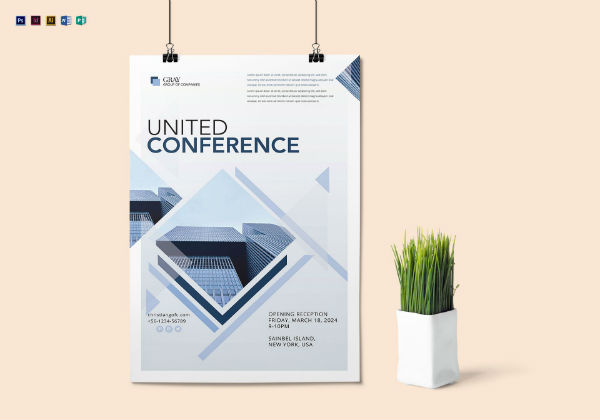 If you're planning to hold a meeting or conference with your constituents, a Conference Poster Template is the perfect tool for you. This template functions well as invitations, information disseminations, relay announcements, and a call to confer about a certain topic. Download the template now, and conveniently edit and personalize it to your advantage.
11. Seminar Poster Design Layout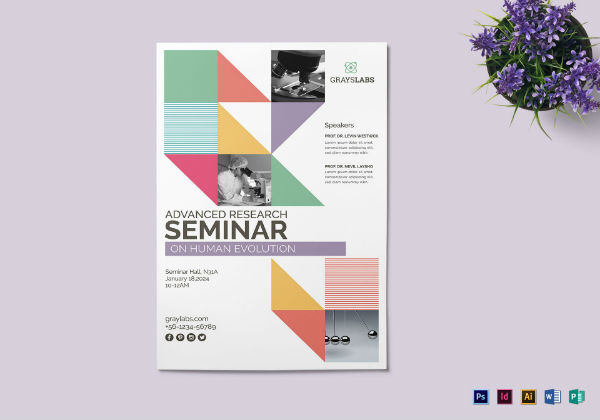 Seminars can also be called conferences. The main difference perhaps is that seminars are good for a small number of people, while conferences are organized to accommodate different groups and organizations. By downloading this Seminar Poster Design, we assure you that this will be effective in setting up the mood, inviting your guests, in broadcasting the key message, and in making the connections with your audience.
12. Standard Charity Event Poster Template
Agencies are established for specific purposes. Some are for travel, while others are more focusing on doing charitable works. If you're running, then this Charity Event Poster Template can be of great help for you. Download this template to your PC or Mac & any iOS devices, and get to produce templates that are made available in Adobe Photoshop and other file formats.
How to Create an Agency Poster (5 Steps)
Agency posters are useful tools and serve as marketing materials in both the market industries and government sectors. It serves not just to promote and advertise a certain product or service, but also an effective avenue for raising relevant political and social issues through campaigns. By following the step-by-step process below, creating an agency poster will be easier and quicker.
Step 1: Choose an agency poster template.

First, you have to pick which agency poster template you are going to utilize. We have provided you with agency poster templates for different purposes and fields. Make sure to align your choice with the organization's mission and goals.

Step 2: Personalize by adding appropriate information.

These agency poster templates are editable and 100% customizable. They make use of preformatted content and images that you can either use to your advantage, so long as the details are appropriate and applicable. If not, you can change the information to more appropriate ones.

Step 3: Make it visually appealing.

Posters are intentionally made to attract your clients and customers through visuals like typographies, images, logos, and artworks. The challenge is you have to use visually appealing texts and images. See to it that everything that you put in wouldn't be hurtful to people's eyes.

Step 4: Match the design with the purpose.

Poster designs should be matched with the purpose of your posters. If it's a travel poster, for example, you have to lure your readers and market your offers in the best possible ways. On the other hand, if it's an active plan or campaign against child trafficking, then, a more serious writing tone and design are probably appropriate.

Step 5: Use readable fonts.

One way to also make your agency posters visually appealing and informative is to use readable fonts. There are available fonts available for you to choose from and use. Make use of the resources to produce better, high-quality works.
More in Agency Templates