With the onset of the New Year, comes new resolutions, new targets and new responsibilities. Hence, setting the agenda for the year from the very beginning helps in easing the process of achieving the set goals and targets as per timelines. Agenda is basically defined as a list of items to be discussed or done at a meeting or event.Calendar agenda is a great way of organizing your events and tasks in advance; invariably it also helps to avoid missing important topics of discussion and assignments. You may also see Daily Agenda Template. A Agenda template helps to organize the whole year lying ahead so that you don't miss out on any important event to be attended or performed. It brings discipline and order in the company by updating on the next needed tasks.
Weekly Calendar Agenda Template
This template helps to break the annual calendar into weekly tasks. It includes the list of matters to be discussed in the weekly meeting in the order of importance. An organized meeting requires a well written agenda which is circulated a few days prior to the meeting to enable the concerned team to prepare themselves for the meeting. The template includes information such as purpose of the meeting, discussions/topics to be covered in the meeting, important decisions to be taken, etc. vbschools.com
Monthly Calendar Agenda Template
This template is important if the organization plans to abreast their employees well in advance about the entire month's schedule. The template includes information like date, day, time and work to be done on that particular day at that particular time. ohiohouse.gov
Daily Calendar Agenda Template
This template divides the monthly and weekly task into daily activities to be accomplished. Daily calendar agenda template splits the day into working hours for e.g. 9 am – 9.30 am – task to be completed, 9.30 am -11 am task to be completed and so on and so forth. This template is very useful to prioritize tasks as per their urgency and have a productive day. sunnyvale.ca.gov
Meeting Agenda Template with Calendar
This template provides dual information about the meeting. Firstly, the schedule of the meeting as per day and time, and secondly, the list of things to be discussed during the meeting. This type of template is useful for organizations involved in meetings on a very frequent basis. Meeting agenda template with calendar can be updated in the beginning of the month and circulated to every team member required to be a part of the meeting in order to provide them ample time to prepare themselves for the meeting or presentation. lsu.edu
Sample House Calender Agenda Template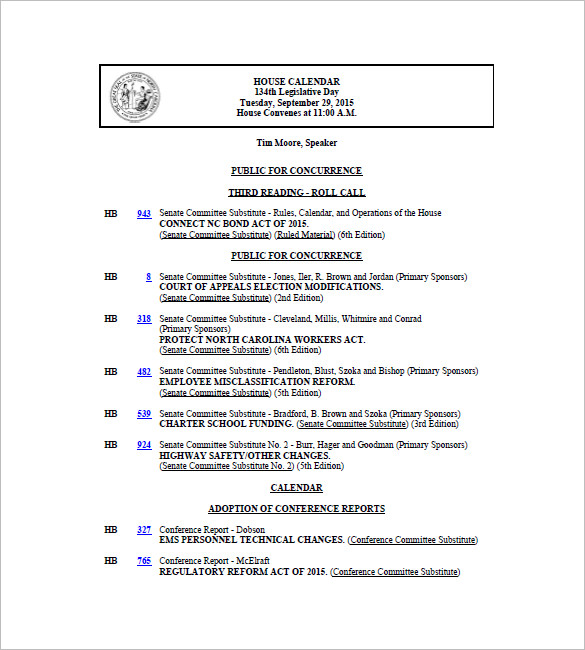 ncleg.net
Commite Calander Agenda Template Free Download
ohiosenate.gov
Free Calendar Agenda Template
This template is like any other calendar that divides the year into months and days with an added advantage of providing extra space in the calendar against each date to mention the agenda or task to be achieved on that particular day of the month. It also provides space below the calendar for mentioning special notes like date of annual review meet or date and time of a public meeting etc. nyc.gov
> 

Importance of Calendar Agenda Template

One of the most important feature of calendar agenda template is that it helps an organization to pre- plan its entire year's activities. A regular check on the agenda also helps organization to be on top of all the activities required to be addressed in the due course of action and eliminate the risk of missing on an important task or project. Another advantage of using calendar agenda template is it helps team members to prioritize their activities well in advance and be prepared for their tasks.

>

Conclusion

Any organization big or small is involved in decision making process which requires meetings with in-house team members or stakeholders. Decisions made in these meeting determine the success of the organization, hence, it is of utmost importance that the crux of these meetings are defined clearly and are met in the defined timelines. To simplify this task creating a calendar agenda for the meeting is inevitable, so go ahead and download the calendar agenda template as per your requirement from the option available here and organize productive meetings. If you have any DMCA issues on this post, please contact us!