Agreements
13+ Amalgamation Agreement Templates
Amalgamation usually means the merger of two or more companies into one entity either for business or because one company has been absorbed by the other. Generally, amalgamation is done to merge the operations of two companies working for the similar acquisition of goals, so that both the companies can diversify their activities and expand their horizon. To create such an agreement, you need the help of agreement templates for a professional and structured document.
Table of Content
6 Steps to Make Amalgamation Agreement
Step 1: Important Definitions
The agreement of amalgamation should include some mandatory terms for reference so the parties don't get confused. terms like Agreement, Board, Registrar, Parties, should be clearly mentioned along with their respective definitions.
Step 2: Financials of Previous Years
Both parties should be concerned with the financial background and history of their projects as well as look into the targets of the future. They should check the financial history of at least the last 3 years. This is done because financial statements reveal the real scenario of the company.
Step 3: Intellectual Property
The companies must show an interest in the quality of the intellectual property- the domestic patents, exclusive technology, an amalgamation of the property of the parties. The authorized share of both companies should also be mentioned between the transferor and transferee.
Step 4: Value and Vesting of Undertaking
the value of the immovable property of the transferor company, the securities, debts, stocks, etc. shall be evaluated by the parties. And also the date when the undertaking shall be vested on the new company along with the liabilities and assets shall be mentioned in the agreement with the consent of the parties.
Step 5: Effective Date
The date when the proposed company will be effective is a major cause to be included in the agreement. The scheme will be operating from the Appointed date but the will be effective from the Effective date.
Step 6: Legal Proceedings
All lawsuits, proceedings or pending dues against the transferor company shall be continued and will be further pressed against the transferee company since the effective date if they are not cleared within the date. From the effective date onwards the above legal proceedings will be against the new company.
13+ Amalgamation Agreement Templates
1. Amalgamation Agreement Template
Now get the shareholders to understand the specifics of the fusion such as stock allocation, activities, and control of the freshly formed business for both businesses. Also organize the interests of the shareholders into one entity, so that you can work better and expand your franchise. Use this amalgamation agreement sample template in whichever format you wish and start working!
2. Restaurant Amalgamation Agreement Template
Use our Restaurant Amalgamation Agreement when two distinct restaurants decide to use all their funds and assets to create a fresh business in an attempt to reinforce or unify both companies. Create a new and bolder business strategy by downloading this merger agreement in your available Word, Pages and Docs so you can now customize the details to your convenience!
3. Amalgamation Agreement Example
eccu.ca
If you want to organize the interests of the shareholders in a single and more lucrative company enterprise for owners of distinct businesses. Build a better and bolder company by using our Amalgamation Agreement to combine your resources to your benefit. Download and have fun merging your organizations with the help of our merger agreement templates in premium quality!
4. General Amalgamation Agreement
thecse.com
Business amalgamation can be a lengthy, difficult process. It needs brainstorming that can take time to reach a shared arrangement. Look at our template for the general amalgamation agreement sample to screen your shared contract and prevent unjustified lawsuits. it is easy to customize and is also available to modify in your own standards!
5. New Amalgamation Agreement Template
caasco.com
With the New Amalgamation Agreement template, now you can easily make changes to your business and merge with your partner company for better opportunity and trade. Make sure you have the right provisions in hand with our agreement templates in PDF format, downloadable in your required formats.
6. Sample Amalgamation Agreement
townsendmutual.com
If you are looking for an easy and effective business with your adjacent company to avoid any unnecessary lawsuits and pending payments, you can take the help of our Sample Amalgamation Agreement that you can download and customize in your favorite editor, on the consent of both the parties involved.
7. Amalgamation Agreement in PDF
elboyabritannia.com
Amalgamation Agreements are not easy to create, they need to include all the beneficiary clauses of the parties involves, then approved by the board resolution committee and particularly takes time to be effective. Now you can do all this without batting your eyelid, by using our agreement template amalgamations forms in your required format with premium features that also lets you edit and modify.
8. Simple Amalgamation Agreement Template
bcnpa.org
If you are looking for a resolution amalgamation template for your business, then you need to download this Simple Amalgamation Agreement immediately! Not only does this template have a professional outlook but it also allows you to modify the content to suit your business and trade standards. Now download for free and get started right away!
9. Union Amalgamation Agreement
valleycreditunion.com
It can be a lengthy procedure to amalgamate or merge two companies and acquire a few tiny companies to create a bigger organization. Confirm strengthening by using our professional Union Amalgamation Agreement. It has well-written content that can be changed to suit your company standards and also help in the merging process of both the companies!
10. Amalgamation Agreement Sample
edilex.com
A statutory statement is a legal document that confirms the precision of information. Did you have a difficult time writing your own document? Start with our amalgamation agreement sample to assist you generate a legally compliant paper. Just fill in the blanks with required details and you are done with your agreement of amalgamation!
11. Company Amalgamation Agreement
renfrewcountyunitedway.ca
Our Company Amalgamation Agreement is one of the effective agreement templates available for your convenience so you can easily merge and combine your business with any of your similar business company. Solidate your position in the trading business by creating a solid foundation for your business. Hurry and download this template now!
12. Amalgamation Agreement Template in PDF
provincialcu.com
With this Amalgamation agreement template example in PDF format, you can utilize the best available features of agreement templates so you can create useful and valued amalgamation keeping in mind the requirements of all the parties involved. You only need to download this from our website and then fill in the necessary information and your agreement is ready to be effective!
13. Restated Amalgamation Agreement Template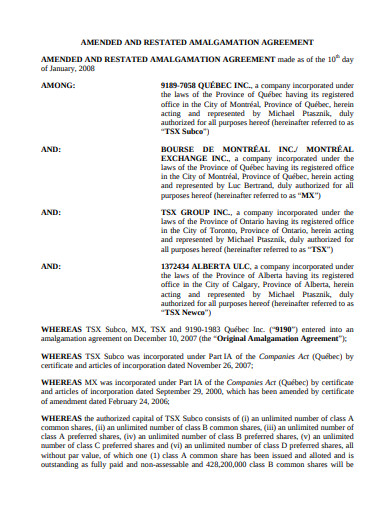 blenderlaw.com
You might need to restate the provisions of your agreement for you and your partner business. Sometimes it's better to take precautions than to take the risky plunge. Now make sure you have all that you need to merge your business using this Restated Amalgamation Agreement Template, providing you with a free agreement for the benefit of both parties!
14. New Amalgamation Agreement in PDF
bionovelus.com
The process of amalgamating businesses can be tiring since there are lots of steps involved. Why don't you download this New Amalgamation Agreement in PDF format if you are new in this business and have considerable doubts? Just download and get this amalgamation agreement done in no time!
More in Agreements