Agreements
4+ Decline Agreement Templates
Steve Jobs had once said, "It's only by saying 'no' that you can concentrate on the things that are really important." And the founder of Apple was right. However, declining something or saying 'no' is also an art that requires mastery. Several circumstances will come in life where you will have to say 'no'. That's where decline agreements come into play. They help you decline the concerned subject of matter albeit gracefully and politely. Decline agreement templates make this work easier.
Table of Content
7 Steps on How to Draft a Decline Agreement
Step 1: Think It Through
Before starting to make the decline agreement, think about it carefully and thoroughly. Make sure you are one hundred percent sure that you don't want or cannot take on the matter under question in the agreement before you reject the offer or opportunity. Once you reject an offer that you had accepted earlier, there's no turning back. Thus, thoroughly consider the pros and cons of dismissing or declining the offer.
Step 2: Identify the Parties
The first step to drafting any kind of agreement is to identify the parties taking part in the agreement. One party is supposed to provide the information while the other party is supposed to decline to receive that information. If any other individual or group is also a part of this agreement, such a case along with the details of the third party or parties should be mentioned.
Step 3: Define the Offer
A decline agreement can be made for several purposes. Which is why the objective of making the agreement has to be clearly defined and explained. The agreement should mention what it is that the party or person is declining. It can be for any kind of offer or opportunity. Once the objective has been outlined, the offer that is being declined needs to be explained. As the party who is drafting the agreement, you need to make sure that the other party doesn't find a loophole in the agreement. Both parties need to be aware of the information being discussed in the agreement.
Step 4: Determine the Reason
Why are you declining the offer or opportunity under question in the agreement? This step should be able to answer this question. Define and explain the reasons why you are saying no. Keep in mind that the reasons you are providing are simple and easy to interpret and understand. Don't elaborate on them. Also, remember to not be too specific regarding the reasons. Consider the reasons you will be providing and check if they are appropriate enough to be included.
Step 5: Express Gratitude
This step is very important. You need to make sure that you express your gratitude to the other party. There should be a separate section in the agreement where you thank the other party for the chance to encounter and know about the matter or for providing the opportunity that you are ultimately declining. The other party should be aware that you are grateful to them or him/her.
Step 6: Be Very Polite and Honest but Tactful
Under no circumstance, you are allowed to say or write anything in the agreement that proves or could be taken as an insult by the other party. The terms and conditions of the agreement should be written in such a way that the other party does not get offended. However, you have to keep in mind to also be tactful in providing your reasons. Make sure that the agreement does not include any clause or provision that is not appropriate.
Step 7: Sign and Date
Once everything to be included is final, a rough draft can be prepared based on them. If both sides are satisfied with the draft, it can be printed out as the final agreement. In the end, provide spaces for putting the signature and date of both parties. This step is very important as without it there is no way to prove that both parties acknowledge and comply with the agreement.
4+ Decline Agreement Templates
1. Decline Extension of Agreement Template
There is art to saying 'no'. And you need to know this art to decline an offer or opportunity. However, not everyone is the master of this art. We understand this which is why we are here to help. With this Decline Extension of Agreement Template, you too can create a proper decline agreement form. The file is very simple and easy to use. You can download this file in Google Docs, Word and pages format.
2. Decline Agreement Template
ctww.org
You have a job offer in hand. However, you have already accepted another previous offer that is giving you the chance to work in your choice of field. Now you have to decline this new offer. Facing a similar situation? Don't fret because we are here to help. With this file, you can easily make a proper agreement for your needs.
3. Simple Decline Agreement Format
actu.org.au
You have been tasked with making a decline agreement for your case. Unfortunately, though you are not aware of the format of creating it. If you are stuck in this condition, don't fret because we are here to get you out. With this decline agreement template example, you get a sample document that you can follow to make a proper resolution agreement. To get access to this file all you have to do is click on the download button and your file will be ready.
4. Decline Agreement Format
medelabreastfeedingus.com
Worried about having to draft a decline agreement without any help? Don't fret because we are here to help. By downloading and using this file, you will easily be able to make a decline agreement for your case. The file is fully editable and printable. You can even customize the content. To get access to this free agreement all you have to do is click on the download button.
5. Decline Agreement Example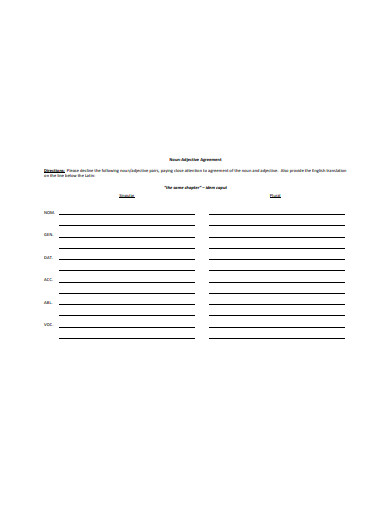 stjohns-chs.org
Accepted an offer or opportunity but now thinking that you don't need it or want it? Decline it politely with the help of this Decline agreement example. The file provides original and suggestive headings and content written by professional writers. You can easily download this file in PDF format on any operating system. The file is fully editable.
More in Agreements