Agreements
8+ Farm Lease Agreement Templates – PDF, Word
One of the most important investments a person will get to have in his lifetime is arguably a property of his own. The idea of finally being able to settle at a property you have set your eyes on is enough to make you happy and motivate you for the most part. Admit it or not, it could be one of your biggest investments yet. But from going out to see what the country has to offer, until such time you score a deal, buying or leasing a land is never easy. You may also see lease agreements.
Throw in the steps you need to take just to make sure it is worth all the money, and the task becomes even more complicated. The whole process is sometimes mixed up. But never more when you want something as specific as being able to manage a farm with a land sizable enough to make a living out of. With luck and help from the right people, this may be easier to deal with. You may also see standard lease agreement templates.
Farm Lease Agreement Template
Farm Land Lease Agreement Template
Sample Lease Agreement

newfarms.extension.uconn.edu
Oklahoma Farm Lease Agreement

oces.okstate.edu
Farm Lease Agreement Form

ag.tennessee.edu
Farming in the United States
There's a dilemma that's probably as old as farming itself and definitely older than Manifest Destiny. For years, people, especially the ones who lived out in the west after they built houses on vast prairie lands littered with coyotes, carpetbaggers, and songs of old had to gamble and manage farms they could never own from English and other European noblemen. Today farmers are still at a loss as to how they can pave the way for a new breed of farmers without leaving them debt-ridden while still allowing the older generation of farmers to have a well-earned rest with enough wealth to see them through old age in their log houses. You may also see land lease agreements.
This dilemma just got a whole lot harder what with most farmers aiming to upgrade their operations to maintain a smooth flow of profit and production. They would naturally need more land to handle more crops and livestock, as well as modern machinery to handle the work that today's farming demands. In some cases, farmlands also need more irrigation. With all these and probably more, the budget required would really stretch a traditional country family living on what their farm is able to give them, to a breaking point. You may also see Equipment Lease Agreements.
Farm Lands and Lease
There's been very rare cases of lack of supply and there's been a bigger demand in the farming industry. As a result, values of farm lands have seen a steady rise thereby making a lot more difficult to own more lands and expand or for the new farmers to actually acquire ownership. Land agreements have relied so much on tenure, allowing fewer risks in production for older farmers and the required capital at the same time maintaining their ownership and generating income. The younger ones are those in need of expansion and ownership so that they can also expand their operations to increase profit. A land lease for the farm is, therefore, their best chance in securing access and prioritize capital investment for more livestock and machinery. You may also see residential lease agreements.
1. Be Responsible
It also probably brings a new level of challenge when after being able to settler terms with an owner, you also have to take care of one more legality after another. Sure, the real estate and the farming market is on the rise and you cannot wait to get your hands on a nice deal. However, there is more to having one, than just paying for it with your money. There is a responsibility that comes with it, even before you decide to get it for the right price. And then there are the contributing factors that you should not ignore. You may also see room rental agreements.
You need to evaluate it based not only on location but some other things too. One of them is a survey of what the land covers and what your responsibilities would be if you are new to farming, and for good reason. To say that it is important to know everything about a land you have set your sights on is an under statement. You may also see rental agreements.
2. Research
Sure, the real estate market is on the rise and you cannot wait to get your hands on a nice deal but this isn't just another property. We're talking about a farmland out in the country and there's more involved in the process of getting to own it than just the usual paperwork. Being able to finally buy your own land or building, whether commercial or private is such a rewarding experience. It can also be so complex that you wish to get over it as soon as possible. You may also see land lease agreements in word.
While lands and properties in the country are available for the taking, you have to take care of certain legalities, so that it does not get you in trouble. Sort of like making it a good investment, on the whole. This is where it gets more challenging, especially that not all people have the knowledge over matters in property law and engineering. Before you do that, take the time to read about it first because a little knowledge on the subject will give you more chances at avoiding trouble. It helps you avoid other people claiming your share of a land you are paying for. You may also see a commerial lease agreement templates.
3. Evaluate
Imagine the damage if you just the first offer that comes along without doing the necessary evaluation. There are factors that you have to consider before you even give your money to the one who owns it, or to the real estate agent who offered it to you. The market is pretty much on the rise, so it is not that difficult to get one that you would love. One thing is for sure. There will never be a piece of land or building free of any imperfection. Hiring someone who can identify what those are will be one of the most important decisions you will make. A sample survey is something you would not want to miss out on. This is a big factor in determining property value. You may also see termination of lease agreements.
4. Check land boundary
It helps you avoid other people claiming your share of a land you are paying for. They can establish the legalities that involve your property and also develop the lines for it. Other than that, they are the ones responsible for creating maps, so that you are educated where your limits are. You will never have to fight with people whose lands adjoin yours if you know your way around it. Try checking local offices for records, if you need to gather as much information as you want. All the necessary documents about it will be helpful too, but that task is better left with the contractor. With that said, you have to find a good company who are legally offering the service of surveys for property owners. You may also see rental lease agreements in Docs.
Farm Land Lease Contract

counties.uwex.edu
Importance of A Written Farm Lease Agreement
The most vital part in the process of leasing any land or property, especially farm lands, is getting them in writing. Gone are the days when everything was settled with a good old cowboy handshake and the deal is sealed, both of you are sure that you will fulfill your part of the deal, no questions asked, whatsoever. Or so you thought. Until you're ready to harvest your crops, get profit for the livestock then all of a sudden, the landowner's representatives comes to claim everything and you're left confused, unsure of what's going on. You may also see house rental agreement templates.
Everything needs to be set down on writing, withe each party having a copy of what everybody have signed. This seems already a given these days but there are still a lot of land deals confirmed with a whiskey and a handshake. Your rights has to be spelled out and responsibilities needs to be very clear and put on record with a word document that would remind you and each other before issues arise. There is no alternative whatsoever to a written land lease agreement lest anyone tells you otherwise. You may also see car rental agreement templates.
You have to be diligent to take all the necessary steps if you consider yourself a wise investor. This is one of them. If you miss out on this, then you are in for a surprise or two. That includes a run in with the law, and in other cases, you may end up with something that other people may claim. Then you will find yourself stuck, not knowing what to do. Aside from that, the money you have put on it, will be lost down the drain. Hiring a professional to evaluate the property will save you from all that risks. This is because a survey will address the legal bounds you have on it, and to what extent. You may also see construction lease templates.
Farm Cash Lease Fillable Form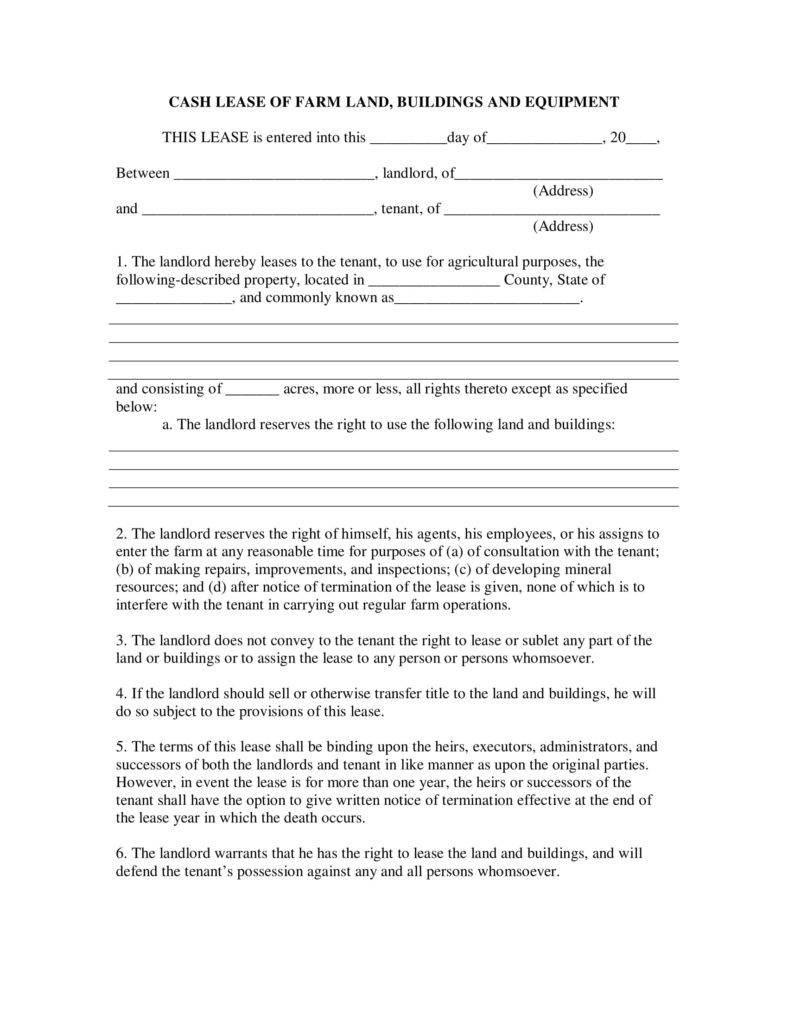 extension.umd.edu
Cash Lease Agricultural Base Lease Template

californiafarmlink.org
Cash Farm Lease Agreement

farmdoc.illinois.edu
Cash Farm Lease

forms.sc.egov.usda.gov
Leasing has proven to be the most common and most reliable alternative for land tenure as it allows the owner a retirement or goes down by a scale or two through leasing a portion of their farmland while still receive enough income. The one on which the land is leased to is allowed access to the land. They would then have a greater opportunity to bring their operations one scale higher without having to bleed their pockets or other financial services resources dry to raise capital and purchase land. You may also see sample renters agreements.
Leasing a farmland indeed provides both parties a good arrangement as it benefits both of them. No matter the disadvantage, there are still a lot more to gain on both sides and so little to lose, just as long as an simple agreement is properly set with fair terms and conditions for both parties involved. You just have to make sure that you understand all the process and responsibility involved, whichever side of the deal you are in, and make the most out of it. You may also see equipment lease in word.
More in Agreements