When you put something for rent or lease, it comes under a contract which is between an owner and a user of the property, this contract is known as a property lease agreement. It is generally very popular with small business owners which allow new or financially-strapped businesses to distract their capital to other business needs. You can create a property lease agreement with the help of our agreement templates that will lay out the important elements required in a lease agreement for a property.
5 Steps to Make a Property Lease Agreement
Step 1: Knowing About the State Laws
Before you start with your property lease agreement, you need to do detailed research on the different laws that revolve around the contract about giving properties on rent or lease. For example, you need to research laws about security deposits and if there are any rent control laws in your area.
Step 2: Provide a Title
At the very beginning of your agreement, you need to provide a specific title that will fit the given topic in the agreement. A title will determine what the document is about and why has it been drafted in the first place.
Step 3: Information About the Property
Next, you provide detailed information about the property stating that it will be rented along with the address of the property owner and the address of the property. In case there is any property manager involved who is different from the landlord, you can provide that information as well.
Step 4: Describe the Payment Methods and Added Policies
Every property lease agreement must include the payment policies along with the payment information. State your options for receiving the payment and also consider whether it is convenient for the customer or not.
Step 5: Proofread Your Agreement
Make sure that your document is accurate and complete without any mistakes. You would not want an error to occur in your document after submitting it for review. Remember to rectify any mistakes if you find any while proofreading.
6+ Property Lease Agreement Templates
1. Property Lease Agreement Template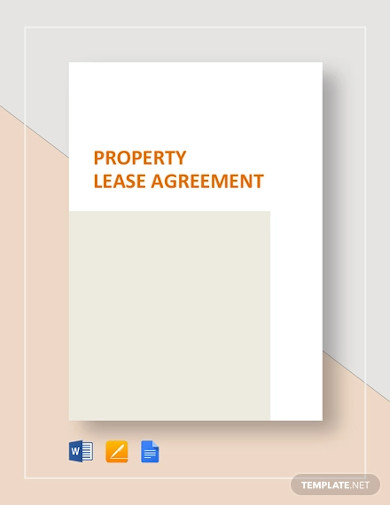 Do you wish to rent out a property for a longer period? Then you're going to need a template that will help you create arrangements and rules for a potential tenant. You are lucky we have a perfect template for you. This property lease agreement template in Word will protect the tenant from sudden price hikes within the time they are renting and also gives the landlord a steady source of cash flow for the entirety of their contract. Download this professionally looking template now!
2. Personal Property Lease Agreement Template
If you are searching for a specific document file that will help you in laying out a property lease agreement, then your search is over. We have this personal property lease agreement template that will help you in preparing a lease agreement that is personal along with its ready-made structure and simple choice of words. Get this template while it is still available. Create a property lease agreement in Google Docs format with the help of our agreement templates in Docs.
3. Dairy Property Lease Agreement Template
Drafting a lease agreement? If you need any guidance regarding what you can include in a lease agreement, then feel free to rely on this dairy property lease agreement template. This can help in drafting up a legal analysis regarding the dairy property you own which you want to put for lease. This template contains professional content with isn't just limited to a computer but you can also and edit it on your tablet or phone as well. So download now!
4. Residential Property Lease Agreement Template
Are you unaware of the important information that has to be added in any lease agreement regarding the sale of a residential property? If that is the case, then you can take some help from this ready-made residential property lease agreement. This specific template can help you in making an error-free lease agreement laying out the important points required in it. You can fill in the details in the blank areas and your agreement will be ready in no time without putting much effort.
5. Residential Property Management Lease Agreement
Are you looking for an agreement for your residential property? If so, then this amazingly handy residential property management lease agreement template is what you're going to need. Along with its detailed information, it is a standard agreement that you can even use for legal purposes as well as make any changes which come in your mind. Download this template, and make a private lease agreement without any hassle.
6. Property Management Right to Lease Agreement
Creating a property management agreement needs patience and a sufficient amount of knowledge about the typical information provided in a property agreement. If you need one, then you can easily download this lease agreement template that will help you in making a proper lease agreement for your property. This template can be downloaded on any device and you can also personalize it according to your needs. So grab it now!
7. Property Management House Lease Agreement Template
A house lease agreement plays an important role when you put up a property for lease. Why worry about creating a house lease agreement from scratch when you can just download this ready-made management house lease agreement template. It will grant you a standard content along with its editing features to build a proper property lease agreement. So you can click that download option and make your worries go away.