Being successful in business is not just about spreading the word of products that are surefire trendsetters. It doesn't even start there because behind every merchandise in your favorite stores, had a good team and a leader that worked hard and spent countless hours of brainstorming before getting the final pieces together. You may also see Agreement Templates
320+ Marketing Templates in PDF, Word, Excel, PSD, HTML5, WordPress, Google Docs, PowerPoint, InDesign, Apple Pages, Google Sheets, Publisher, Apple Numbers, Illustrator, Apple Keynote, Google Slides - START DOWNLOADING
Sales and Marketing Agreement Template
Simple Marketing Agreement Template
Restaurant Advertising Sales and Marketing Services Agreement Template
They pass through multiple channels in sales and marketing before they hit the stores, or at least, most brands do, if they do not want to risk an epic marketing fail on any of their marketing campaigns, otherwise, they also risk receiving backlash by consumers, who at this day and age, are quite savvy when it comes to product mishaps.
Sales Agreement Template
Sales Agency Agreement Template
Sales Agency Agreement With Trademarks Protection Template
They know what they want and they know how to demand it. That, plus the fact that businesses need to keep up with global trends, including a place online where people can see what their deal is about, is only the tip of the iceberg in facing challenges of every product launch.
Writing a Basic Sales Agreement

farmcommons.org
Sales and Marketing Services Contract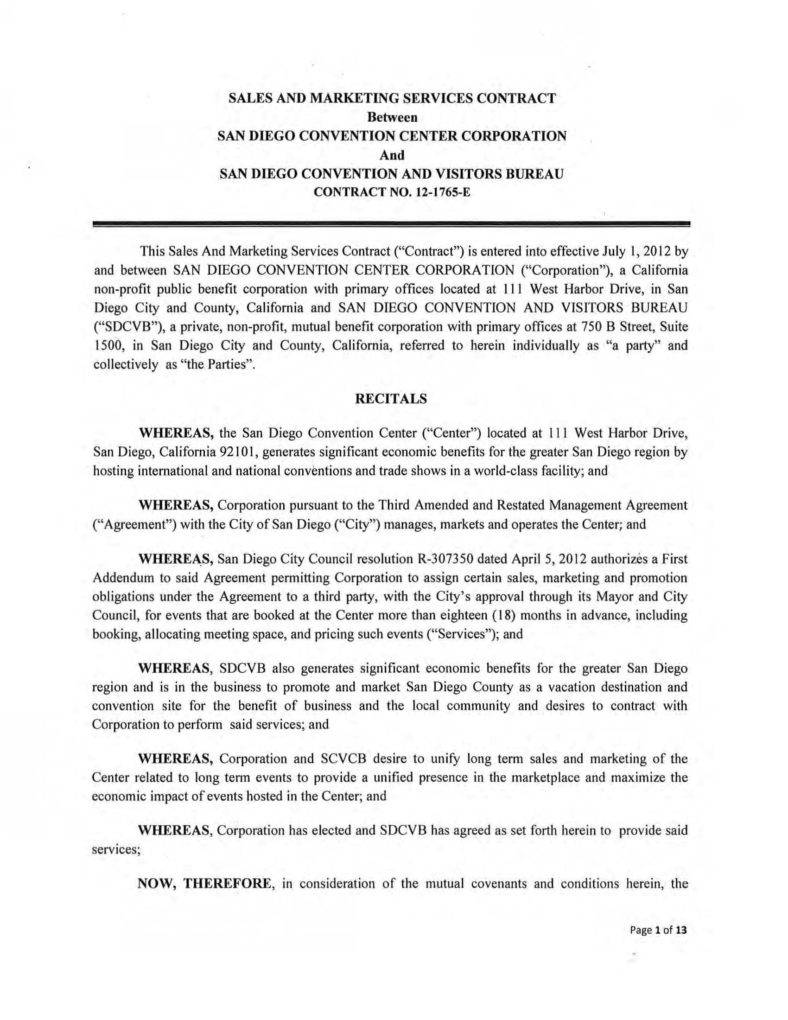 voiceofsandiego.org
Sales Agency Agreement

cbs.sa.gov.au
About the dark side of competition
The challenge is in making your brand stand out, and that is mostly easier said than done. That is why in every business, promotion and being within reach of possible customers is perhaps, the most vital part. So many experts have written about how to be successful in small business. Between the skills and a hunger that few in the field have these days, it is necessary to be as close to your audience as possible. Not being afraid of risks puts you above your competition. And because of competition, it's a little hard to trust people you do business or even work with, sometimes.
Heard about horror stories involving businessmen in dangerous deals? What about sample marketing campaigns that went all wrong even though it had every intention of sending the right message, hoping it would appeal to the target audience? Business is littered with mishaps here and there and it's important not to let your guard down and set your sales and marketing departments straight so that they can work together to sort things out and take the business forward.
What is Selling?
Being able to sell is made up of interpersonal interactions, being with people, touching base where they need to be reached, such as phone calls, networking with potential customers and even one-on-one meetings. Marketing, on the other hand, is a term that far encompasses methods or programs that companies use to entice prospects. This involves public relations, advertisement, direct mailing and a whole lot more. You may also see printable sales agreement templates.
The terms have been technically misinterpreted and misused so many times, like when the company opens slots for marketing professionals but in reality, are really looking for a person who can make and take lead calls, close sales and meet with potential clients face to face. Before the average sale is considered a done deal, it takes as many as eight tries or contacts to finally get a person's attention. This is mostly because potential customer turns hot and cold faster than you can say "cheese" and finally back to hot when they have decided to close and pledge as clients or customers to the business. You may also see purchase and sale agreement templates.
What is Marketing?
Is a great product good enough to get a business going for success? For most companies, the answer is of course, no. Why? Because generating sales and gaining profit isn't dependent on how great the product is, alone. What good would a product with great quality and market potential when nobody even knows about it? Case in point, it requires potential customers to also understand that a product is there for the taking, what it does, and why it's far better than what the competition is offering. You may also see buy sale agreements.
Communicating this information falls on both the sales and marketing departments. It's their responsibility although ideally, marketing is the one playing a major role to get the customers' attention and bring the product to the fore. For example, the marketing department may create a campaign spreading the word about the launch of the company's latest product. The sales team would then have to work on finalizing and closing the deal by bringing this information directly to their leads and answering questions related to the product. You may also see sale contract templates.
Sales, Marketing and Collaboration
The greatest thing about building on your sales and marketing teams is collaboration. They have to work together, not apart. Instead of operating as two separate, independent entities within a company, strategies, strong information, sharing of concepts between these two teams play a major role in improving results and going closer to your business smart goals, creating a seamless, wonderful experience for prospect buyers, which, to be honest, is what they deserve since you without them, the business wouldn't survive at all.
Sales, by definition, include "operations and activities involved in promoting and selling goods or services." Marketing, on the other hand, deals with "the process or technique of promoting, selling, and distributing a product or service." You may also see marketing agreement samples.
These statements highlight two aspects of the relationship between the two facets that help drive a business to growth and success:
1. Each group's responsibilities are very closely linked.
2. Marketing plays a major role in generating sales.
While at times grouped separately, it still stands that at the end of the day, the sales and marketing functions have to overlap. Companies that are capable of recognizing critical aspects of linking may gain more value from their teams by establishing that their efforts should be combined. After all, the goal is the same, and that is, to gain more profit, to increase sales. You may also see marketing agreements.
Sales Responsibilities
1. Updates
An important function in sales is getting updates with leads and doing a follow-up based on what the marketing team had generated. Established and experienced businesses create a structured process most of the time allowing the sales representative to do a timely follow-up to each lead that was considered qualified by the marketing team. You may also see sample agreement templates.
2. Building Relationships
We live in a time where hard selling is fading fast into the back burner, and maybe that's what ought to happen. Modern sales strategies put more focus on building relationships to encourage trust between consumer and seller.  A salesperson who knows what they are doing also understands the buyer's needs and are therefore able to have a persuasive but not forced message to help the buyer tell the product apart from that of the competitors. So even with competition, they still know how to their jobs well, without the need for "hard sell"
3. Closing
Obviously, sales representatives are going to be evaluated based on their ability to have leads turned into full-fledged customers. Although some people may like the idea of a face-to-face meeting and a formal handshake as an indication of a deal closed between customer and salesperson, many companies do it through the phone or online. This makes the task of closing a sale a lot broader for the sales team.
4. Retention
Sales and marketing are responsible for keeping clients and not losing them eventually to the competitor. By getting in contact with existing clients, a sales representative emphasizes their importance thereby helping a long-term relationship and client success and not just stopping on a one-time sale transaction. Customers love the feeling of being valued and they will keep coming back with your ongoing efforts to build stronger relationships that help in the improvement of customer retention. This means you have greater chances of additional sales from existing customers on top of their initial purchase.
Sales and Marketing Tips
Some of you may even be looking for answers and then there's the frustration of being behind the game played by people who are not half as skilled as you in the field of business and marketing. You may also see development agreement templates.
1. Resources are Your Advantage
Get heard, get a website. Most of the success stories in any kind of business these days involve the role of technology and the internet. How you use it and other available material to get your message through, to advertise, determines whether or not you can consider yourself a professional in product management. With the achievement in technology over the past century, you still cannot change the fact that the products should only keep on developing. Just like how companies and the business world responded to consumer demand.
Marketing Agreement

acc.com
Exclusive Sales and Marketing Agreement
idreambig.in
Download
[/ns_row]
2. It Doesn't Hurt To Try
If you have long-term goals in this type of thing, feel free to ask the professionals. You can call a company who specializes in sales and marketing services to help improve your strategies in both departments and to know more about the advantage of having  Like it or not, people are so dependent on the internet that using it for campaigns and content can only be a win-win situation. You may also see joint marketing agreement templates.
You have to bank on a team who constantly update themselves on trends that will strengthen your brand, no matter how small a business you may say you have or how humble you may think it to be. Anything is possible in business, and it is always important to think that it's possible to go big or go home. Either way, you have a role to play. So play it well.