There is so much in a brand new start at another city, state, or even a place on the other side of town than just having your bags packed. Even getting a new job or being relocated by your company doesn't cover half of the actual task, because moving to a new location no matter how far or fairly near it is, also means looking for a new place to rent. So the challenge begins, but getting an apartment doesn't have to be a complicated process if you know how to look for one that you can be comfortable in.
Elements of a Sample Apartment Rental Agreement
If you're the one renting an apartment or property to tenants, just like every landlord, you probably want to have your property leased out to, and occupied by the perfect tenants. While you can't have a perfect tenant all the time, you can avoid having to deal with issues and tenant disputes with an apartment rental agreement that spells out your terms and expectations with the following elements:
1. Clear terms: You should make it your goal to write an agreement in clear and understandable terms for any prospective tenant and other people who want or needs to read it. A paperwork filled with too much "heretofore" and unnecessary legalese or one that's haphazardly written would invite all types of trouble and could also cause disputes which could drag both parties to court when worse comes to worst.
2. Provisions: No clause or provision should be open for misinterpretation. If your terms aren't clear, loopholes will find their way in, especially if you have a tenant who's got a good understanding of the law. Below are some of the most important provisions you should outline well in your agreement:
A collection of payment for a security deposit, use, and return process
The amount of rental fees, due dates, and late fees
The process for early termination of a lease
A right of entry rules
Rules for breach of any terms or rental agreement provided for the duration of the contract
3. Property Particulars: Any responsible landlord has a responsibility to provide information regarding the apartment or unit's present condition and be as detailed and honest as possible. The agreement should, therefore, state whether or not the unit in question is currently in a condition to already be moved in. Any damage to the property should be indicated in the agreement, or if a part of it is currently being repaired.
10+ Sample Apartment Rental Agreement Templates
Rental Agreement Termination Letter Template
Free Rental Lease Agreement Template Sample
Details
Size: Available in A4 & US Sizes
Rental Agreement Template Format
Sample Apartment Rental Agreement Template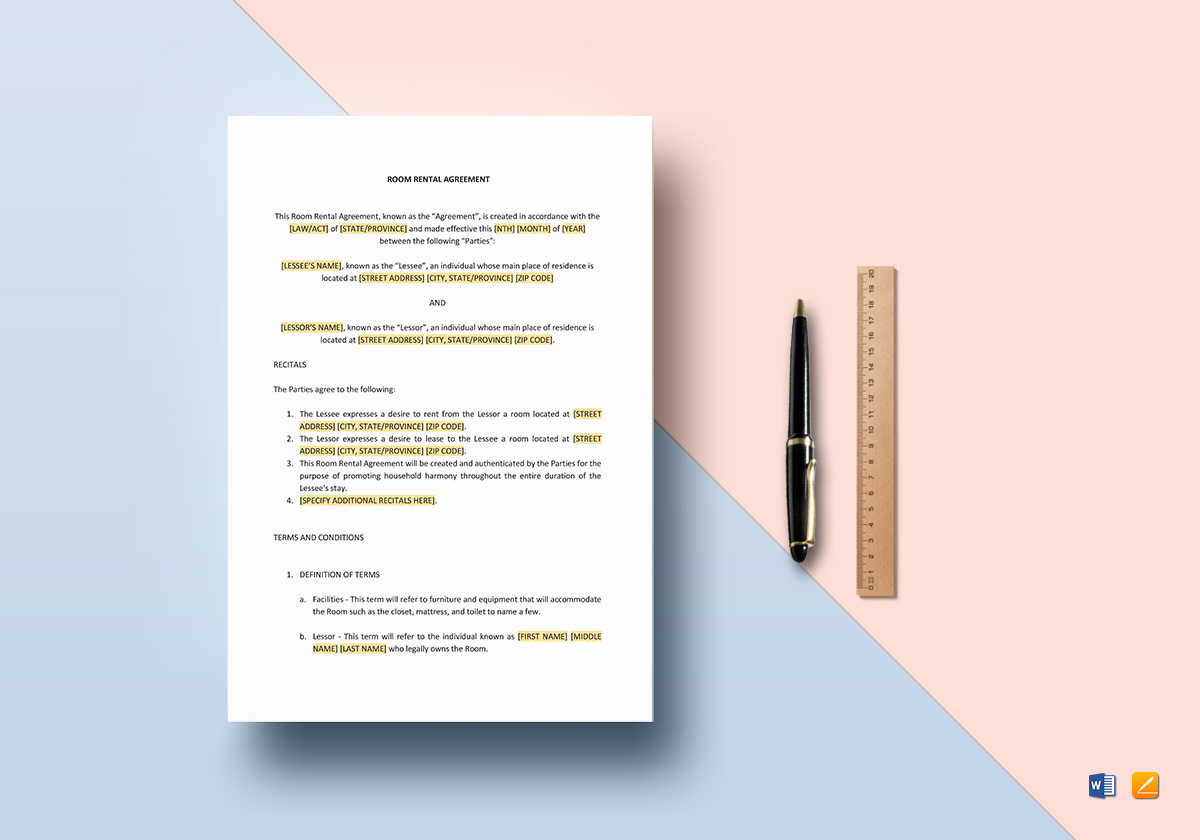 Rental Agreement Format
Month to Month Rental Agreement Template Format
Rental Agreement Template Form
servicenl.gov.nl.ca
Month to Month Rental Agreement Sample
carrolllibrary.org
Sample Residential Tenancy Agreement
tenancy.govt.nz
Steps To Design A Sample Apartment Rental Agreement
Writing an agreement with both parties signing it protects everyone involved in case issues arise. It also serves as a good, black and white record of the terms and conditions you have set and agreed to, when you need to refer back to it or when you need to make amendments during the agreement's duration. Here are some steps that can help you create an agreement which is well-written and with terms defined clearly:
1. Be familiar with the law: First things first. You cannot expect your agreement to be taken seriously if it doesn't go with what your federal state requires. Property management, as well as tenant and landlord rights, often differ depending on the city or state. Knowing the basics of tenancy laws before drafting your rental agreement will guide you through what clauses and provisions need to be included and which ones you can't include.
2. Hire an expert: If you're having second thoughts about finalizing your own agreement, by all means, hire an expert or a lawyer who specializes in real estate law. While you're allowed to come up with your own agreement and get it signed, it's still a better idea to either have a professional look at it first before finalizing it or employ a legal professional altogether.
3. Set property or unit-specific terms: If you had invested or spent money on a revamp or improvement on your property from top to bottom with sparkling floorboards and a shiny kitchen sink, you wouldn't want to pay for extra work again due to a careless tenant's neglect.
Tips in Creating A Sample Apartment Rental Agreement
Knowing you have set things clearly and both parties are on the same page on what the agreement has bounded them to, helps everyone sleep better at night. It also means better returns for your business and better, comfortable days for the tenant who need not worry about anything else than just making himself comfortable in his new place:
Be realistic, be flexible: Landlords want to be paid a good price for the value of their property or the unit being rented. Make sure that it is indeed offered in a price that goes with its value and doesn't go overboard in charging a tenant more than what the property and its amenities or benefits are worth.
Have your tenant read the fine print: Actually read the terms and what the lease says. It helps when you read and understand an apartment agreement before signing anything that you'll end up regretting so badly later on.
Types of Apartment Rental Agreements
Month-to-month apartment rental agreements: This type of rental agreement do not include specific time limitations which means the tenancy is set to continue until one party or the other decides to end the tenancy providing 20 days written notice before the next rent is due. Month-to-month tenancies can be oral or written.
One-way lease apartment rental agreement: These are still month-to-month agreements where the landlord charges a termination fee or waives the deposit if the tenant moves out before a certain number of months. They are called "one-way" leases because they only benefit one party which is obviously the landlord and are illegal in some cities such as Seattle.
Fixed-term apartment rental: This is a rental agreement for a specific period of time and should always be done in writing. One-year leases are the most common with over 12 months required to be notarized for validity. This type of agreement also enforces the restriction of a rent increase or any change of tenancy rules during the fixed term. Tenants, in turn, are bounded to meet the conditions for the full term or face certain penalties.
Apartment Rental Agreement FAQs
Why do I have to follow tenancy rules?
Rules of tenancy are almost always included in the terms and conditions of your rental agreement. As the landlord, you would want to protect the property you are renting out to tenants and you can't always check on them so the rules you set would not only serve as your protection but that of other tenants too.
How does a tenant make sure he gets his deposit back?
This is a question that the landlord needs to answer. The easiest way is asking the landlord what they consider as "legit" or actual damage when they decide not to give part of your deposit back or all of it. Each property owner ideally defines wear and tear vs significant damage quite differently.
Having a well-written agreement for a rental property sets the tone of a landlord's relationship with future and current tenants, protecting all parties as it serves as both a legally-binding contract and a point of reference for verifying the responsibilities you and the tenant have committed to and signed. Always make sure that each provision is in line with state regulations and run it with a lawyer or a legal professional before you get it implemented so that you can look forward to reaping the rewards of your renting business.