You check the internet for directions on where and how to catch the next train to Stock-port in your Northern England trip. You open a cookbook to verify the recipe for the dish you're planning to serve your dinner guests next Saturday and you want to get the cooking done right the first time. You can also like poetry analysis templates.
You may be the next kid just fresh out of college, wondering how to nail his first job interview or you might be someone trying to get a certain task done such as writing an essay as part of your requirement to pass your course. It could even be all of the above since almost everything we do and almost every part of our everyday lives involves following a step-by-step process.You may also see Analysis Templates.
Analysis templates are of great resources for the growth of your company to achieve its goals and targets in an efficient way. For example, a process analysis template in business will tell us how a certain task is done and how it is completed to get the end result. Apart from its usefulness, these analysis templates can be easily edited and customized in Apple Pages.
Business Process Analysis Template
Business Process Analysis Template
Business Process Gap Analysis Template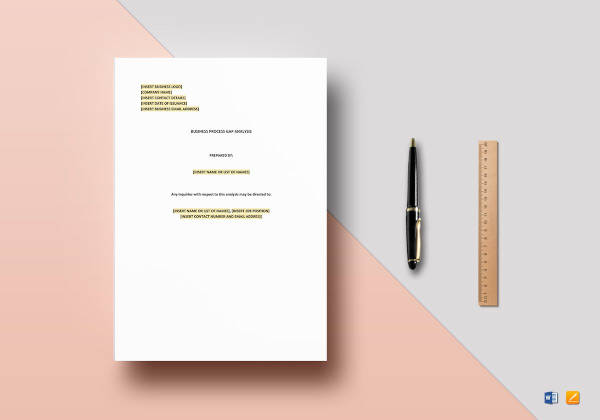 Business Process Analysis Sample
From riding our first bike as children to learning various odd jobs to help us get through college and beyond, starting a course of action needed certain instructions for us to do the task or activity effectively. In turn, we have likely given the same instructions or improved them to those who needed them, so we know that the importance of being given the right directions cannot be understated no matter how simple the task or process is and how disappointing it is when directions aren't given much thought and were poorly put together. You can also read sample situation analysis templates.
Essays, articles, or analysis that provide instructions and a process to follow for a task, in a wide range of topics from how to mow the lawn, survive a month in the Caribbean's most exotic places, come up with a well-written business letter to babysitting toddlers and being a good employee, are referred to as process analysis paper or how-to essays. Much like recipes, they provide steps for carrying out instructions or a task. You can choose to write a process analysis regarding any subject or procedure that you find interesting and worth writing a how-to guide on, just as long as you weren't given a specific topic to write about, by your professor.
What is a Process Analysis?
A process analysis describes how something is done, how a certain task is executed or how something was completed. When it comes to giving out systematic instructions regarding a process, you call it a directional process analysis but if you are defining how something happened in order of chronology, it's referred to as informative process. But writing the best process analysis go through a step-by-step structure. You may also see business needs analysis templates.
You can start off by giving your reader an estimate timeline and an overview of the task. After which, you can proceed to a more in-depth exploitation of every necessary step involved. Once you're done writing your analysis, carefully read it again to make sure you didn't leave anything out, and all important steps have been written. Otherwise your analysis automatically loses its value. You may also read requirement analysis templates.
Process analysis further defined is a form of technical and expository writing "designed to convey to the reader how a change takes place through a series of stages." While the traditional process analysis takes on a set of instructions which needs to be chronologically organized the intended audience of a process analysis would typically be more interested in having a good understanding of the step by step elements of a system that serves largely without the reader's direct actions, such as how food is processed after our intake while reading of a set of instructions would intend for us to use the instructions provided in accomplishing a certain, limited task, such as how to bake a cake. You may also read business gap analysis templates.
Process Analysis for Business
Process Analysis Example
Process Analysis Sample Guide
Writing A Process Analysis Paper
There are a number of elements which would lead you to writing a good process analysis but understanding the work it involves and understanding what your audience would want to read will help you write a better process analysis paper. You may also read customer analysis templates.
The analysis should open with a discussion of the process and an objective stating the goal of the process. Organizing the process analysis would obviously follow an order of chronology. The steps of the process are indicated in the order in which they usually happen. Your body will then be developed based on those steps and if a specific step urns out to be complex and would require a lot of explaining, chances are, it would warrant a paragraph of its own. If a series of basic steps makes for easy understanding, then the steps can be combined and form one single paragraph. You can also like sample organizational analysis templaets.
1. Evaluate your intended reader's skill level
Before getting down to the actual writing of your analysis, take time to factor in who your audience is going to be. This will help you break down the type of language to use as well as the information you plan to include. If you're writing for a learned, well-read and knowledgeable audience, then you can remove part of the basic information you have to include for beginners. For example, a process essay written for journalists could just miss out on the detailed description of how to write a feature article and have this written instead, "make the article informative." You may also read financial analysis samples.
2. Indicate what you're going to describe
Assuming that what you're writing is something you chose, it should then be very precise. For instance, "How to bake a cake" does not establish whether or not the cake is going to be chocolate or cheese-flavored. A more accurate and better topic in this situation would be "How to bake a blueberry cheesecake." You may also read customer analysis templates.
Choose an interesting topic which is also relatively complicated but can be discussed and broken down in a series of steps. Just like any form of rhetorical writing, choose a topic or process within your knowledge or expertise, something that you don't have to dedicate in-depth research for, so that you can better describe the finer details regarding each step involved in the process. You should have a thesis statement coming towards the end of your introduction and it should indicate the result of the process you are writing about.
3. Create a list of materials you need
Go over the process from start to finish and take note of every single element that the reader would need to accomplish the task. Don't leave out anything and list details from the most common to the most unusual. You an keep the list as your guide in writing the analysis by checking off each item as you write the process. You can also add a detailed "Things You'll Need" portion at the beginning of your analysis paper or simply list the materials needed after writing your introduction. You can also read hazard analysis templates.
Should something on the list appear odd such as a special type of tool for do-it-yourself instructions, make sure to mention it clearly within the text. You can also put an image of the item, especially if this article needs to be published online, because good content always comes with pictures. You may also like printable project analysis.
4. Structure the body of your essay in paragraphs
A standard process analysis ideally have three or more body paragraphs. Avoid making your paragraphs too wordy with too many details cramped in your sentences or you will confuse the reader. You may also read free gap analysis.
5. Transition properly
Make use of signal words or transition to convince your reader to continue to the next step from the one he's reading and don't just end one step without properly introducing another. You can use words such as "next" "now" or "then" when moving from one thing to the next. This will make the analysis more comprehensive and properly organized and a lot less like just another checklist. You may also read job analysis templates.
6. Write in the second or third person
Avoid the use of first person pronouns. This may not be an article meant to be written with grave formality but don't make it too casual since you're giving out instructions on how to get something done. Don't use "I, we, us, me, mine, our, and ours" in writing your analysis because this you will risk making it less authoritative. In a process analysis, the reader would be less confident with the instructions you have given and your knowledge on the process or subject if you write in the first person. You may also like sample market analysis.
Indicate the end result and what to do with it. Your last few paragraphs should finalize the process. They should also provide the reader a general idea of what the end product is supposed to look like or what he or she could use it for. It wouldn't b good to assume or expect that the reader would automatically know what to do next when the process is finished. You may also like analysis examples.
Simple Process Analysis
Process Analysis Writing Example
Workflow and Process Analysis
If you wish to, you may add a narrative element to your process analysis but you would want to shy away from making it a story. In so doing, the steps in the process might get lost in the narrative and the goal of this analysis or essay should be very clear in informing the reader. You can also read printable analysis templates.