Analysis Templates
11+ Healthcare SWOT Analysis
When you are running a healthcare organization, you have to stay updated on both its strong points and shortcomings. A free swot analysis sample would be the most useful here as it will offer you a comprehensive view of the appealing parts as well as the challenges faced by your healthcare system. This will in turn guide you to take better steps to make your healthcare samples more beneficial for the patients.
Sample Healthcare SWOT Analysis Template
Running a healthcare institution or organization presents different issues and challenges. With the help of the above template as the basis in coming up with your own organization's assessment, you get a crucial and essential document to help you big time in evaluating the strengths and weaknesses of your organization. Be able to build on your strengths and improve your identified weaknesses. Know opportunities from threats that appear and be able to devise a plan or strategy in making the most out of each situation. Try it out now!
Hospital SWOT Analysis
You can understand the strengths, weaknesses, opportunities, and threats of your hospital with the help of the above template. It is specially designed to provide you with a clearer picture of what hospitals have to offer and how they can strive to go further. There are many analysis templates in Google Docs that are readily available for you to download, edit and customize the way you like best and in the that suits your needs the most.
Simple Healthcare SWOT Analysis
The above template is a sample healthcare SWOT analysis template, that will definitely be of great help to you, in case you need to make an analysis for your healthcare organization. It outlines the most important points of your report. Simply follow the contents of the template and your SWOT analysis and the report will be done in a fraction of the time. All you have to do is download the template, edit and customize it in a way to suit your needs perfectly and done!
Free Home Health Care SWOT Analysis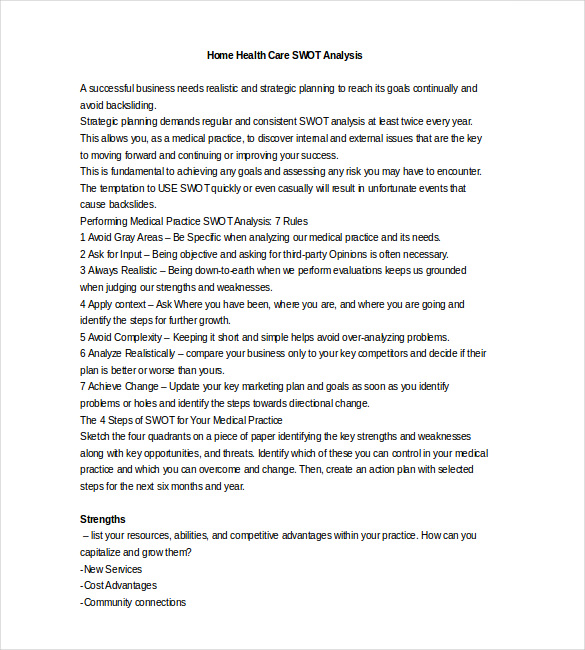 medicalmarketingblog.com
Creating a Healthcare SWOT Analysis:
1.Build an Objective
The first thing for you to do before you start creating a SWOT analysis would be to know why you are doing it in the first place. Once you are clear with that in your mind, it would be easier for you to understand what to do and how to create the right analysis when required. Marketing SWOT analysis templates will help you understand how to create the perfect marketing analysis for your company.
2. Key Data
You must be data-driven to be a well run and highly performing hospital. It is very important that you collect all the data and assess important information that is required to help you create the right analysis for your healthcare business. This could range from patient records to disease registries, claims, funds, etc. Once you have all the information that you need, the next thing for you to do would be to see whether or not it is accurate. Only use the data that actually makes a difference in the SWOT analysis for you and your healthcare organization.
3. Do the Analysis
The next step for you to follow would be to take all the data you have collected and you will need to arrange them into strengths, weaknesses, opportunities, and threats. Remember that strengths and weaknesses are internal factors that can be controlled and the opportunities and threats are external factors, which cannot be controlled by you. This will help you have a clear idea of what needs improvement to make you a better organization. Analysis templates in Apple pages will also be of great help to you if you need to create an analysis on any Apple device.
4. Add the SWOTs
Next, develop a four-box SWOT model for each business unit. This might not be necessary if you have a small organization. The main goal here is to modify and change the department according to the results of the SWOT analysis. This way you get a multifaceted picture of your abilities instead of having to make cliche situations that span the company.
5. Final Conclusion
The last and final step would be the final conclusion, which should consist of what you have found out from the analysis and what you intend on doing to make the right decision. This is an important step in your analysis, as it helps you understand what is it that you found from the analysis. This will also help you decide what you would do to bring about change at your workplace. Note down the negative and positive outcomes, whether you have reached your objective successfully etc.
Sample SWOT Analysis Healthcare Industry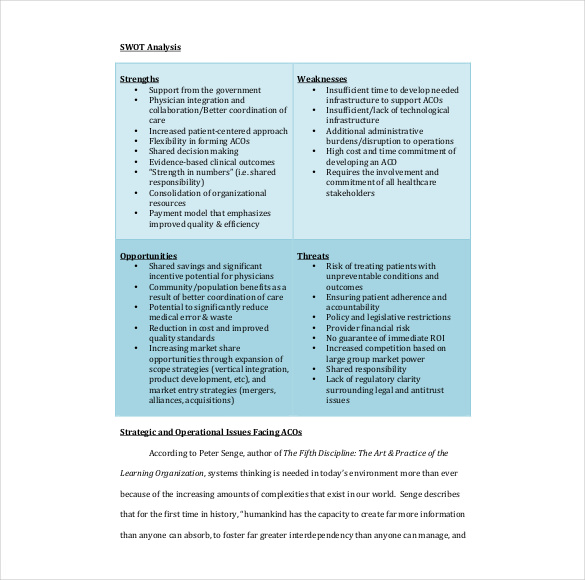 2.suffolk.edu
Sample South Africa's Health System

tfhc.nl
Sample SWOT Analysis of Hospital PDF Download

hub.hku.hk
Rules to Remember While Making a SWOT Analysis:
Be specific

: The SWOT analysis will help you make strategic decisions, so be sure that you avoid unclear statements and avoid being vague about it.

Be realistic:

Once you start evaluating your strengths and weaknesses, be realistic and keep aside any biases that could be based on your personal experience or knowledge. The result of this analysis will help your organization move forward.

Apply Context:

Make it clear as to what is it you want different in the future. Compare your position now and also mention where is it that you want to see your organization in the future. The internal and external factors can make you understand what you can do to make your situation better.

Keep it simple and concise:

Avoid over-analyzing your SWOT analysis. Keep it as simple and short as you can, and also, very legible to others who need to know the results of your analysis. Do not make it complex unnecessarily. Keep it short and simple.

Be objective:

Get the feedback from stakeholders what could be the possible way to make your company better than it already is. Any expert advice can help you provide accuracy and objectivity to your analysis.
Army Healthcare SWOT Analysis PDF File Free Download

researchandmarkets.com
Free Hospital SWOT Assessment PDF Format Download

nourishingontario.ca
Sample Hospital SWOT Analysis Word Format Download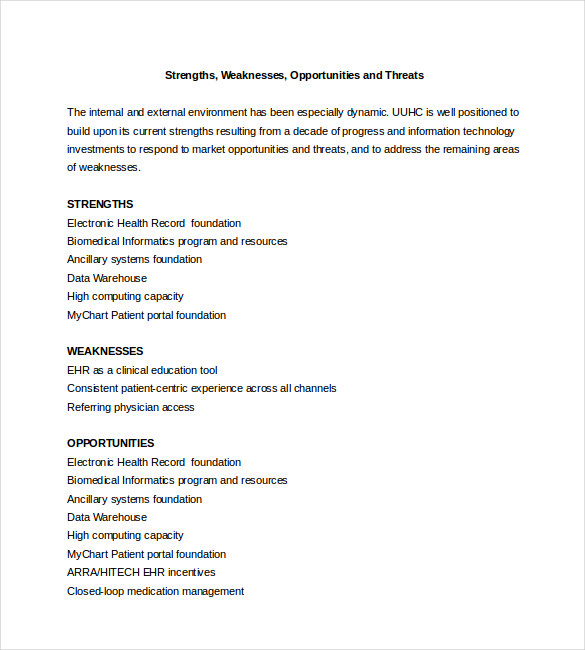 healthcare.utah.edu
SWOT Analysis for a Hospital Template

rapidbi.com
Free Healthcare Strategic Planning Template

onlinelibrary.wiley.com
Points to Remember:
A SWOT analysis sample can show you where you would possibly need to put in more effort to relieve your healthcare systems, especially where you have drawbacks. A good and timely SWOT analysis will definitely help you improve the reputation of your healthcare system or any organization you are working for.
SWOT analysis is a decision-making tool that keeps you informed about the strengths, weaknesses, opportunities, and threats that could possibly be present in your organization and this helps you understand the best way that you can use to keep the plan intact. A personal SWOT analysis can be used by anyone who wants to know things about themselves personally. This way, they can self-check themselves to make oneself a better person.
To gets a better idea of how to make a SWOT analysis quickly, you should keep yourself ready with the information regarding any SWOT analysis. There are many editable analysis templates that are readily available at your disposal when required. You can either edit these or make a new one on your own.
More in Analysis Templates