It's important for businesses to keep shareholders and their own staff up to date regarding their status and activities over the year, and they do it in the form of an annual report. Here, we've got brochure templates that you may use for making your annual reports, and these templates are fairly easy to download and edit.
16+ Annual Report Brochure Templates
Annual Report Bi-Fold Brochure
Let's get right into the meat of this article by checking out the first brochure template above that you may use for creating your annual reports. This bi-fold brochure template comes in six different file formats for you to choose from. Again, be sure to choose the right format to avoid any compatibility issues.
Company Annual Report Tri-Fold Brochure
Whatever you're planning to communicate with the organization, be sure to arrange it well on the brochure's layout for the readers to easily find the information they need. With tri-fold brochures, they have a total of six panels (three front and three back) that you can use for segregating your content and making it easier to read.
Annual Report Tri-Fold Brochure Sample
If you've got a lot of information to say on your report, it would be best to organize all of those by using each panel of the brochure as a column. This way, regardless if they keep the brochure folded or not, readers can still distinguish a set of information from the others.
Company Annual Report Brochure Example
Here's an annual report brochure template in bi-fold type to those who prefer their brochures to be basic and straightforward. To some, they also refer to the bi-fold as a half-fold brochure although the two slightly differ in the placement of the fold or the measurement of the panels.
Modern Annual Report Bi-Fold Brochure Template
Modern Annual Report Tri-Fold Brochure Template
6 Steps to Create an Annual Report Brochure
Step 1: Decide on a type of brochure
Brochures come in various types including bi-fold, tri-fold, and gatefold brochures, each one has its own purpose as well as some pros and cons. Before deciding on a type of brochure to work with, it would be best to learn about the type first and decide whether or not it'll work with the content that you're planning on writing.
Step 2: Choose a suitable brochure size
Aside from just choosing a brochure type, you will need to choose a size as well. Brochure sizes can range between 8.5 x 14 inches to 11 x 25.5 inches. When choosing a business brochure size, always take into consideration the extent of your content and that it shouldn't look crammed when added to the layout.
Step 3: Formulate the report
After choosing both the brochure type and size, you can start writing your content in the form of the report. Make your report as straightforward as possible and for your charts or diagrams, be sure to upload high-resolution ones. Also, try to make room for white space despite all the content to prevent the layout from looking chaotic.
Step 4: Download a brochure template
Next, get your hands on an annual report brochure template and you can choose from the ones that we have gathered here for you. Whether you're looking for a tri-fold or a half-fold brochure template to make your annual report brochures, we've definitely got what you need right here and getting your hands on one is just a button click away.
Step 5: Customize the design and add the report
Since these are just templates, they actually require customizing before you can start calling it yours. For our templates, we can assure you that as long as you're using the right editing tool, you'll be able to edit the template fully. For example, brochure templates in PSD can be fully edited using Adobe Photoshop.
Step 6: Proofread your work
Just before you can call it a day, it is a must to proofread your work either after or during adding the content. Proofreading is important especially in professional written materials since it helps in easily communicating the message to the reader. Poorly written content can also give a negative impression of the entity preparing it.
Administrative Annual Report Bi-Fold Brochure Template
Administrative Annual Report Tri-Fold Brochure Template
Aviation Annual Report Bi-Fold Brochure Template
Aviation Annual Report Tri-Fold Brochure Template
 Printable Annual Report Brochure Layout
Download
If you're looking for a brochure template that has fully customizable fonts and color scheme, this one might be what you need and thanks to its editable nature, you may even be able to use this over and over again. Since this is a brochure template in the InDesign format, you will need to edit this using Adobe InDesign CS3 or later.
 Square Annual Report Brochure Template
Download
With just a click of a button, you'll be able to change the color scheme of this company brochure template and make it look entirely new. Other than that, this brochure's square shape is enough to make itself unique, you'll be able to write more and use wider images, unlike regular portrait-oriented brochures.
 Company Profile Annual Report Brochure
Download
Even if this template is designed for making annual report brochures, this is actually a multipurpose template and can be used for making any kind of brochure. With 20 usable pages, it's no doubt that you've got more than enough for writing your report and adding your images and illustrations.
 Modern Business Annual Report Brochure
Download
Keep it simple but also keep it trendy, that's what the brochure template above aims to achieve. You can choose to download this template in three different and fully editable formats such as Word, InDesign, and PDF. If you like, you may also check out more related content with our collection of editable PDF templates.
Simple Annual Report Brochure Format
Download
A good leader would never say "I am" or "you are" to their people, they should always say "we are" since they are one entity looking to achieve a common goal. Use this high-quality brochure template for keeping your people updated on what's been happening in the company and how you as one body can reach your goal.
Corporate Annual Report Brochure Design
Download
Unlike most of the brochure templates you've seen so far, this one might actually surpass its predecessors with its horizontal or landscape form. In terms of design, this template has a straightforward one which simply shows an overlooking image of the city. This template comes in three formats namely Illustrator, InDesign, and JPG.
 Simple Annual Report Brochure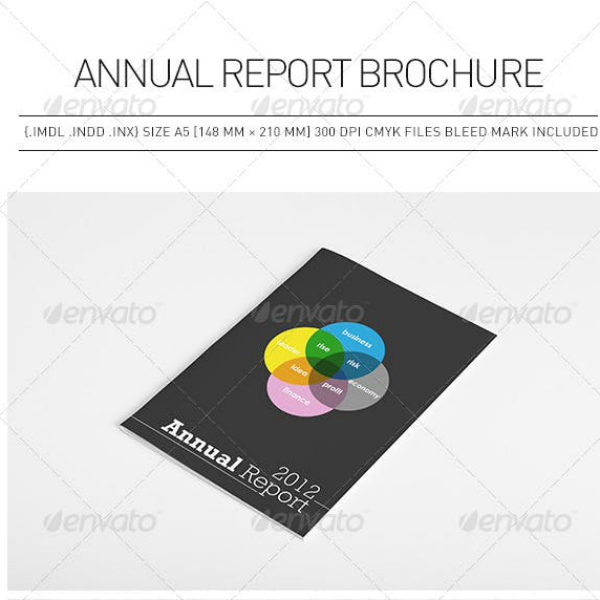 Download
It not uncommon for businesses to use colored circles for identifying their different fields and how each one possibly interacts with the other. For this simple modern brochure template, you'll be able to include an image of that colorful diagram to inform readers on where the company stands or how they are doing.