When an individual or group of people shows their power through aggression on a weaker person, that is identified as bullying. It is a nasty way of showing power and control over the vulnerable person by using some mean tactics. You can also see Tri Fold Brochure Template.The several forms of bullying are:
Verbal
Physical
Psychological
Sexual
Cyber
Bullying generally happens in schools, colleges and even in workplaces. It can lead to some very unfortunate conclusion, that is people who are victims tend to lose their mental stability and can even commit suicide. Bullying brochure templates are used for creating awareness against this menacing practice for helping the victims. You can also see Brochure Template.
Bullying Bi-Fold Brochure Template
Bullying Tri-Fold Brochure Template
Together We Can Be Bully Free
doe.in.gov
This brochure explains bullying, its effects on the victim, and the need to get rid of this problem from the society. The brochure also suggests ways to counter bullying.
Together We Stand Up Against Bullying
laspd.com
The definition of bullying and its forms are explained in this brochure for raising awareness to the students, so that they can avoid getting bullied. It also explains the parent's duty in dealing with this shock.
Bullying & Harassment Policy
alleastas.sa.edu.au
This brochure raises the beliefs and policies of the school in handling this ill practice and how can they provide counselling to students who are a victim. It also explains the parent's role play.
Autism & Safety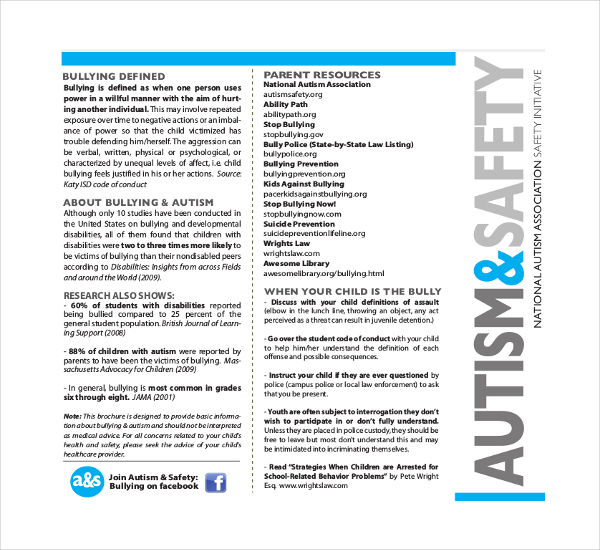 nationalautismassociation.org
This brochure explains bullying its forms and its relation with autistic children. It also provides tips to the parents as how they can address this issue and solve it.
Bullying Brochure Template
The brochure provides tips to students as what treatment be given to a bully how can they avoid the situation. The brochure also discusses counselling tips from the parent's perspective.
Bullying – We Don't Do That Here
curriculum.edu.au
This brochure explains the belief of the college in providing a bully free environment for its students. It also provides the tips of identifying a victim and the ways they themselves can deal with it.
Take Action Against Bullying
pasco.k12.fl.us
This brochure explains student's council's role in helping the victims, why it should be stopped and the school's and parent's role in helping the victim as well as the child who is into bullying.