People love a clean environment, I mean who doesn't? While some people can manage to clean their environment on their own, some actually ask the services of professionals. These professionals are what comprises a cleaning company and if you're managing one, we've got brochure templates below that you can use for promoting your company.
5 Steps to Create a Cleaning Company Brochure
Step 1: Decide on a brochure type
Before you start creating a brochure for promoting your company, decide on a brochure type and check whether it'll work perfectly with your message. There are a lot of types that you can choose from and this includes the bi-fold, tri-fold, roll fold, accordion fold, and the gatefold brochure.
Step 2: Prepare the photos and your company's logo
Pick out a few of the most impressive photos that showcase your services and keep them beyond reach. In terms of the logo, prepare it as well since you may need it for your brochure's cover page. When preparing these elements, make sure that they are both high-quality, it might even be best save them in uncompressed formats.
Step 3: Download a cleaning company brochure template
To save you a lot of time, you're welcome to use any of the cleaning company brochure templates below and there are over ten that you can choose from. These brochure templates are already pre-designed but you are still allowed to make as many changes to the design as necessary.
Step 4: Write the content and add the enhancements
The content is the most important element on brochures and it's now time for you to add them. Keep your content concise and use a font that's legible. Also, apply the necessary enhancements to the design to make it even more appealing. These enhancements may either be color scheme changes or the addition of graphical elements.
Step 5: Proofread the brochure's content
The credibility of a business may rely on the quality of their advertisement tools which is why it is important to proofread your brochure's content after adding them. Proofreading involves checking for any error either in spelling or in grammar. Make the necessary corrections before finalizing your cleaning company brochures.
10+ Cleaning Company Brochure Templates
1. Cleaning Company Bi-Fold Brochure Template
Here's a cleaning company brochure template that keeps all of its information in the inner panels. This way, the cover page will simply show readers the name of the company, the tagline, and a photo to represent the services. You can download this brochure template in Illustrator, but you can also download it in five other formats.
2. Carpet Cleaning Company Bi-Fold Brochure
Carpets may indeed enhance the look and the level of comfort in a place but it can also easily attract dust. This is why carpets need to be cleaned regularly and you can do so by washing or by vacuuming it. If this is the specialization of your company, then the business brochure template above would be perfect.
3. Sample Cleaning Company Tri-Fold Brochure
There are cleaning tasks that we can do on our own and there are also those that we can't, and this leads us to seek the help of professional cleaners. Here, we've got a professional services brochure template that you can use to promote your business as well as the services that you are offering to your clients.
4. Carpet Cleaning Tri-Fold Brochure Example
Here's another carpet cleaning brochure template that you might also be interested in. After gathering clients through this brochure, you may also use a carpet cleaning contract to set an agreement regarding the cleaning location, the schedule for cleaning the carpets, the equipment to be used, and the service fee.
5. Carpet Cleaning Business Brochure Format
We've got one more carpet cleaning brochure for you and this one effectively balances the text with the images. In addition, this template features black and white photos to really put emphasis on the content. We've also got carpet cleaning postcards for you to promote your business and to reach out to your prospects directly.
6. Printable Cleaning Business Brochure Layout
In today's modern era, many businesses choose to go digital and advertise themselves through the world wide web. However, there are also others that still prefer printed advertisement tools. If you're planning on printing out your brochures, you can always use the vertical tri-fold brochure template above to promote your cleaning company.
7. Commercial Cleaning Business Tri-Fold Brochure
While tri-fold brochures are indeed perfect for organizing content into different sections by using the panels, they actually don't work if you're planning on adding large images. To enable you to use large photos while still being able to write a lot of content, you can use our commercial bi-fold brochure template instead.
8. Downloadable Cleaning Service Brochure Design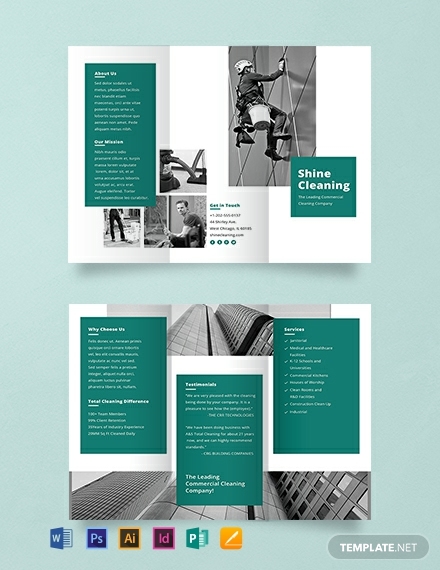 A good template is one that's highly versatile in terms of how easy it is to edit and also in terms of its compatibility with various editing tools. Here's an example of a highly versatile template that Apple users can be excited about. While you can download this brochure template in Pages, you can also download it in five other formats.
9. Office Cleaning Company Tri-Fold Brochure
One of the factors that can influence a worker's productivity is the cleanliness of the office. Feel free to use the brochure template above to inform prospects that you are capable of cleaning their office for them. Also, we've got a cleaning checklist template to serve as your guide when rendering your services.
10. Cleaning Service Company Brochure Template
Download
Brochures are great since it allows you to describe your company more thoroughly and you may also feature testimonials from past clients. But if you want a simplified marketing tool, we've also got a cleaning service flyer template that you can use as an excellent alternative to brochures.
11. Modern Cleaning Services Brochure Sample
Download
We've got a tri-fold brochure template above that you hand out to prospects to inform them what your business is about. If you don't feel like using a tri-fold brochure, you can always go with a professional service bi-fold brochure template instead. This template comes in fully editable JPG, AI, and PSD formats.