Searching for ways to advertise and expose your scrumptious catering service to the world, ones that it is easy, simple, and a value for your money? End your search here because we here on Template.net provide for you some brochure templates, specifically made and designed for catering services. We also offer some Restaurant Brochures templates for you to check out as well.
121+ Corporate Templates in PDF, Word, Excel, PSD, Google Docs, PowerPoint, InDesign, Apple Pages, Google Sheets, Publisher, Apple Numbers, Illustrator, Apple Keynote, Google Slides, HTML5 - START DOWNLOADING
Catering Service Bi-Fold Brochure Template
Corporate Event Catering Bi-Fold Brochure Template
Corporate Event Catering Tri-Fold Brochure Template
There is no better way to sell your business that involves food than advertising it to the public with near to perfect pictures of you banquet, as if you can taste it, and alluring details as to why people should choose you. Let us capture your attention with what we have on offer. You may also see corporate templates.
Corporate Catering Event Brochure
Download
Corporate Catering Menu Brochure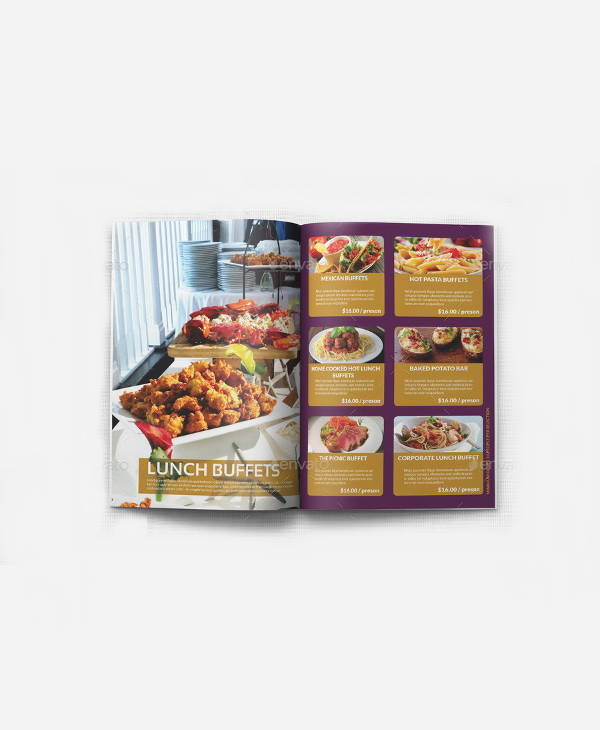 Download
Corporate Catering Company Brochure
Download
Pastry Corporate Catering Brochure
Download
Holiday Corporate Catering Brochure
Download
Kick It Up a Notch!
Began in the early 1820s, a catering service is the business of providing food at a remote site such as houses, hotel, and other private locations. Their service is popularly purchased to cater events like weddings, birthdays, or any other social gatherings.
A business which serves a good number of people is best known by the public. To quickly be able to make a name into the world, these types of services tend settle on handing out brochures.
A brochure is a promotional document containing information and images that announce and sell. They are a go-to of businesses and companies since they make their way to the public from the word go. There are two ways to be able to disperse brochures. One way is through printed paper and the other is electronically created and distributed online, thus called e-brochures.
Why Use Brochures?
There are some advantages earned when using brochures to be able to commercialize. Here are a few them we believe why brochures should be your go-to advertising tool:
They are versatile.
They can be easily distributed.
They save your time handling other responsibilities.
They are cost effective.
They are impactful.
They are direct to the point.
Experience these advantages by using our corporate catering brochures as well as our Corporate Brochure Templates.
Corporate Food Catering Brochure
Download
Company Catering Brochure
Download
Corporate Catering Trifold Brochure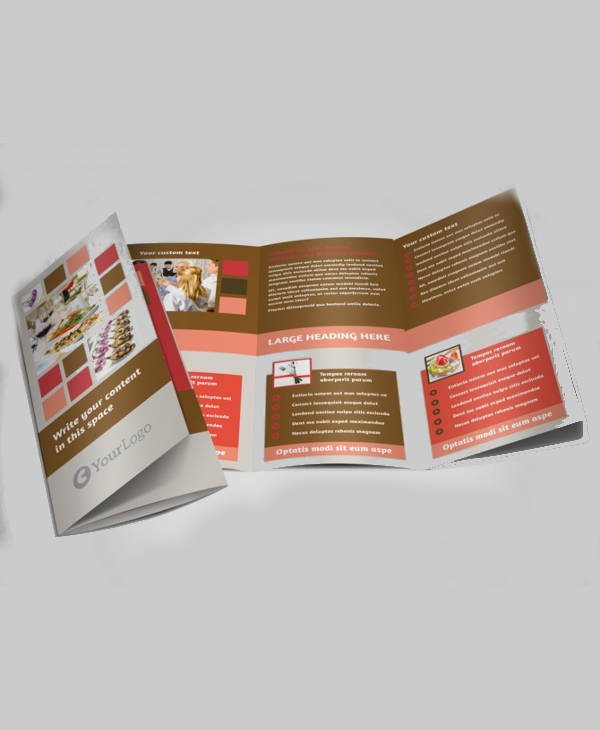 Download
Classic Corporate Catering Brochure
Download
Tips and Tricks
We have given you a selection of templates that can aid you in exposing your mouthwatering services out in the open. The next step is to know how to execute that. Here we list down certain tips and tricks on how to make a good quality brochure:
Create a purpose and decide if they are necessary.
Use appropriate designs since they represent your business and create a first impression.
Limit your words—keep them precise and straight to the point.
Create a striking headline to capture reader's attention.
Use simple and easy to understand words and font.
Use appropriate images.
Create a clear layout.
Why Use Our Templates?
Aside from being products of meticulous market studies, our templates consisting helpful and creative material to take your brochure to new heights. Here's why our templates should be the best pick for you:
Our templates are resuable.
Our templates provide general design.
Our templates are easy to use.
Our templates can aid you in making accurate brochures.
Our templates are custom made specifically for catering services.
Our templates are available to download for free or for a nominal licensing fee.
Our templates provide effective content.
Now that we have given you tips and tricks, advantages, and templates to make them your own and personalize them to portray your solid portfolio, how about sharing them with friends who may need them?
We also offer Electronic Brochures in this website. Check them out now!