When corporate businesses need to gather their employees to discuss something, they will usually hold corporate events. These are done to discuss the current status of the business as well as what the business plans to do in the future. Spread awareness by distributing brochures, and we've got over ten brochure templates below for you to use.
121+ Corporate Templates in PDF, Word, Excel, PSD, Google Docs, PowerPoint, InDesign, Apple Pages, Google Sheets, Publisher, Apple Numbers, Illustrator, Apple Keynote, Google Slides, HTML5 - START DOWNLOADING
16+ Corporate Event Care Brochure Templates
1. Annual Corporate Event Brochure Template
Oftentimes, corporate businesses hold their events annually, and this is usually for updating the employees regarding their status and the direction that they're planning to take. To get the people involved in these events, you may want to spread the news by way of brochures, and here's a tri-fold type template that you can use.
2. Simple Corporate Event Bi-Fold Format
Just because you prefer to go simple, it doesn't mean your brochure will be less relevant. The best thing about choosing a simple design is it helps in emphasizing the brochure's more relevant content rather than the graphical enhancements. This template comes in six file formats, choose the best one that's fully compatible with your editing tool.
3. Global Corporate Event Brochure Sample
When sharing details regarding a corporate event, you can include on the brochure the people who will be speaking or presenting. If the event will involve multiple presenters, it would be best to use the tri-fold brochure type in order to take advantage of the multiple panels for organizing the elements on the layout.
4. Dark Bi-Fold Corporate Brochure Example
In contrast with the previous brochure template, here's a bi-fold type brochure that's great for short content or for those that involve large graphical elements. Since the color scheme leans more towards a dark background, using light colored text or graphics would be advised in order for it to be easily visible.
5 Steps to Make a Corporate Event Care Brochure
Step 1: Plan out the event
Successful events don't happen without extensive planning, especially with corporate events since they involve a lot of attendees. Always plan the event carefully, determine the estimated number of attendees, the agenda that will be taken up, and the food and drinks that will be served (if applicable).
Step 2: Decide on a brochure type
There are various types of brochures and they differ according to the number of folds and panels. Depending on how much information you're trying to convey regarding the event, decide on the best type for your content. Another factor to your choice of brochure type are the graphical elements that you intend on adding to the design.
Step 3: Download a corporate event brochure template
Below, you've got numerous corporate event brochure templates that'll help you in creating your own. These templates are more than just creative and visually stunning, they are also easy to download as well as fully editable. Scroll down to see the different brochures templates and download the one that you think is best for your content.
Step 4: Edit the brochure template
As mentioned earlier, the templates below are easily and fully editable, but you can only enjoy that feature if you're using an editing tool that's compatible with the template's file format. For this step, you can customize the design according to your preferences and you can also start adding the brochure's content.
Step 5: Print copies of the brochure
This can either be done by yourself or by professionals. The former is the ideal choice if you're printing only a few copies while the latter is best when printing a lot of copies of your business event brochure. When doing it yourself, always keep in mind to use high-quality and durable materials for printing.
5. Creative Corporate Event Tri-Fold Layout
The quality of the business' marketing materials can contribute to their image and reputation, which is why for prospects to see your business as credible, you should start by making your brochures worth reading. With this business brochure, you don't actually need to do much other than to add your content and to make slight enhancements to it.
6. Corporate Event Catering Bi-Fold Brochure Template
Design your brochures with the use of this Corporate Event Catering Bi-Fold Brochure Template to help you promote your corporate event.  It's fully customizable in all available formats, including editable PDF, .psd, and .ai. Download this template now!
7. Corporate Event Catering Tri-Fold Brochure Template
8. Corporate Event Company Bi-Fold Brochure Template
Are you looking for a brochure template perfect for your corporate event? Then download this template right now! It only comes for an affordable price! It has a high-quality file format and graphic design, which makes it more eye-catching and attractive.
9. Corporate Event Company Tri-Fold Brochure Template
10. Corporate Fundraising Event Bi-Fold Brochure Template
11. Corporate Fundraising Event Tri-Fold Brochure Template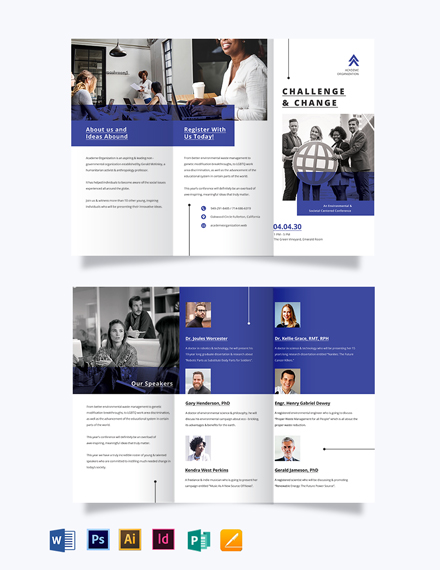 12. Tri-Fold Corporate Event Brochure Sample
Five different file formats are more than enough to provide people with options on what to use for making their brochures. Always keep in mind that for you to be able to edit the template fully, you will need to use a compatible editing tool. In other words, brochure templates in PSD should be edited using Adobe Photoshop.
13. Corporate Event Management Brochure Template
The tri-fold type is characterized by its two middle folds that divide the entire paper or card stock into three equal parts. These divisions are otherwise known as panels and you can use them for easy organization of all your content. You can download this template in Word, or you can also download it in PSD or Publisher.
14. Bi-Fold Business Event Brochure Example
On the other hand, the bi-fold brochure type only has a single fold in the middle to divide the paper stock into two parts. Some would consider this type to be synonymous with the half-fold brochure type, although others also see them as different. Nevertheless, both brochure types are highly effective at conveying business information.
15. Tri-Fold Business Event Brochure Design
Download
If you're looking for something that looks elegant and presentable, you might want to check out this elegant brochure template. Right off the bat, this template comes with four PSD files and a PDF file for instructions and links to some free fonts. This template is fully editable, you can change the color scheme in just one click.
16. Conference Agenda Event Brochure Layout
Download
If you're using Adobe InDesign for creating or editing your projects, you might want to use this template in InDesign for making your own event brochures. This template may be highly minimalist, but it doesn't mean it looks dull. Also, this template comes with free fonts, and you can check those out in the included Help file.
17. Corporate Event Tri-Fold Brochure Format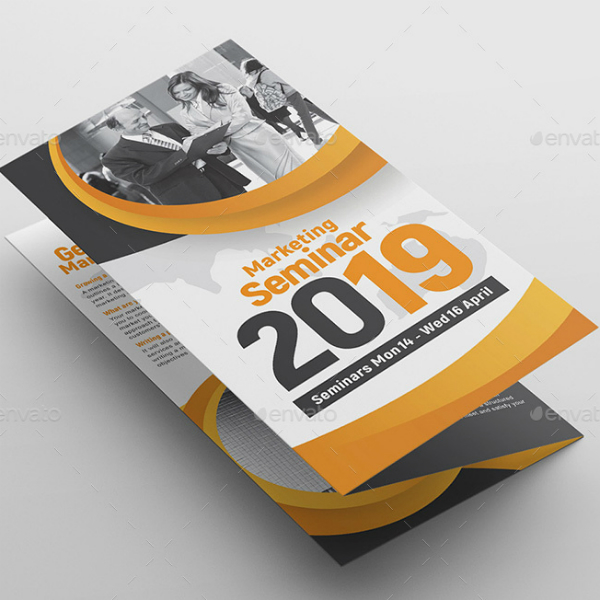 Download
The best thing about vectors and templates in Illustrator is that they are capable of withstanding extensive editing without compromising the quality. Here's a brochure template that you can download in Illustrator, but you can also get this in the PSD format. Whichever format you prefer, this template can make your event brochures the best there is.