While the more modern way is through the use of the Web as these brochures are electronically made and sent via Internet. Whichever way you may want to distribute your own brochures, these templates can definitely help you. You can also check out some of our Corporate Brochure Templates if you're advertising your company instead. You may also see Brochure Templates.
121+ Corporate Templates in PDF, Word, Excel, PSD, Google Docs, PowerPoint, InDesign, Apple Pages, Google Sheets, Publisher, Apple Numbers, Illustrator, Apple Keynote, Google Slides, HTML5 - START DOWNLOADING
Corporate Fundraising Event Bi-Fold Brochure Template
Corporate Fundraising Event Tri-Fold Brochure Template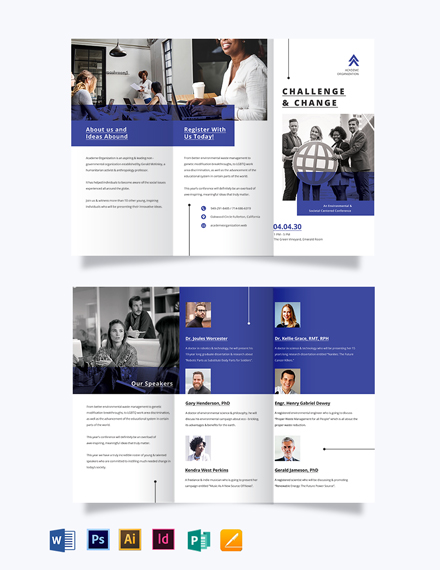 Fundraising Tri-Fold Brochure Template
Fundraising Bi-Fold Brochure Template
Searching for a place to place all information about your fundraising campaign, event, or services and to advertise it worldwide? Do you need high-quality designs to build yourself a strong promotional tool? You have come to the right place. On our website, we here provide you provide for you some brochures templates that custom made and designed specifically for fundraisers that you can choose from and use.Nowadays, there are two ways brochures can be distributed to be able to advertise its content. The first way is the traditional printed on paper and handed out to people in public
Corporate Fundraising Trifold Brochure
Download
Corporate Fundraising Campaign Brochure
Download
Corporate Fundraising Event Brochure
Download
Church Corporate Fundraising Brochure
Download
What Is a Brochure?
A brochure is an easily foldable paper document that contains information whether to announce or sell a product or service. They are also used as promotional documents of businesses, and they also introduce startups and the services and products they offer.
Brochures are a great go-to for people who are fresh in the business world as brochures are an effective way to make a name in the public. Brochures can include images with complete information that may give potential clients a good first impression and give them a head-start on what their company or service is all about.
As brochures are an efficient way to quickly spread news, they make a good method for specific projects, such as fundraising to get the awareness of the public.
How Does a Fundraiser Work?
Fundraising is the process of gathering voluntary contributions of money and other donations. Commonly asked for donations are individuals, businesses, and government agencies.
Fundraising usually obtains donations for different reasons. Some of these are for religious, research, political, or environmental endeavors. Because of these needed donations and awareness of the public, fundraising activities should be advertised to quickly achieve what their goal is. With our Fund-Raising Brochures, you can do exactly that.
Corporate College Fundraising Brochure
Download
Corporate Charity Fundraising Brochure
Download
Corporate Hospital Fundraising Brochure
Download
Free Corporate Fundraising Brochure Template
Download
Advantages of Brochures
Aside from spreading information and announcing details in a concise and condensed manner, there are other reasons why brochures are of great use.
Brochures saves time where readers can efficiently go through a chunk of data as quickly as brochures are distributed.
Brochures are cost effective as they are relatively cheap to design, produce, and distribute. Some brochures are printed in gray scale to help save printer costs.
Some brochures are formatted in a way to reach a far more specific and wider audience.
So You're Designing a Brochure . . .
To be able to create a good-quality brochure, it is important to put in mind some necessities in order to have an effective document. Here we have listed some tips below that can aid you in creating your own personalized brochure:
Know the purpose of your brochure—that is, to inform and educate. Create designs that make the learning and informing more conducive.
Limit words—keep them short and straight to the point.
Create a striking headline to capture reader's attention. This is your brochure's hook and should allow your audience to keep reading them.
Using simple and easy-to-understand words ensures that your brochures reaches a wide audience.
Aside from our fund-raising brochure templates, check out also some of more of our Advertising Brochures templates.