Despite the ubiquity of the internet today, the appeal and convenience of print media and, subsequently, print advertising design has not dwindled. This is why businesses still make it a point to create business stationery to attract customers and leads. And one of the most common types of print advertising material is the use of brochure designs.
Cruise Bi-Fold Brochure Template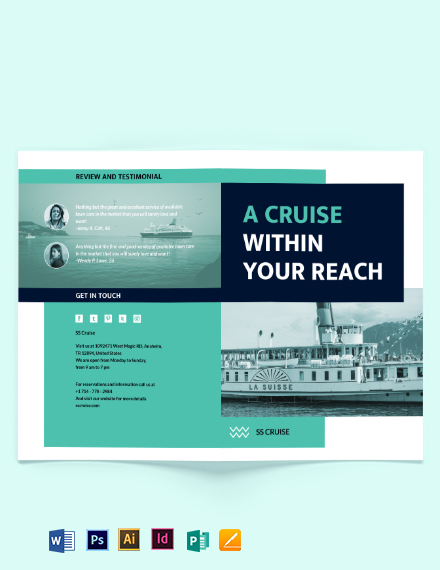 Cruise Tri-Fold Brochure Template
Cruise Travel Brochure Template
In this article, we specifically draw on the brochures that are specifically created for cruise companies and businesses. We will also introduce pre-made printable brochure templates that can be used to quickly create any kind of brochure for your cruise business. Along with simple yet actionable tips on how to choose a brochure template design, this article will be a joy to read.
Check Out These Examples of Cruise Brochure Templates
Also embedded below are multiple examples of cruise brochure templates that any person or company may use for their business' print advertisements. As always, always make sure that you have Adobe Photoshop, Illustrator or InDesign installed on your computer so that you can open and edit these template files efficiently later on.
Colourful Cruise Tri-Fold Brochure Template
Cruise Brochure Template
What is a Cruise Brochure?
A brochure is a form of printed advertising material that contains information about a specific brand, simple business, person, organization, topic, or service. As with other kinds of advertising materials, brochures are created to attract a customer's attention and encourage them to read targetted promotional material about the business, object, or service.
Brochures are usually printed on letter size, A4, or A5 sized paper or cardstock and then they these papers are either fold once to create bi-fold brochures. Or, they are folded twice to create tri-fold brochures.
As we have discussed earlier, a brochure card transforms into a cruise brochure when it is primarily used to advertise a cruise or boating business. Most of the time, cruise brochures will feature images of boats, yachts, cruise ships, and other luxury sailing vehicles. The most common ones will also follow a nautical theme or sport navy patterns. You may also see travel company brochures.
Traditionally, brochures and other forms of print advertising materials (like flyers and business cards) are created in bulk by typesetters or by hand. However, this process can be very labor-intensive. That is why, if you want to create cruise brochures quickly and easily, you can begin using pre-made brochure templates.
These brochure templates are digital template files created by an experienced graphic designer or artist. These template files will also include all the graphic design elements needed to create a usable brochure template. For example, a cruise brochure template will have a built-in layout design, a font Typekit, and even its own image library. This makes it easier for the template's end-user to access and edit the template on his or her end later on.
As we have mentioned earlier, this article is filled with ready to print examples of downloadable cruise brochure templates. Take a look at each of these templates and incorporate the template selection tips that we will share below. After that, you will be ready to choose your own cruise brochure template design. Enjoy!
Modern Cruise Trifold Brochure Design
Multipurpose Cruise Brochure Template
Cruise Vector Brochure Design
Simple Cruise Bifold Brochure Template
Do's and Don'ts of Cruise Brochure Template Selection
Whether you are using a brochure template for advertising your fleet of cruise liners or you are using them to provide an informational guide to your current customers, it is important to select a brochure template that you are most comfortable with. Doing this is not an easy task. That is why we have prepared this short guide on the key things any entrepreneur or project manager should follow when deciding what specific cruise brochure template to use. Read them all below.
1. Do consider the type of cruise business or trips you are running.
Just like any other kinds of business, the cruise industry can also be further subdivided into different subfields. To illustrate, there are kids cruise ships, family cruises, river cruises, and even honeymoon cruises. Cruises routes and, subsequently, their names may also change depending on the season and the places they are stopping by during the cruise tour. You may also see travel brochure templates.
As an entrepreneur, you need to make sure that your cruise brochure template design matches or complements the kind of cruise ship you have. For example, if your cruise ships mainly follow a route along the Caribean islands during the summer season, it only pays to showcase this on your respective brochure design. For example, you may induce liveliness in your brochure layout by using bright colors, bold typography, and beautiful images of customers who are having the time of their lives during one of your cruise tips.
By taking the overall theme or motif of your cruise trips into consideration, potential customers are more likely to know what to expect from your cruise trip experience. And, in effect, they will be more likely to book a trip with your company if what you are offering matches the kinds of cruise experiences they wish to have. You may also see travel brochures.
2. Do find out your own graphic design skill level.
Another important thing to consider when choosing a cruise brochure template is your own graphic design technical know-how. This is an important thing to consider since most pre-made printable brochure templates will require a little bit of customization.
For example, most cruise brochures templates will only come with blank layout templates and design elements. It is up to you (the end-user) to add, remove, or edit any of these images and graphic design element placeholders and then transform the base template into something truly original. And to pull off all these editing tasks, it is important for you to have a rich background in using graphic design editing tools like Adobe Photoshop or Adobe InDesign.
On the other hand, if you do not know how to use edit Photoshop or InDesign templates at all, then perhaps it would be better to delegate the editing task to another person or subordinate. This way, you do not have to trouble yourself by making edits on the template.
Creative Cruise Brochure Set
River Cruise Brochure Template
Travel Trifold Brochure Template
Flat Design Cruise Brochure Template
Luxury Cruise Brochure Template
3. Do consider the cruise brochure template's customizability.
This next tip is in line with the previous tip on knowing your graphic design skill level. Before you choose and purchase a cruise brochure template, you need to first determine if a given template is customizable or not. As we have mentioned earlier, minor edits are still needed to be done on any given printable template before they take on any semblance of suitability as a printed advert.
In the case of cruise brochure templates, you need to make sure that a given template is available either an Adobe Illustrator, InDesign, or Photoshop templates as these templates offer the best customizability options. Knowing what kind of template file format a specific cruise brochure template is available it is also important if you already have a specific graphic design software installed on your computer. For example, if you have Adobe Illustrator installed on your computer, you would subsequently need to choose and download a cruise brochure template that is available as an Adobe Illustrator template file.
4. Do not underestimate the time needed to complete your cruise brochures.
The next tip that any project manage or entrepreneur should do when choosing a pre-made business brochure template is not to underestimate the time needed to complete such project. Anyone can get ridiculously excited at the onset of having a project or task. However, this enthusiasm may die down causing you to miss or not meet your deadline.
To prevent such occurrences and to make sure that the company money you are using for funding that project is not wasted, you should carefully plan the approach on how you intend to start your cruise brochure-making project. It also applies that if you are given a few weeks or months to brainstorm and create the cruise templates, you should be focused enough on doing that same job. You may also see vacation brochure templates.
In some cases, events or business may require you to create a finished product within only a few days or weeks. If you encounter this, make sure that you pencil in a specific project-making time in your sample schedule. Or, if worse comes to worst, perhaps it is best to just delegate the template editing task to another person who best knows the ins and outs of editing while you focus on other more important aspects of the business. You may also see event brochure templates.
The four tips listed above are the top Dos and Don'ts that anyone choosing to create a cruise brochure template for their own small business should live by during the template selection process. Internalize all these but do not let this list be a compulsory thing. Remember that is always free to do your own thing.
Tri-fold Cruise Brochure Template
Cruise Brochure Example
Have You Decided on What Cruise Brochure Template to Choose?
The act of choosing a specific kind of brochure template for a cruise company can quickly become a stressful task especially if you do not know what you are looking for. We hope that with the help of the different tips shared above, you have learned how to navigate the brochure template selection process. Use all of the things that you have learned here in creating the best cruise brochure template designs for your business.
And, if you find this article useful, do not hesitate to share it with your friends and followers on social media and on your email list.