When it comes to effective marketing strategy, a company or organization should come up with a visually powerful creative marketing tools (such as posters, flyers, or brochures) that could help the exposure of the company's objectives and as well as attracting customers into buying or availing the products as great visual presentations can give out an illusion of desire and a great impression to those who see it.
An example of it is a comparison of two distinct design styles like a perfectly designed brochure with clean and decent design will give out a public impression of it being classy and of good quality, whereas a tacky design will give out an impression of cheapness. So the design of your marketing elements is vital to the success of your business, so it is important to focus on it if you want to increase the leverage of your sales.You may also see Brochure Templates.
Corporate Company Tri-Fold Brochure Template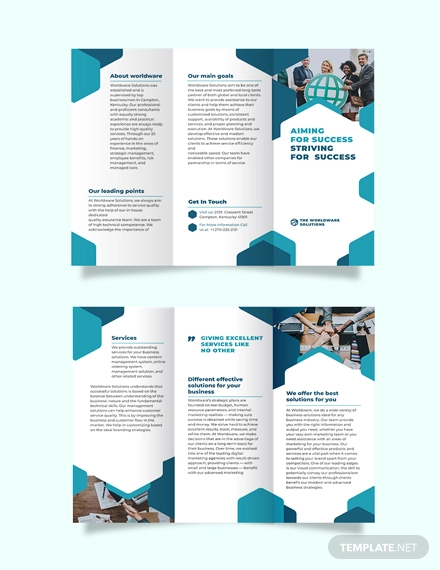 Design Company Bi-Fold Brochure Template
Design Company Tri-Fold Brochure Template
Here are several beautiful 9+ PSD Company Brochures sample templates you can use on your marketing tools, as each samples are carefully and perfectly designed to create a powerful effect on your marketing plan.
Best Corporate Design Company Brochure
Download
Garden Design Company Brochure
Download
Modern Design Company Brochure
Download
Property Company Brochure Design
Download
 Design Company Profile Brochure
 
Download
Some Elements to Consider
There is no hard and fast rule in creating a brochure, but to truly attract audiences and keep hold of their attention,  keep in mind these elements:
Create a design theme that will suit the company's product and services.

Create a design structure that is simple and clean so that it would give out a sophisticated look and classy impression.

Be straightforward when writing a content for your brochure. Make sure it makes sense and no flowery words. 

Choose neutral or basic colors for your brochure design, as bright colors (especially neon types) will give out a trashy feel to it.
Some Sample Types of Brochure Templates
Half Fold Brochure Templates is best used when for business presentations.
Classic Tri Fold Brochure Templates

 is the most commonly used type, in which you usually see as a real estate brochures and other product brochures.

Four-Paneled Brochure Templates is usually as a promotional leaflet. Sample of this are church leaflets and magazine brochures.
Z Fold Brochure's Template structure is created in a zigzag form and is commonly used for mailing or quick handout.
How Can I Edit These Brochure Templates?
Since most of the sample templates on this list are created as PSD files, then you can edit them on a photo-editing software such as Photoshop. If you don't have the software, you can download the complete, paid license on the Adobe's official website. For tutorials, you can always check out more on any browser, just use the keyword search "How to edit Brochure Templates."
Real Estate Design Company Brochure
Download
Restaurant Design Company Brochure
Download
Security Design Company Brochure
Download
Vintage Design Company Brochure
Download
Fashion Design Company Brochure
Download
More Awesome Brochure Templates
Here at Template.net, we cover the best design inspirations and high-quality sample templates that can be useful on your next creative projects and presentations. This includes graphic design elements such as posters, vector illustrations, sketch samples, Infographic Brochures, print banner templates, and logo prints. It also caters several web design elements such as web design templates, web logos or brand identity, icons, and web buttons. And lastly, it also provides good samples of legal documents such as agreement letters and some simple forms.