Brochure Templates
23+ Grunge Business Cards – PSD, AI
Grunge business cards are highly suitable for graphic designers, photographers, web designer, artists and people in creative fields. For this purpose we have an extensive range of creative and captivating grunge business cards. These corporate business card templates can be downloaded for free and can be edited to suit your companies and your specific requirements.
Grunge Business Card Template

The rust shade right on the front duly manifests the grunge feel to the T. The faded marks of old gum tapes have created a realistic effect matching the overall mood of the card.
Grunge Business Card $4

The black front will just feature your brand name and logo at the center of the card. The back side is in light grey where you can write your name and add the contact details as well.
Vintage Grunge Business Cards

This vintage grunge business card beautifully creates the mood with its blackboard like feel where your details will look like chalk marks – taking you back to the good old days.
Professional Grunge Metal Personal Trainer Double-Sided Standard Business Card

The front side of the card looks like a stylish grunge graffiti on an old shutter or garage door. You just write your name and profession on the front and the back side can be used for your contact details.
Grunge Business Card

The overall business card has got the perfect robust grunge feel to it and you would love every bit of it. You can add your name, business and contact details right on the front side of the card.
Grunge Business Card $6

The entire card has got a subtle rustic feel to it thanks to the faded blue shade. The presence of white here and there beautifully breaks the blue monotony. It is easily editable.
Grunge Business Card $5

If you are a graphic designer and you design graphics for games compatible with computers and smartphones, then you can definitely download this grunge visiting card design. Customize this extremely stylish template, by replacing the text content with yours and print.
Girly Vintage Grunge Pink Lips Kiss Makeup Artist Double-Sided Standard Business Cards

If you want to business card to stand out among others as a makeup artist, then you should definitely download this vintage girly double sided business card template. Customize it by adding your details, any graphics or logos and print it for networking.
Simple and Grunge Business Cards

As an art director, you will definitely want your business card to be special yet simple for appealing everybody interested in your type of work. Download this simple and grunge business card template, customize it with your details and print it for use.
Grunge Business Card Template $6

For cinematographers, art directors, directors or editors who has connection with movie making world can download and use this grunge business cards templates psd with the image of a Clapperboard to design their unique business card by adding their details.
Professional Grunge Business Card

For professional graphic designers or web designers, making a unique business card will make them stand in the crowd and will attract prospective employers. Download this professional grunge business card template, customize it fully by editing grunge background, add details and print.
Grunge Pink and Black Business Card

This extremely creative and stylish grunge pink and black business card template will be apt for hair stylists who want to make a statement with their business cards to attract customers. You can customize the template with your name and contact details and then print it.
Professional Grunge Business Cards $5

As a professional no matter from which creative field you belong, designing or creating an unique business card will always attract the clients. Download this amazing professional grunge business card, fully editable, edit the text content with your name and contact details, print and use.
Grunge Business Card Template 02

For professional or newbie photographers, designing an attractive and out of the box business card should be their first move. Download this vintage grunge business card template and completely customize it with your contact details and name. Print and use.
Morden Grunge Business Card

For budding graphic designers, this modern grunge business card template can be a good option for designing their own grunge name card. Download it into your system, edit the color combo, choose font and add your contact details and name, then get it printed.
Grunge Business Card Gru First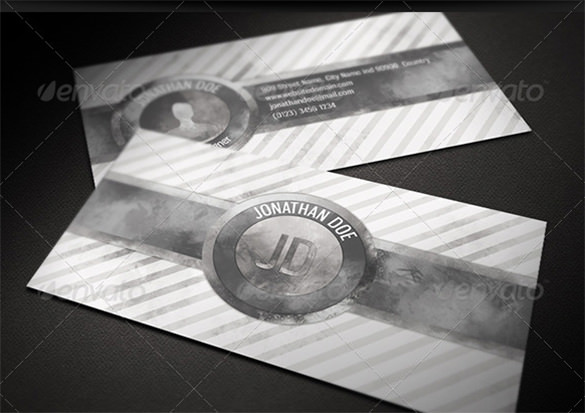 For personal or corporate needs, this grunge business card template can be applicable for both for designing business cards for any individual. The template is totally print ready, and is in layered PSD file, it can be edited and customized as per the user's wish.
Cafe Grunge Business Card

Cafe owners can design some highly creative business card to appeal their customers to gather further references. Download this cafe grunge business card template and design the most amazing card by editing the PSD layered file. Print it in good paper quality.
Grunge Business Cards Bundle

This easily customizable and editable, fully layered PSD file template in the form of grunge business cards bundle can be used by any individual who belongs to any creative field like photography, graphic designing, art direction and many others. Just print and use.
Clean Grunge Business Card

This template has got the grunge look but also has a clean design for designing your business cards for appealing others interested in your field of work. One can completely edit and customize the template with their details for printing it.
Hardcore Grunge Business Cards

For high end creative designers, this template of hardcore grunge business card will be apt. Just download it and completely transform it as your business card by editing the text content with your details and then getting it printed in some unusual paper quality.
Grunge Business Card Photoshop PSD

This grunge business card template is available in fully layered PSD format, the design is absolutely clean and is very much organized. For any professional corporate business card requirement, you can download this template, customize it and print it for use.
Creative Grunge Business Card
Grunge Business Card 12
Elegant Grunge Business Card
These business cards allow you to fill in your designation, company name, your name, address, contact details and services offered by you and the company. These grunge business cards are available in deep grays, browns and tans, blacks, funky blues and several other fun and interesting colors.