Businesses are free to use any marketing tool to get their message across. Some of them prefer to use flyers, some posters, and others brochures, although many businesses wouldn't just rely on one of them. Although this article only focuses on brochure templates, we actually have templates for any kind of marketing tool.
16+ Business Brochure Templates
IT Business Bi-Fold Brochure Template
IT Business Tri-Fold Brochure Template
Business Proposal Tri-Fold Brochure Template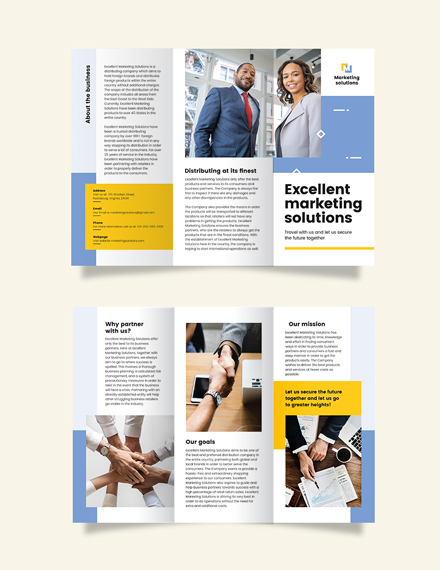 Business Proposal Bi-Fold Brochure Template
 Smart Solutions Business Brochure Template
The best thing about brochures is they allow you to add a lot of content while still keeping it easy to read. This is because brochures have multiple panels which allow you to organize your content. Provided above is a creative tri-fold brochure template if you like something compact and with multiple usable panels.
 Business Banking Half-Fold Brochure Design
Here's a bi-fold brochure template to those in the banking industry and it's certainly creative enough to capture every audience's attention. Despite its colorful nature, this template still looks clean and easy to read which makes it even more awesome. Together with this, you might also like our business banking flyer template.
Global Realty Business Brochure Format
Whatever you want for your business brochure, simply make sure that there's a sense of balance between the colors and the elements. Check out the brochure template above as an example, the design is neither too nor too dull, everything is kept balanced and professional which is exactly how brochures should be.
Convergence Networking Business Brochure Layout
A business can be successful if their employees work for a common goal, and this is exactly what convergence means. People prefer to do business with companies that are stable and reliable which is often the result of convergence, and you may show them that you are indeed stable and reliable by using the business brochure template above.
5 Steps to Make a Business Brochure
Step 1: Identify a goal for your brochures
With a goal in mind, you'll be able to make your business brochures a lot better since you already know what to do and how to do it. Planning what to achieve should always come first and speaking of planning, you might also find our business plan template interesting and useful.
Step 2: Know the different types of brochures and choose one
Brochures come in so many types and this include but are not limited to bi-fold or half-fold brochures, tri-fold, roll fold, accordion fold, and many others. Physically, these types vary according to their folds and number of panels but other than that, the types also vary according to their functions.
Step 3: Outline your brochure's content
Almost always, brochures consist of the business' background, their list of services, contact details, and some testimonials from past clients. To ensure quality content, it would be best to prepare an outline of everything. This way, you'll save yourself some time and you'll also minimize your risk of committing errors.
Step 4: Make use of a business brochure template
After making all the necessary preparations, you can finally get your hands on a brochure template that we have mentioned in the introduction. Below, we've got over ten templates for you to choose from, simply look for a particular template that'll enable you to effectively get your message across.
Step 5: Proofread and verify the content for correctness
The credibility of your business relies on the quality of your brochure's content. This is why it is very important to proofread your content to check for errors not only in spelling or grammar but also in the information itself. After proofreading the content, the only thing left to do is to print your brochures.
Business Advertising Bi-Fold Brochure Template
Business Advertising Tri-Fold Brochure Template
Business Solution Providers Brochure Design
Oftentimes, businesses will require the assistance of certain services or offices in order to solve internal problems. Some businesses would go to business consultants for these services and while the template above would be a good choice, you may also check out our business consultant letterhead template for all your documents.
Tri-Fold Corporate Business Brochure Layout
Organizations and corporate businesses still use brochures for promoting themselves and their products and services mainly because they still work. Without a doubt, brochures are very effective in generating leads and converting them into actual clients, and you may use the corporate bi-fold brochure template above to make your entity known.
 Professional Business Tri-Fold Brochure Example
A good marketing strategy can help your business to succeed and one way of doing it is to advertise it properly. Using brochures may be a practical idea but since everyone else is also doing it, you may need to step up your game. This brochure template won't require you to do much besides adding your own content.
Business Conference Event Brochure Sample
A conference is defined as a gathering of people to discuss or confer about a specific topic. This is very common in business which is why if you're planning one, you may need to use the brochure template above to encourage people to attend. If you don't feel like using brochures, you may use this conference flyer template instead.
 Annual Business Conference Brochure
Here's an alternative brochure template that's also meant to encourage people to come to a conference event that you're planning. While using brochures or flyers for gathering an audience is effective, some people prefer to do it a little bit more formal which is why we also have a conference invitation template that you may use.
 Smart Ideas Business Brochure Example
Download
Whether you've been managing the business for quite some time already or have just established it, you can't always expect to do the same thing over and over again.  A good business should learn to adapt to new and smart ideas in order for them to always stay fresh in the minds of their clients.
 Modern Corporate Business Brochure Sample
Download
For one thing, brochures work excellent at conveying details about a corporate business but they work even better when used together with other tools. If you're planning on using the template above, you might also want to use ou corporate annual report template to keep track of the business status.