Working as a medical professional is no joke, it is a really exhausting job. But do you know what's equally as stressful? Getting sick yourselves. Which is why it is very important to always promote good health and prevent illnesses. Just like any other service, you can promote medical services through brochures.
If you're working under a medical institution and you wish to promote your services. Then we have a collection of the best and most suitable professional brochure templates that you can download and use. If these are indeed what you need, go ahead and see the templates yourself.
174+ Medical Templates in PDF, Word, Excel, PSD, Google Docs, InDesign, Apple Pages, Google Sheets, Publisher, Apple Numbers, Illustrator - START DOWNLOADING
Medical Spa Bi-Fold Brochure Template
Medical Home Care Bi-Fold Brochure Template
Medical Annual Report Bi-Fold Brochure Template
Elements of a Good Medical Bi-Fold Brochure
In order for a brochure to be useful and effective, it should have a balance between being beautiful and informative. One brochure may look great but the content isn't compelling enough, or it may also be the other way around. Below is a list of the elements that should be present on a good medical brochure.
1. A headline that is capable of grabbing attention: A good brochure should have a headline that will make that reader want to read through all its content. Almost always, the headline can be seen on the brochure's cover page, and it should be enough to give readers an idea as to what the brochure is about without giving it all away. In a very clear manner, the headline addresses an issue, and how it can be solved. If this is done effectively, then a prospect will want to flip over to the next page.
2. Points where you stand out: Provide points wherein your business, products, or services stand out from the competition. What is it that makes you different or more superior that people should choose you? Make it as clear and easy to understand as possible, but if you wish to mention multiple points, write it in bullet form to make it highly comprehensible.
3. Informative or educational content: Brochures are meant to be informative or educational, so make sure that you are able to make yours that way. Capturing the attention of prospects is just the first step to getting the message across, the second is actually getting them to learn what you are offering them. When writing the content, try to be clear without overloading it with unnecessary or complex words.
4. Back up your claims using testimonials and reviews: As much as you have already mentioned how your business stands out from the competition, people will still be skeptical about you unless they are able to hear or read some hard evidence. These hard evidence come in the form of written testimonials or statements from satisfied clients. A few of these are enough to strengthen your claims of being different or more superior than your competitors.
5. Encourage your readers to take action: After a reader goes through your brochure from top to bottom and find the contents interesting, the next thing that you should expect them to do is to pick up the phone and reach out to you. The only way you can do that is by providing your contact details on the brochure. However, since the contact details alone aren't encouraging enough, you should also include a call to action to inform readers what you want them to do.
10+ Medical Bi-Fold Brochure Templates
Now that you have an idea as to what should be seen on a medical bi-fold brochure for it to be called effective, here is our collection of those brochure templates. There are around ten of these templates that you can check out, we just hope you don't leave empty-handed.
Partner Medical Bifold Brochure Template
Bifold Medical Center Brochure Sample
Veterinary Medical Bifold Brochure Example
Blue Meditech Bifold Brochure Layout
Motto Medical Bifold Brochure Format
Dental Medical Bifold Brochure Template
Medical Company Bifold Brochure Sample
Simple Medical Bifold Brochure Example
Curses Medical Bifold Brochure Layout
Quality Medical Bifold Brochure Design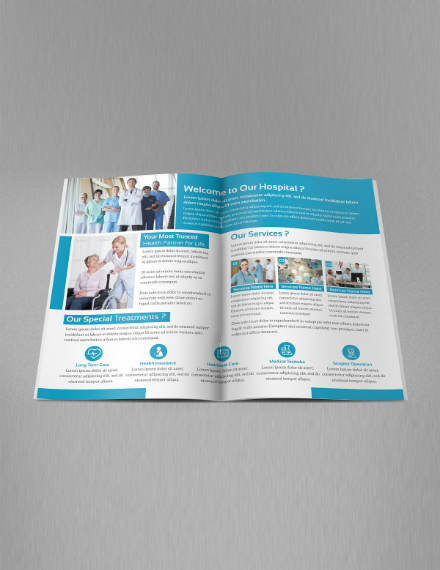 Steps to Designing a Good Medical Bi-Fold Brochure
As you have seen from our collection of medical bi-fold brochure templates, all of them have an impressively beautiful design, but do you know how to use them? Below is a step by step process on how you can make stunning and effective medical bi-fold brochures using our templates.
1. Identify your brand personality: Every business has a theme, and this is what they use to make them distinguishable from their competitors. Whatever theme your business has, aim for consistency and use that same theme on your brochures. With a consistent brand personality, readers can easily identify you on your brochure without even having to read the section where your business' name and logo are indicated.
2. Decide who you're making your brochures for: When promoting something, it is commonly directed towards a specific audience. Likewise, you should always direct your brochures to a specific group of people—also referred to as the target audience. If you know who your target audience is, then you will also most likely know how to design and what type of content to put on your brochure.
3. Compose your message for your readers: The message or the content of your brochure is where your readers are able to gather all the information they need about your business, or your products and services. As mentioned earlier, you should always make your message as informative or educational as you can so your readers will know what they are getting themselves into.
4. Enhance the design of your brochures through graphics: Of course, if you want your brochures to look more pleasing, you will need to enhance the design, and what better way to do that than by adding graphical elements. When doing this, make sure to leave enough room for some white space in order to keep the design from looking crammed.
5. Finalize and proofread: The last step in the process of designing brochures is checking whether or not the design is appealing enough, and proofreading the content for any errors. Once the design has been finalized and the content is free of any errors, you can then proceed to printing them out and then distributed.
Simple Tips for an Excellent Medical Bi-Fold Brochure Layout
Create an impact by adding shapes on the layout, it will help create another interesting feature to the brochure.
Use a font color that effectively contrasts with the background color, this will help make the text easily readable.
The simpler the design, the more presentable.
Types of Brochures
In terms of brochures, there are actually numerous types of them that you can choose from. Provided down below is a list of those different types of brochures. You may notice that these types vary according to either the number of folds present, or the way the brochure is being folded.
1. Bi-Fold Type: The bi-fold brochure is probably the single most easiest type that you can design and distribute, this brochure type only has one fold and two inner and outer panels for you to worry about. When folded, you will have both front and back cover pages, with the front one containing the content's headline. And then on the inside are the main contents of the brochure. For this type of brochure, you may choose to use only one or both sides of the inner panels, depending on the extent of your content.
2. Tri-Fold Type: For the next two type of brochures, they both have two folds and a total of six usable panels. The first one among the two is the tri-fold brochure, which has two folds dividing the entire brochure into three equal parts. The tri-fold type is ideal for highlighting multiple products or writing down a lot of content since the panels allow for easy organization of those content. When using this type of brochure, it is highly recommended to write your content in bullet form for easy readability.
3. Gate-Fold Type: The second brochure type that has two folds is the gate-fold brochure, but unlike the tri-fold, the panels on this one aren't equally divided. Actually, this brochure type resembles a gate wherein the two side panels meet together in the middle when folded, and the contents are only exposed when the gates are being opened. And for this type of brochure, since the side panels are narrow, you may choose to use only the middle panel for the content and leave the sides blank.
4. Roll-Fold Type: As the name suggests, this type of brochure is folded as if it is being rolled, and this type consists of more than just two folds. This is the first one among the two on this list that has multiple panels, and this is an ideal type for writing a lot of content that need to be organized into panels.
5. Accordion-Fold Type: Just like the accordion musical instrument, this type of brochure has folds directed towards opposite directions as opposed to the roll-fold type. Also, this brochure type has multiple folds and is best for highlighting a lot of content and/or large landscape images. Many travel agencies choose to use this type of brochure to promote traveling, you may even want to check out travel brochure templates.
Sizes of Brochures
When it comes to sizes, brochures also have a few of them to choose from. You can make your brochures small and compact, or you can also make them big in order to really stand out. Then again, you may be allowed not to use either of the sizes provided below and just make one up yourself.
8.5 x 11 inches (Tri-Fold, Bi-Fold, Z-Fold, Accordion Fold, Open Gate Fold)
8.5 x 14 inches (Tri-Fold, Bi-Fold, Z-Fold, Accordion Fold, Closed Gate Fold)
11 x 17 inches (Tri-Fold, Bi-Fold, Open Gate Fold, Closed Gate Fold)
11 x 25.5 inches (Tri-Fold, Z-Fold, Accordion Fold)
FAQs about Medical Bi-Fold Brochure
What is a brochure?
It is a folded informative piece of paper (or card stock) which is commonly used for advertising.
Paper stock vs. card stock?
Paper stock is a lot cheaper, more lightweight, and easier to mail. Card stock, on the other hand, is more durable, won't develop creases, and can be mailed directly without using envelopes.
Help save lives with our brochure templates, let people learn how important it is to have good health and to always seek medical attention when necessary. The best thing about these templates is that they actually allow you to fully edit the design according to your preferences. That being said, start downloading a template now.