The real estate industry can be a cutthroat field. As an entrepreneur, you would want to make sure that your property business gets all the customers leads it can get. And one good way to do that is to invest in print advertising like the use of realtor brochure templates.
In this article, we showcase multiple examples of realtor brochure card templates that any business owner may use as a way to market and reach out to their customer base. Useful tips on how any realtor can select the best realtor brochure template are also shared below. Check them out.
Realtor Bi-Fold Brochure Template
Realtor Tri-Fold Brochure Template
Look at these Downloadable Realtor Brochure Templates
Embedded below are well-designed realtor brochure templates that you can use for your business. Just note that most of these templates are available either as Adobe Photoshop, Illustrator, or InDesign templates so make sure that you have a compatible graphic design or desktop publishing software tool installed on your computer.
Free Realtor Brochure Template
A3 Realtor Brochure Template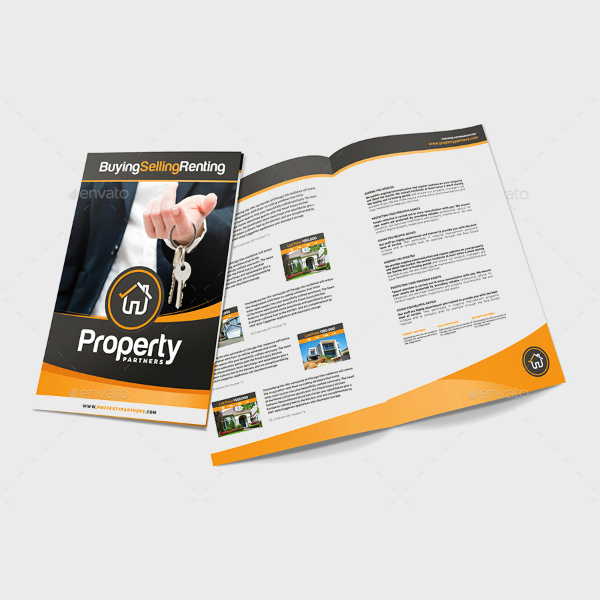 Bi-fold Real Estate Brochure Template
What is a Realtor Brochure?
A realtor brochure is a printed card or mini booklet that contains information and advertising data about a realtor and his or her business. This kind of brochure is usually created if a realtor or small business owner specifically wants to provide a printed guide of the different services that he or she offers. Realtor brochures can also include information on how much experience and technical know-how has on the field of real estate.
Creating a realtor brochure is now commonly done by using pre-made printable brochure templates. This method makes it easier for business owners and real estate agents to create their own printed advertising booklets since the templates will already come with text and image placeholders along with the much-needed formatting and layout.
And to make the realtor brochure creation process easier, we have curated the best brochure templates that will suit realtors and real estate agents alike. Browse through the rest of the article and be inspired by all these carefully selected realtor brochure templates.
Realtor Tri-fold Brochure Template
Sample Realtor Brochure Template
Minimalist Realtor Template Bundle
Printable Real Estate Brochure Template
Real Estate Brochure Example
How to Choose a Realtor Brochure Template
There are a lot of things to consider when it comes to creating a realtor brochure. This is because these printed brochures will act as a marketing tool for your business and you need to always present the best face and create the best impression for your customers. To do that, you need to choose a realtor brochure template that will best showcase your business' branding identity and personal preferences as the main realtor or business owner.
Listed below are some of the most important factors that any realtor should consider before purchasing a realtor brochure samples. Read each factor well and make sure to incorporate them in your template selection process.
1. Business Image or Brand Identity
Just like designing any type of advertising material for a business, you first need to consider the business image or branding identity you want to showcase on your realtor brochure design. It is important to choose a branding image that is relatable and memorable for your customers.
To illustrate, if you want your realty business to be portrayed as professional and as a company that gets the job done, it is best to choose a realtor brochure template design that shows off these key traits. You may choose a realtor brochure that features elegant design and a solid color scheme.
By thinking of your real estate business's image first, you will more likely choose a business brochure template that will hook your customers and will, ultimately, lead them to purchase a home or property from you.
2. Customization Options
When picking out a realtor brochure template, the next factor to consider is the template's built-in customization options. This is important because you want to make sure that you can edit the brochure template after paying for it. You may also see flat design brochures.
As a printable template end-user, checking if brochure template is editable prior to paying for the template is a crucial step. After all, how can you add your business information into the template if you are not allowed to access the template's editing files? Knowing if a brochure template is editable or not will also allow you to decide if you are willing to make all the template edits yourself or if you just prefer to have the template's original creator make the changes or customizations for you. Do note that the latter approach may cost more money.
Brochure for Real Estate Company
Editable Realtor Tri-Fold Brochure Template
Elegant Real Estate Tri-Fold Brochure Template
3. Your Personal Editing Skills
Another factor that should be prioritized in your realtor brochure template selection process is your own knowledge in graphic design or your own editing skills. This is an important aspect to consider especially for those who want to personally edit their own brochure templates. You may also see A4 business brochures.
That is why it is important to assess your own graphic design skills first prior to choosing or buying a pre-made realtor brochure template. When you are already aware of your own skill level, you can better judge if you will be able to finish editing the realtor brochure templates or not.
On the other hand, if you are not confident or if you just lack the necessary template editing skills, then you will have a straighter path towards other editing options. For example, you can have another person edit the brochure template for you. Or, you may just opt to purchase a ready-made template. The decision will be up to you as long as you are aware of the different choices you have when it comes to having a personalized realtor brochure template. You may also see bi-fold brochure templates.
4. Advertising or Marketing Budget
The next factor that every realtor and business owner should consider when selecting a brochure template is their marketing or advertising budget. This is a crucial factor to consider especially for those start-up firms who may not have a large budget for advertising their businesses.
So, if you are interested in creating a realtor brochure for your own business, you should also consider how much money you can spend for such project and how much the printing of these brochure templates will cost you. Typically, realtor brochure templates will only cost a few dollars (between $5 to $40). However, it is the printing of these pre-formatted brochure templates that will set you back by at least a few hundred dollars.
When it is time to select a realtor brochure template design, always keep mind your advertising budget so that you will be more conscious of how a simple brochure template can affect it. Also, if your company does not have ample money to fund the creation and printing of your realtor brochure templates, you may free brochure templates as a base template and look for templates that do not require specialized printing formats.
5. Project Deadline
Another thing to consider prior to purchasing a realtor brochure template is your project deadline. This means that you need to carefully factor in the amount of time you have before you need to submit, present, or use your realtor brochures. You may also see home care brochures.
If you are a realtor looking to promote your business by using a realtor brochure booklet or rack cards, setting a deadline for the completion of the task will help work faster and better. And even if your real estate firm is a one-man or a one-woman firm, it still pays to give yourself a challenge.
By following a project deadline, you can also better schedule and manage your own time in terms of designing and editing the brochure template of your choice. Also, if you do not yet know how to use and edit these brochure templates, you can sign up for an editing class or learn through different Photoshop and Illustrator tutorials online. You can do all these before actually buying a certain realtor brochure template.
Use the five factors listed above in your brochure template selection process. Do not forget that all these factors or list of criteria should only serve as a guide when making a decision whether to buy a certain brochure template or not. What is important is to use your own intuition or personal instincts especially when you are confused on what specific printable bi-fold brochure template design to use for your business.
Realtor Tri-Fold Brochure Design
Black Real Estate Trifold Brochure Template
Simple Real Estate Agent Brochure Template
Trifold Brochure for Real Estate Company
Vintage Realtor Trifold Brochure Flyer Template
Are You Ready To Wow Your Customers?
We have mentioned in the first few paragraphs of this article that business brochures are meant to be lead generators as much as they informational. So once you have chosen a realtor brochure template design for your real estate company based on the different set of criteria that we have outlined above, feel free to go all out in your template editing and create the best brochures for your simple business.
In addition, if you want to share this article with others, do not forget to share it with your friends and followers on your email list or on social media.