Tourism is another industry that greatly relies on marketing strategies and word of mouth. So if you are the owner or the general manager of a resort business, you should look into both traditional and digital modes of advertising.
In addition to all the helpful brochure creation tips that we have lined up for this article, we are also including examples of these downloadable brochure templates. Browse through each of these business brochure templates until you find a printable template that best suits your preferences.
Resort Brochure Template
Royal Resort Tri fold Brochure Template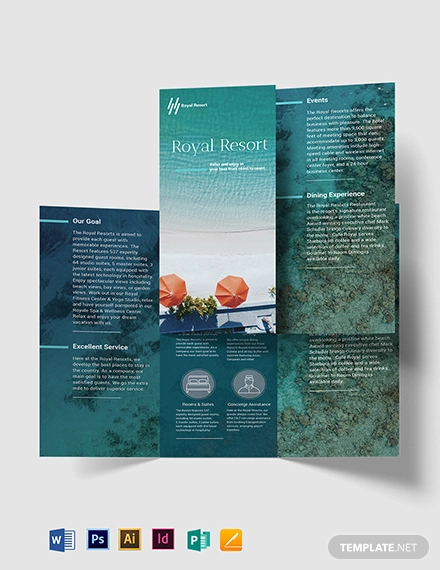 Royal Resort Bi Fold Brochure Template
Spa Resort Tri-Fold Brochure Template
Spa Resort Bi-Fold Brochure Template
Resort Bi-Fold Brochure Template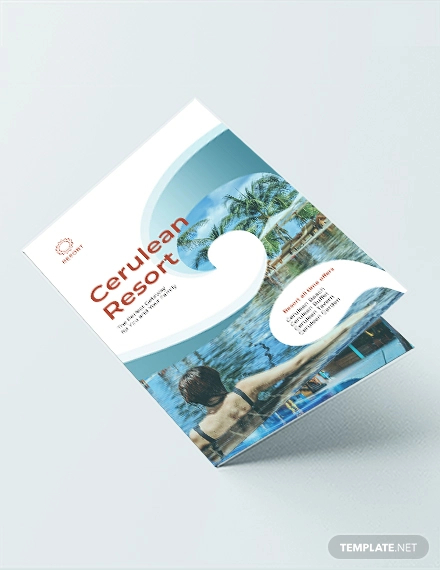 Resort Tri-Fold Brochure Template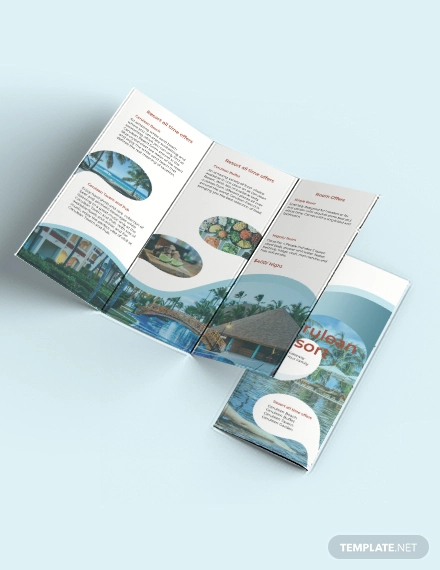 Beach Resort Bi-Fold Template
Beach Resort Tri-Fold Template
Spa & Resort Brochure Template
Hotel & Resort Stationary Brochure Design
Golf Resort Brochure Template
What is a Resort Brochure Template?
If you want a printed advertising material that is small in size, easily readable, and can be personalized based on your target audience or market, a brochure is what you are looking for. Brochures are printed advertising tools that can be used both for informational and promotional purposes. You may also see vacation brochure templates.
You may choose the size of brochure template you wish to create—from bi-fold brochures, tri-fold brochures, A5 size, letter size, or full-page booklet size. It will all depend on you how you want your resort brochures to look like.
The easiest way to create a resort brochure is through the use of pre-formatted printable brochure templates. These templates will act as a style guide for template end-users making it easier and quicker to create a completed resort brochure.
Do not forget to check out the rest of this article for more examples of downloadable resort brochure templates that you can use in advertising your business.
Landscape Resort Hotel Brochure Template
Multipurpose Resort Tri-fold Brochure
BUY NOW - $20
Luxury Hotel Resort Trifold Brochure Example
Guidelines for Creating a Resort Brochure Template
As a resort owner or manager, your main goal for creating a resort brochure template is probably to advertise your resort to more customers. But just making a generic resort brochure template will not give you all your desired results in terms of increasing your customer base and eventual profits.
A solution to this is to make sure that you create a resort brochure that uses compelling designs, layouts, and formatting. To help you with this, we have listed down a few style guidelines and tips that you may follow to achieve that. You may also see PSD hotel brochure templates.
Read each tip carefully so that you can apply them into your brochure creation process later on…
1. Use pictures liberally.
One of the distinguishing elements of a brochure is the use of unique visual design elements. We are talking about including pictures and/or illustrations to help tell the story of a business or the topic which the brochure was created for.
And since you are creating a resort brochure, the use of pictures will only help make your resort appear more enticing to visit. Also, make sure that you use high-quality photos to make your resort brochure more realistic. You may also see flat design brochure templates.
2. Write accurate information.
As we have mentioned earlier, brochures are primarily used as informational tools. They ideally contain all the relevant information that a customer needs to whet their appetite or satisfy their curiosity about your resort. You may also see travel business brochures.
That is why, if you are writing the ad copy for your own resort brochure, you should make sure that you only provide accurate information. Carefully plan out what you will write down and include on the actual brochure way before you type and print it out. You may also test out different versions of the same brochure messaging well before you finalize printing the template. You can also read corporate hotel brochures.
3. Add deals or offers.
If you want to get positive results from creating resort brochures, another brochure creation hack that you can follow is to add exclusive deals and offers on your resort brochure. This means that you may add offer codes or promotions into the text of your resort brochure. Customers reading about the exclusive offer are more likely to purchase printed tickets to your resort later on.
As a business owner, you can also leverage these deals and offers to retain current customers and/or resort-goers.
4. Include your business branding identities.
Whatever your objective for creating resort brochures may be, always remember that these printed documents are primarily considered as advertising and marketing tools. You should always use this opportunity to add your resort's business branding identities. This will help increase the recognizability of your resort and other affiliated businesses.
Creating your own business branding identity by adding simple logo designs or letterhead designs can also help make your brand appear more credible. For more useful tips on logo designing, check out the linked article.
Modern Resort Brochure Template
Spa Resort Tri-fold Brochure Sample
Spa Resort Brochure Template
5. Add other kinds of data visualization tools.
Another way to make sure that you are creating a compelling and attractive brochure for your resort is by adding data visualization tools. Examples of this are maps, illustrations, or even graphs of the different services that your resort business offers. You can also read tourism brochure designs.
These data visualization tools will help make your resort brochure easier to understand and skim over. Potential customers may also find a resort brochure more worth keeping if they can gather a lot of information about your business through your printable brochure.
6. Incorporate a theme or motif.
Just like making menu cards or wedding cards from printable templates, you need to decide on a motif or visual theme to follow. Doing this will help create a sense of unity or coherence in your business or personal stationeries. You may also see travel brochure samples.
And if you are operating a holiday resort or just a regular wellness resort in the city, you can best showcase this by choosing a good brochure theme. For example, advertising a tropical island resort will work well if you create a resort brochure that capitalizes on a summery and cheerful vibe. You may also like massage brochure templates.
7. Choose a good cover design.
If you are tasked with the creation of your resort's brochures, one of the most important things that you should do is to make sure that you choose a good brochure cover design. You may opt to create your own cover or you may use a cover template.
Whatever cover design route you take, just remember that you need to choose a cover design that will best work with the kind of resort brochure you are making. For example, if you own a luxurious holiday resort, you should choose an equally fitting cover design. You may choose a minimalist cover design or go for an outright elegant cover design. You may also see vertical brochure templates.
8. Write down all your contact information.
When creating a resort brochure (or any kind of advertising brochures), you should also make sure to add your resort's business and contact information. Remember, resort brochures may be distributed to a lot of people from different walks in life and these people may not have heard or known about your resort beforehand. When you include your resort's contact information on the brochure, it will be more convenient for them to contact and/or book their stay at your resort. You may also see legal brochure templates.
In the digital age, also make sure that to add other kinds of contact information aside from your business telephone numbers. You may even create and add your own website links, email addresses, and other social media profile links. Doing this can be a way to create also promote your business through social media marketing.
For more tips on how to create a social media marketing plan, you should check out the article on the link.
9. Use a pre-made brochure template for resorts.
The last tip that we are including here is the use of pre-made printable brochure templates. These pre-formatted resort brochure templates will allow you to create your business brochures quickly without having to design a resort brochure from scratch.
There are premium and free resort brochure templates available online today so you can choose the kind of template that you want to create without worrying about the template's base price. We hope that you have seen all the awesome examples of brochure templates within this article so that you can choose one that will fit your resort's marketing campaign.
Carefully read and reread all the tips and guidelines within this article so that you can quickly and efficiently create the best brochure for your own resort business. For more printable template examples, check out the rest of our website.
Tours Travels and Resort Brochure Template
Trifold Adventure Resort Brochure Design
Villas & Resort Square Brochure Sample
Resort Trifold Brochure Template
Have You Chosen a Resort Brochure Template?
All the template examples and tips that we have shared in this article will greatly help any business owner in creating sustainable marketing strategies for their respective resort businesses. Choose the resort brochure template that you think will best suit your business.
For information and to see more examples of free and business brochure templates, check out the rest of our website.