Traditional marketing can still be observed in different business practices and processes even up to this day. Companies still rely on the usage of sales templates to develop sales brochures; most probably because this type of marketing strategy still works. As a business, do you still use sales brochures in this digital age?
318+ Sales Templates in PDF, Word, Excel, PSD, Google Docs, PowerPoint, InDesign, Apple Pages, Google Sheets, Publisher, Apple Numbers, Illustrator, Apple Keynote, Google Slides, HTML5 - START DOWNLOADING
17+ Sales Brochure Templates
Sales Bi-Fold Brochure Template
Sales Tri-Fold Brochure Template
Apartment/Condo Sale Tri-Fold Brochure Template
Apartment/Condo Sale Bi-Fold Brochure Template
Promoting your business and advertising its offers to a wide range of audience is a tedious task. However, marketing and sales tools like a sales brochure can help you in so many ways. Whether you want to announce a grand sale event or you just want to introduce new products to the market, you can always trust the usage and dissemination of sales brochures to do the job for you.
Property Sale Brochure Template
To make your sales brochure more interesting, try to put twists on your design perspective. You can format, design, and layout the pages of the sales brochure different from one another for visual variation. If you want to have more design inspiration, you can look at brochure Word templates. Incorporate what you have learned from these references with the design ideas that you have in mind.
Product Sales Brochure Template
Product sales brochures that are created with the help of brochure templates tend to look more visually pleasing. Formatting your company's sales brochure can take a long time if you will begin from scratch. On another note, you can just download templates and change some features or items so you can call the final document truly your own.
Commercial Sale Tri-Fold Brochure Template
Commercial Sale Bi-Fold Brochure Template
Car Sale Brochure Template
Do not be overwhelmed when developing a sales brochure. There are existing sales brochures that are filled with irrelevant information and design items that only make the overall look of these documents seem crowded and poorly curated. This is the main reason why most companies use free brochures to guide them in the creation of their own sales brochures.
Electronic Sales Brochure Template
For your sales brochure to be organized, you have to categorize the items that you will showcase. Dividing the sales brochure by categories can help your customers easily search for the items that they are interested to buy. Presenting your products in a systematic manner can also promote ease on browsing which is what makes your target audience look into the sales brochure for a longer time period.
5 Steps For Making an Impressive Sales Brochure
A sales brochure can be developed for a variety of reasons. If you want to create a sales brochure, there are a lot of factors that you have to consider like the message that you would like to send to your target market. The steps that you can follow if you plan to develop a sales brochure are listed below.
Step 1: Work With a Graphic Designer or a Design Team
Even though you can create a sales brochure on your own, it is still best if you will hire and/or work with professionals whose expertise are into designing materials like a sales brochure. Set a meeting where you can discuss action plans with the people that you will be working with.
Step 2: Come Up With Design and Content Idea
Conceptualize all the parts of the sales brochure. You have to come up with a design and content idea that can present your business in an interesting manner through a sales brochure. Always stick with the purpose of the document so you can keep track of particular areas of layout and content development.
Step 3: Use a Template to Format the Sales Brochure
After brainstorming, execute your action plans. Use business brochure templates as references once you decide to create your desired sales brochure. Properly format the document so that your target audience will not have a hard time browsing through it.
Step 4: Gather Items That You Need to Develop the Sales Brochure
List all the photographs, descriptions, discussions, relevant information, and other materials that you need to put together per page of the sales brochure. Gather all of these items so you can begin turning your design idea into reality.
Step 5: Finalize the Overall Sales Brochure Look
The overall look of the sales brochure is a representation of your business. Since this document will be used as a touch point where your customers can connect to your business, ensure that all the pages of the sales brochure are well-formatted, visually pleasing, and informative.
House for Sale Brochure Template
A sales brochure can be created to feature a single product, service, or offer. As an example, a house for sale brochure focuses on providing information about the house that the owner or a real estate developer would like to sell. There is also some sales brochure that, on the other hand, presents a number of products and services for sale that the target audience of the company can select from.
Black Friday Sales Brochure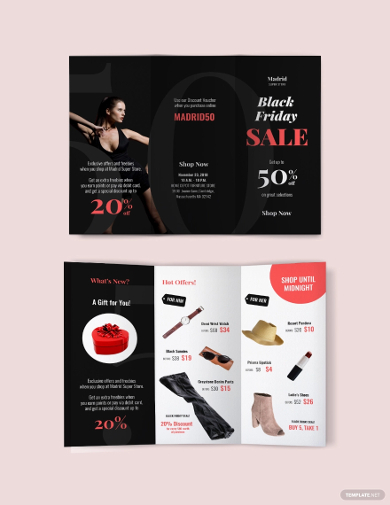 If you want to utilize the usage of your sales brochure, you can also use it to provide more information about your business as well as the programs and events that you will host and/or organize. It will all depend on your creativity on how you can seamlessly include additional details in the sales brochure that you will make.
Simple Sales Brochure Template
Download
Sales brochures can feature not only your offers. It can also be a way for you to announce product sales, discounted offers, and special promotions. You can put together a list of the products and/or services that you will offer for a lower price within a limited time period. Disseminating this type of sales brochure can make people excited and eager to visit your location to make a purchase.
Sales Brochure Design Template
Download
Your sales brochure design can say a lot about your business. If you want to brand your company as a high-end service provider, then your sales brochure must look elegant and exquisite. The way you create your sales brochure must stem out from your desire to not only be profitable but also leave a special mark in the minds of your customers or clients.
Basic Sale Brochure
Download
The design and appeal of your sales brochure must depend on the brand of your business, the image that you would like to be known for, the taste of your target market, and the kind of audience that you would like to reach. It is best if you will execute market researches and surveys so you can have an idea on how you should design and present your business sales brochure.
Sales Food Brochure Template
Download
Businesses from different industries can use sales brochures. From food sales brochures up to furniture sales brochures, you can see a lot of companies that still believe in the effectiveness and efficiency of this marketing material. As an easy way of presenting your products and/or services, a sales brochure can help you become more visible and profitable as a corporate entity.
Sales Brochure Template Example
Download
A sales brochure can help your business become more accessible. Since this document is tangible and easy to carry, it can be passed by one person to another. Through this, a wider audience can be aware of your business' existence as well as ways on how they can reach you for potential purchases.
Learning how to utilize a sales brochure template can open doors for many design possibilities. Do not get trapped in the mindset that sales brochures do not work as a marketing and sales tool anymore. Try to create one and see for yourself how this material can bring more sales to your business.