Brochure designs aren't a new thing when we talk business. The same goes for marketing and for advertising or just basically anything that has something to do with selling and persuading. Although it's been stressed enough how useful and crucial having brochure templates is in a growing brand or business, it's still pretty much significant to remind ourselves the fundamental principle of good trifold brochure designing.
Retro Business Tri-Fold Brochure Template
IT Business Tri-Fold Brochure Template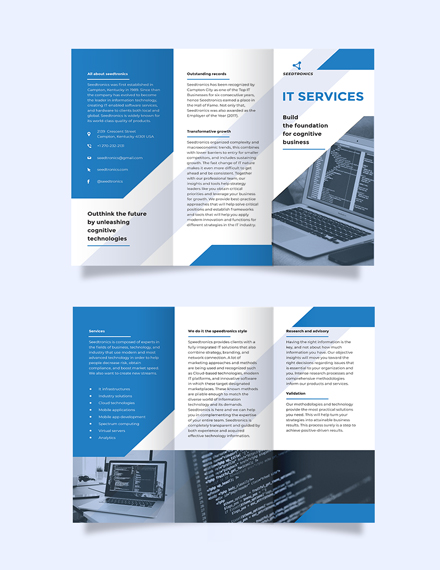 Business Company Tri-Fold Brochure Template
Proposal Tri-Fold Brochure Template
Business Proposal Tri-Fold Brochure Template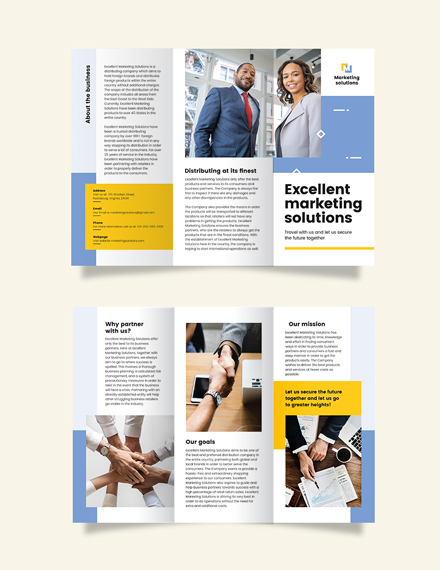 After all, it is always an amazing pursuit to take steps toward improving our brand to improve our market and keep our business better, which would eventually lead to our better and improved selves.
Square Trifold Business Brochure
Download
Corporate Trifold Business Brochure
Download
Photography Trifold Business Brochure
Download
Trifold Business InDesign Brochure
Download
Flat Trifold Business Brochure
Download
Design Fundamentals for Trifold Brochures
As you can see that there are quite a number of types and kinds of trifold business brochures which you can choose from here and on our website, depending on which type would suit your brand perfectly and also depending on how you wanted to establish your company image. You can just freely download them from this page and have it modified to your liking.
Other than that, it's also rather highly recommended to at least have an idea of the fundamental good design principles for creating and designing a trifold business brochure. You can refer to the following:
Figure out what your brochure's purpose is. Have a definite purpose on your trifold business brochure. It may be whether launching a new product or service or highlighting promoting and events.
Add a theme. Figure out what message you wanted to convey to your customers and how you wanted to convey it.
Keep improving. After you have defined the purpose and set up the theme of your trifold brochure, have the guts to stick to it and be consistent with the message that you're trying to convey.
KISS. "Keep it short and simple"—be concise without sacrificing your brochure's message.
Balance your content. Keep a balanced amount of pictures, written texts, bulleted lists for higlighting points, and style headings.
Review everything and proofread. THere might be some small errors you missed in the process.
Multipurpose Trifold Business Brochure
Download
Clean Trifold Business Brochure
Download
A4 Trifold Business Brochure
Download
Creative Trifold Business Brochure
Download
Modern Trifold Business Brochure
Download
Keeping At It
Once everything has been set up and ready, you can freely distribute those trifold brochures to your target market or following. You just have to carefully place everything in the right direction and make sure that it is freely accessible to those who you want to tract.
It could be the people around your neighborhood, the people shopping in a mall, students having lunch on a nearby cafeteria—they could be the potential customers that you're trying to look for. Or if you created those trifold brochures to launch a new product or highlight a specific event, you can just basically gather everyone or anyone in one location, throw a little party, and hand out or present those trifold business brochures as neatly as possible.
Once you have achieved those, most people will check out the invitation and go to the actual event. The challenge, however, is managing and keeping everyone interested and have them wanting for more. Keep or have your staff engaging to people to keep them interested and engaged. Apart from the business event which you chose for with what you've created your trifold brochures for, you can also opt to host a bunch of different activities relating to the event which can also help boost marketing sales.