If you are going to start a project, then you will most likely be figuring out what it is that you need to spend on how to manage the expenses. To help you out, you are going to need a project budget document. This article will teach you all that you need to know in order to create one.
Steps for Creating a Project Budget
Step 1: Start With the Labor Costs
This will depend entirely on the scope of the project that you are working on. What this means is that your labor costs could either be really small, or you could be facing up to dozens or even hundreds of them. You'll also need to consider things like workers requiring special training, labor contracts that need to be made, and the average cost of hiring the workers needed.
Step 2: Estimate the Cost of Materials
Once you're done figuring out how many workers are needed, then next is to know what materials that project will require. Consider everything that is both useful and needed in order for the project to see completion. Take note that material costs tie in with labor costs as one being lower or higher than the other can affect project decisions.
Step 3: Assess Possible Travel Costs
It is entirely possible that you may have to cross geographic or political boundaries, meaning that you will need to consider the travel costs. Think about all of the travel services that you could possibly be availing and the estimated amount of each. That way, you can better prepare for any traveling that may need to occur.
Step 4: Estimate the Cost of the Project Office
This will include everything from the salaries that need to be paid to those involved in the project, your time and effort, and any additional materials that may need to be purchased. Be sure to come up with the estimates that are as close to the total amount as possible.
Step 5: Think of the Equipment Cost
If you are in charge of a large project, then it is possible that you may need to incur any additional equipment costs. It is best that you make use of the labor and material estimates to define the equipment for the project as well as the type of equipment that will be needed.
Step 6: Consider Administrative Costs
If you are in charge of an extensive project wherein there is the possibility of incurring additional costs for any administrative input that is needed. In the event that the project needs someone like an administrative assistant or administrative staff, you will need to consider that into the budget.
Step 7: If Necessary, Include Software Costs
It's possible that the project may need specific software to ensure its completion. Should that be the case with the one that you're in charge of, then you will need to consider the costs on things like the software implementation, the development of the software, licensing fees, and more.
5+ Project Budget Templates
Project Budget Template
In the event that you are required to come up with a project budget, then this is the template for you. Once you have downloaded this project budget template, then all you have to do next is to open it and make whatever changes you feel are necessary until it contains the information you need.
Monthly Project Budget Template
There is the possibility that a project can take as long as a year, two years, or even more than that. It's best that you have a budget which covers the months that lead towards the project's completion. With this template, you can create a document where you can easily plan out how to do monthly budgets until the project is complete.
Project Plan Budget Template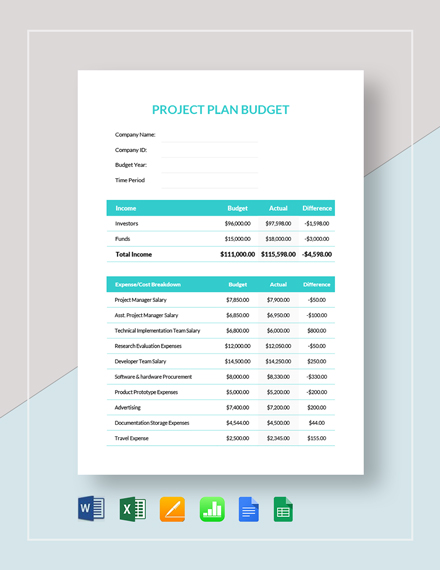 Project Budget Estimate Template
Construction Project Budget Tracking Template
Research Project Budget Template
Construction Project Budget Template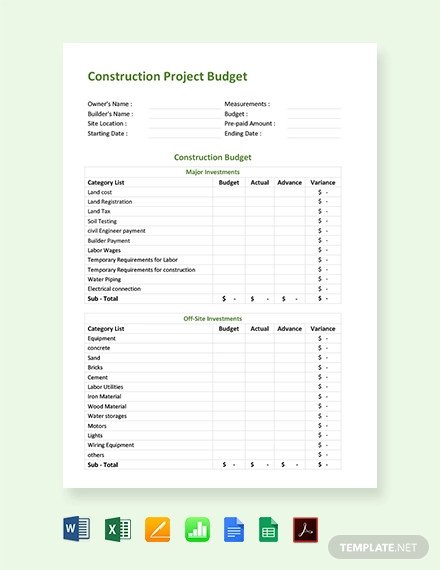 When it comes to construction projects, one must be wary of all the different expenses to ensure that it is completed. Should you be in charge of such a project, then know that this template is always available for you to create the budget document that you need.
Basic Project Budget Template
Take note that even the most basic of project budget templates can be useful in knowing what needs to be spent on and how much needs to be spent. If you decide to download and use this template, then you'll feel satisfied knowing that you were able to come up with a budget document in the quickest and easiest manner possible.
Research Project Budget Sample
Conducting extensive research may require one to use his/her funds in order to continue and complete it. With this template, you should have an easy time knowing what it is that you have to spend on for your research, as well as other details such as possible issues that may occur or additional costs that need to be covered.
Simple Project Budget Template
If your aim is to make a project budget in the quickest manner possible, then this simple project budget template is definitely for you. Know that you can use programs such as Microsoft Word, Google Docs, or even Apple Pages to access and customize the template until you are satisfied.