Funding your dream wedding is one of the most challenging tasks that you need to consider before the big day. It's essential to spend wisely and manage everything at an affordable budget. If you have a budget crunch, then you will need to plan accordingly. With the help of budget templates, you can plan your wedding budget as early as possible to avoid the rush afterward.
202+ Wedding Templates in Word, Google Docs, Apple Pages, PSD, InDesign, Publisher, Illustrator, Google Sheets - START DOWNLOADING
5 Steps to Create a Wedding Budget
Step 1: Determine the Cash
The very first criterion to determine is how much you have in hand. You need to compile at least three sources of income: Your and your partner's income, both of your savings amount and also the contributions of parents and loved ones. It's always better to consider the cash before you plan for your dream wedding rather than to realize that you don't have enough to spend.
Step 2: Consider Expense
The next comes in research. You will need to know the costs in your location to determine what is the estimated expense. Then, you need to note down the offered price of vendors and planners on one side. After discussing with your partner, you will be determining the actual price that you would be able to pay considering all together.
Step 3: Miscellaneous Expenses
Under the miscellaneous costs, you will have to add the rest of the expenses like vendor transportation, cocktails, food, digital access, invitations, planners and clean-up. Even the pre-wedding plans will require a lot of expenses. Add a table labeled Miscellaneous Costs and add all these costs accordingly.
Step 4: Be Responsible
No matter how tempting it is to spend on a big lavish wedding, it's wise to spend that you can pay back within the due time. Consider anything that can be manageable at an affordable amount. Instead of going for a branded planner, you can check out local planners or people you know.
Step 5: Save Wherever Possible
When you see that your wedding is going overboard, you can change the venue or might consider reducing the guest list. Plan your honeymoon to a nearby place if possible. You can even try to get your invitations done without hiring a calligrapher. Make some other changes wherever possible and see a huge difference.
11+ Wedding Budget Templates
1. Wedding Budget Template
You cannot leave for any mistake in your wedding. After all, it's you and your partner's day. It's a day to celebrate love, you don't have to think of others more than your budget. Have a look at our wedding budget template in MS Word and multiple other file formats to make it a grand success. Just download this template and add your income and expenses to make a planned budget.
2. Wedding Budget Worksheet Template
You can plan your dream wedding on affordable expenses and still make it a huge success. Just make sure you have a clean budget in hand. But if not, then you can get our wedding budget template in MS Excel, Word and Google files as well. The best part is you can edit its features and also view it on any electronic device that you have. It's easy, user-friendly and helps you plan your wedding budget in no time!
3. Printable Wedding Budget Worksheet Template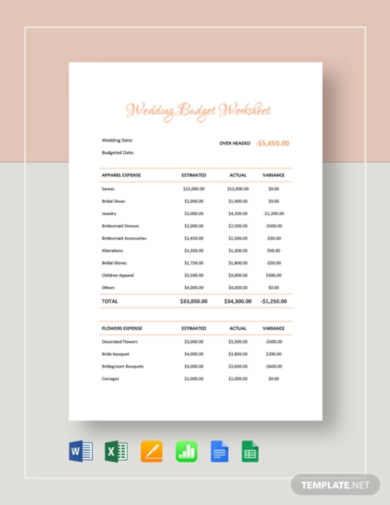 Getting closer to your wedding but don't have time to spare? We have got something to save both you and your partner's time so that you can spend it more with each other. Download our Printable Wedding Budget Worksheet Template, available in Google Sheets and Docs, so that you can plan your budget and go through all the essential elements of the wedding in a jiffy. It's not only customizable but also instantly printable too!
4. Destination Wedding Budget Worksheet Template
Have a destination wedding in mind? It's grand but doesn't come cheap. What you need to do is get your wedding budget calculated so that you get to decide how to move ahead. Download this Destination Wedding Budget Worksheet Template, pre-loaded with customized content that you will need o know for your dream day and is also available in PDF format and different sizes for you to edit and print right away.
5. Wedding Budget Chart Template
How long have you been planning your wedding but feeling all the more confused? You can get things straight with the help of a wedding order that will arrange your priorities according to importance. Manage your wedding cost in an organized way and figure out how much to spend on different requisites. Have fun with your partner planning your wedding with this Wedding Budget Chart Template that can be customized as well!
6. Sample Wedding Budget Template
If you want to carefully plan your special day, then you will need the assistance of a well-made and customizable budget worksheet where you will be able to make your plan in an organized way. Download this Sample Wedding Budget Template which you can access and view your entire budget worksheet in PDF format and make your required customizations.
7. Wedding Budget Example
Now we have an efficient tool at your rescue. Grab hold of our Wedding Budget Example in which enables you to deal with your wedding budget and expenses within the short span of time you have. Download this wedding budget worksheet that gives you a ready-made schedule where you can add your basic necessities and unnecessary expenses to plan the wedding that you and your fiancee desire.
8. Wedding Budget Cheat Sheet Template
When you are planning your wedding this year, you will need to first consider your budget to understand whether you have the means to organize the way you want it to be. Affirm a wedding like no other by using our Wedding Budget Cheat Sheet Template that gives you full freedom to include every minute details of your wedding planning. Download this sample budget template now and start planning!
9. Simple Wedding Budget Template
Thinking of planning a simple wedding by yourself to curb extra costs? Then you made the right decision. Create a planning budget spreadsheet and get all the essential details to book before the big day. Take a look at this Simple Wedding Budget Template and plan a beautiful wedding without a professional planner. Its customizable features and suggestive content will guide you through the process without a doubt!
10. Wedding Budget Template in PDF
Your wedding is coming near and you yet have so much to plan? Why don't you leave all that to us and get a budget planner to organize everything about your wedding? It's easy, customizable and ready with suggestive headings to let you include the details of the elements you need to take care of and plan the wedding accordingly! So no more fidgeting for your special day and plan hassle-free.
11. Wedding Budget Planner Template
Need a useful planner for your wedding? We have exactly what you need. Just get your hands on this amazing Wedding Budget Planner Template and forget all your worries. You will be able to edit it's features and layout, along with the design to suit the way you need it. Whether you have a small or large budget, this sample budget template is all you need to make your wedding just like the way you want to be!
12. Formal Wedding Budget Template
If you have a wedding business, you will need to provide satisfactory services to your client. Confirm their wedding budget and help them get the wedding of their dreams. Our formal wedding budget sample template is there to help you. Download this budget template and add their income and your estimated costs so that you can provide you an accurate price they'll need to pay! Hurry and get this instantly.