A studio is a space where an artist works and masters his craft. Within its four walls, the artist starts working from scratch and gradually polishes what he has created. But there is also a business side to studios, which is why there is a need for studio owners to have business cards. Using these cards and handing them out to potential clients is one way to promote an artist's studio and art.
If you are an artist or studio owner who is still looking for a business card design, consider the following samples we have curated just for you. We hope you find one that matches your style.
Yoga Studio Business Card Template
Studio Business Card Template
Vertical in shape and measuring 2.25 inches by 3.75 inches, the template features a headphone illustration that is stylized to resemble a note. It only showcases a few details, but its clean simplicity still makes an impact. The template is compatible with Microsoft Word, Adobe Photoshop, and Publisher. You may also see Social Media Business Cards.
DJ Business Card Template
If you own a recording studio, this is the perfect option for a unique business card. It is practically bursting with a fun, youthful vibe due to its metallic blue and violet colors.
Rainbow Business Card Template
Get this template if you plan to set up a graphic design studio or work in the multimedia field. The rainbow design does not take up much of the space and the overall look is fun yet subtle. The template can be edited on Microsoft Word, Photoshop, Publisher, Illustrator, and InDesign.
Photographer Lens Business Card
The shiny camera lens design of this business card template is captivating. It is well-suited and effective for those who want to put up a photography studio. It is a double-sided card with a size measuring 3.5 inches by 2 inches. It is also fully layered in Adobe Photoshop and easy to customize.
Simple Studio Business Card
The template comes in two colors, mint green, and dark blue. It bears a simple and clean design but the colors catch the eyes first. Contact details are at the back with a quick response (QR) code for accessing further information. The two colors are included in the file. We highly recommend using the mint green version because of its refreshing appeal. You may also see Executive Business Card Designs.
Black and Yellow Studio Business Card
This card is specially designed for people who prefer simplicity above all else. It is fully editable and print-ready. The bold yellow contrasts with the black, giving this card a very distinct look. You may also see Business Card Examples.
Modern Studio Business Card
Sleek and glossy—this sums up the overall design of this luxury business card. It is suitable for photographers and other studio owners who want an understated yet elegant card to give out to prospective clients.
Clean Vertical Business Card
This sample business card is fully editable with a 0.25 mm bleed for printing. The color can be changed into any shade that you like, so you are free to add your own personal touch to the design. With a high-quality and fully layered design, this template will surely help you stand out.
Creative Design Studio Cards
The back part where the contact details can be found comes with black and white backgrounds. The front looks like a horizon with a blue and yellow meeting at one point. It also has PSD files that you can edit to further customize the look of the business cards.
Modern Studio Business Card
This double-sided modern studio cool business card is compatible with Adobe Photoshop CS4. It comes with changeable texts and fonts that you can edit to customize the card to meet your preferences. The stark simplicity of its look is great for making a bold statement when you give the card to a client.
Simple Business Card Template
What is great about this bundle is it has 10 available variants of business cards that can suit any professional need. All cards are double-sided, front and back. So, if you wish to change the look of your floral business card from time to time, purchase this affordable bundle today.
Photoshop Business Card Template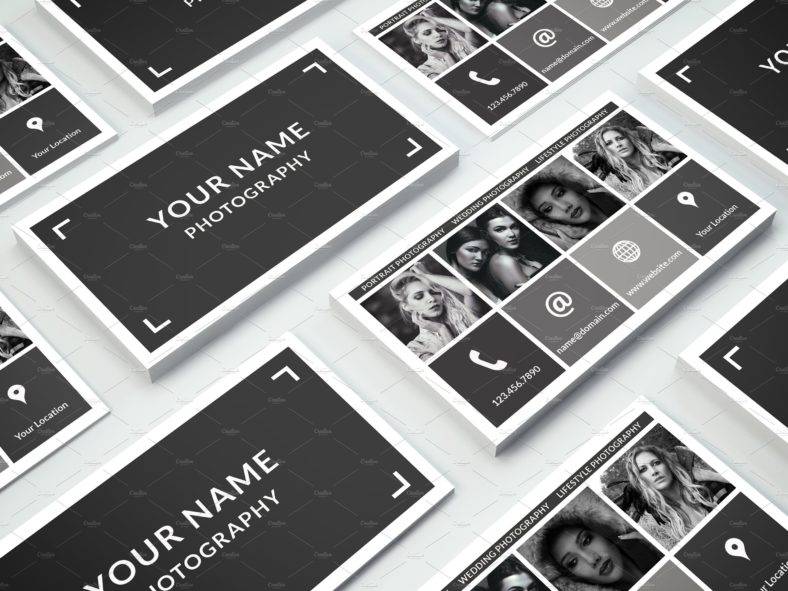 Colors and text are fully editable in this template which comes in a size of 3.5 inches by 2 inches. Its subtle black and white aesthetic is perfect for business photographers or models.
Recording Studio Card Design
Square and round corners are available for this card. Just like the others, it is fully editable from the text to the colors. It is an elegant choice for music studio owners or music producers. Radio personalities can also use this card design.
Types of studios
Studios can serve several purposes such as photography, acting, dance, architecture, woodworking, etc. Here is an overview of the different types of studios that we commonly see:
Photography studio. Photographs are taken, developed, and edited in this studio. Traditional photography studios often have a darkroom where the pictures are developed before being released. However, in the digital era, photos are now edited in applications like Adobe Photoshop. You may also see Creative Business Card Designs.
Dance studio. Dance practices for major performances typically happen in a dance studio. This kind of studio usually has a mirror on one side of the wall so the dancers can see how well they execute the steps. Usually, the studio has built-in speakers and floors that can withstand the impact of intense movements.
Animation studio. Have you ever wondered where your favorite animated movies are made? It is in an animation studio. Several artists often work on the character designs then make them move through the magic of software.
Radio studio. This is where radio programs are being produced and prepared for broadcast. It has soundproof walls to avoid recording unnecessary sounds while the program is being produced. After everything has been edited, it is prepared for live broadcast. You may also see Black Business Card Designs.
Recording studio. Recording for the albums of your favorite pop stars is done in this type of studio. It has a studio and control room where the sound from the studio is recorded. The control room is also the area where the recorded sound is manipulated and edited for a better outcome.
Television studio. The television studio is one of the most important aspects of a broadcast company. The recording of live television broadcasts and other programs which rely heavily on green screen and computer imagery are being done in this studio. On the other side of the studio is a control room where videos are edited and wired for a live telecast. You may also see Blue Business Cards.
If you think you have chosen the right template, it is time to put your creativity to good use. With editable templates in hand, you will never run out of ideas for reinventing patterns and designs. So, choose your favorite business card design today!