In a business or a company, there are employees who do better than others. These are the employees that greatly excel in what they do are waiting for the moment to be recognized. Because of their hard work, there should come a time where these employees get their much-deserved recognition for a job well done. You may also see Certificate Templates.
Why? Because it is in our nature to want to be appreciated, to be admired, to be recognized, and to be valued. Letting employees know how well they're doing will also lead them to emit an energy that is conducive to productivity.
Employee Excellence Certificate Template
Employee recognition provides benefits for both the employee and the company. If you work as a boss or as a head of a team and you decide to recognize the excellence of an employee, it means you recognize and value the contributions he or she has made. It has been proven that compliments have the capacity to change one's behavior, clearly for the better.  An unknown writer had once said, "we need affection to satisfy the need to belong, we want praise so we can feel admired, and we want recognition to satisfy our need for personal worth".
Simple Employee Excellence Certificate Template
With that said, bosses or business owners have the responsibility to recognize the efforts, orally is acceptable, but a written recognition is far better and effective means to praise. Here is a list of employee excellence certificate templates and designs you can use to acknowledge and recognize your employee's excellence.
Modern Employee Excellence Certificate Template
Formal Employee Excellence Certificate Template
Acknowledgment Certificate Design
Formal Certificate of Achievement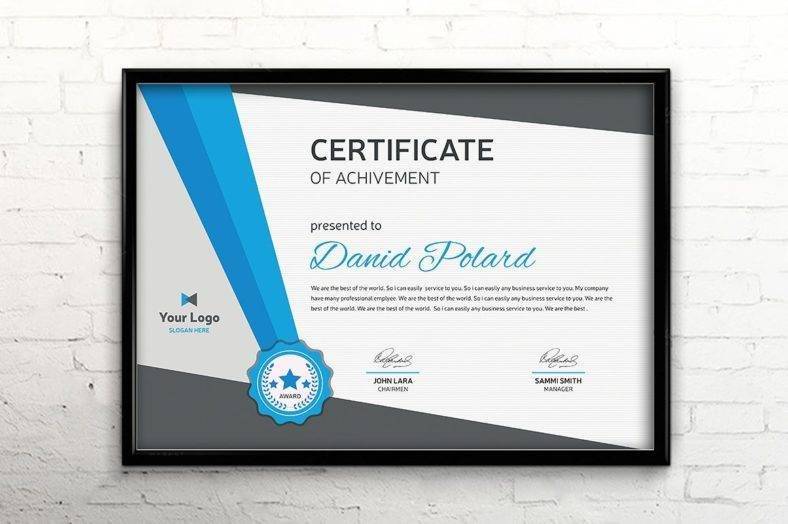 A4 School Certificate
If you are a boss or a person of higher rank and failed to recognize or praise the efforts of your employee, they will, in turn, be dissatisfied workers of your company or business. A dissatisfied employee is equal to lesser or no productivity at all which will then cost you your business a lot. The more you recognize the excellence of your employees, the more effective they will become. You may also see Scholarship Certificate Templates
It is important to recognize, acknowledge, or praise your employee's efforts, contributions, and overall excellence because the more that they feel valued and appreciated in the company the more they perform and become productive. It also gives them the confidence and the motivation to maintain such reputation or even be better since they are not being undervalued.
All these will lead them to perform more and more, which, in turn, will be beneficial to your business or company.
Modern Certificate Template in Word
Certificate of Achievement
Why should you go for a premade employee excellence certificate?
Just like most PSD designs and templates out there, employee excellence certificates have their own set of benefits that will help you recognize and acknowledge your excellent employees effectively. Here are the different reasons as to why you should go for a premade employee excellence certificate design, rather than have it professionally done:
1. A premade employee excellence certificate is way cheaper. Not a lot of money has to be put into the making of in order to materialize your company's very own employee excellence certificate. Having someone professional do everything for you can be a lot expensive, but by only buying and downloading one that is premade and available online, it will not cost you as much with prices ranging from $6 – $12 each. You may also see Stock Certificate Template
2. These premade certificates exude class, sophistication, and professionalism. These characteristics can really help with reflecting your business' or company's ideas and branding to the market. When handing out certificates or any paper for that matter that has your company name on it, it is very important to make sure they are eliciting the same kind of aura your business is exuding. If you project your business as sophisticated and professional, it is equally important that your promotional mediums are reflecting the same.
3. All of these premade certificate designs come in a wide array of designs and templates that can perfectly cater to your business brand. There are designs that are minimal, even some with elaborate designs, and also modern designs for your employee excellence certificates. There are different designs and templates made for anybody and everybody.
4. These certificates also come in varying sizes. With premade certificate designs, sizing will never be an issue as these designs also come in different sizes.
5. These certificates are very easy to edit and customize according to your preference. Since most of the editing that is needed is with the text, editing the whole certificate will not be such a heavy task since all you have to do is put in the text needed for your employee excellence certificate and then it is ready for printing. Some of the designs also offer isolated object layers that will enable you to move objects around in the certificate to fully personalize and customize the design.
Corporate & Modern Certificate Template
Clean Business Certificate Design
What should be in your employee excellence certificate?
The very purpose of this certificate is to honor and recognize an employee for a job well done. So, in order for this certificate to be legitimate and effective, you have to have the following things in your Employee excellence certificate:
1. Name of the company the employee is working for.
By putting in the name of the company in the certificate, it allows for it to have more value and legitimacy. In doing so, not only are you acknowledging the company but also giving it due respect. This will also help the employee, as it can serve as a reference for other employers, should they wish to move on to another job.
2. Name of the recipient getting the certificate.
This is the most important piece of information in the employee certificate – the name of the person you are handing out the award to. Also, the employee's name should be the biggest text in this certificate for it to be readable and easily recognizable for the recipient and for the others, as that is the very purpose you are giving out this award: to recognize the employee for his or her contributions to the company.
3. The kind of award or certificate that you are handing out to.
It is important that you will give this employee excellence certificate a label. To do so, identify what it is you are handing it out for. Whether it be a "certificate", "award of excellence",  or "token of appreciation", state this at the very top of the certificate or at the top of the recipient's name – the choice is yours to make.
4. Names and signatures of the manager and CEO.
It is best to have the names and the email signatures of the bosses, such as the: manager or department head and the CEO or the president of the company in order to fully legitimize the recognition of the employee. In doing so, this will create more productivity in your employees when you acknowledge their efforts and contributions to the company they work for.
5. A short text.
This text, although optional, should state and/or answer the question "Why?" 'Why did he or she get the award out of the many candidates?" "Why is he or she the deserving employee for the award template?" You can maybe put, "For their overall excellence in performing their duties" and so on. You can put this box of text either at the top or at the bottom of the recipient's name, depending on your preference.
If you found this article helpful do not forget to bookmark this page for future references. And kindly share this with other business owners, company heads, managers, or department heads who are seeking the best and effective Employee excellence certificate designs and templates.