Tennis is a world famous game and has a huge fan following all around. Apart from the big matches where we see famed players playing the game, there are many midlevel matches being played all around throughout the year. Use the following certificate templates that have been exclusively designed for the purpose of acknowledging the efforts of the tennis players and appreciating their achievements. You can also see Certificate Template.
Premium Tennis Certificate Download
One look at this template would tell you exactly what it is about. This template sticks to the tennis theme which makes it appropriate and relevant for any competition or tournament. Download
Best Tennis Certificate Template
The peach coloured border in the template along with the subtle cream background looks really attractive in this certificate. Also, the template is 100% editable and customisable as well. Plus, it is Word and PSD compatible. Download
Participation Certificate in Tennis Tournament
The first thing you notice about the certificate template here is the border which has been kept simple but elegant. That is well contrasted against a subdued background. Also, the template comes in a standard size. Download
Certificate of Tennis Competition Appreciation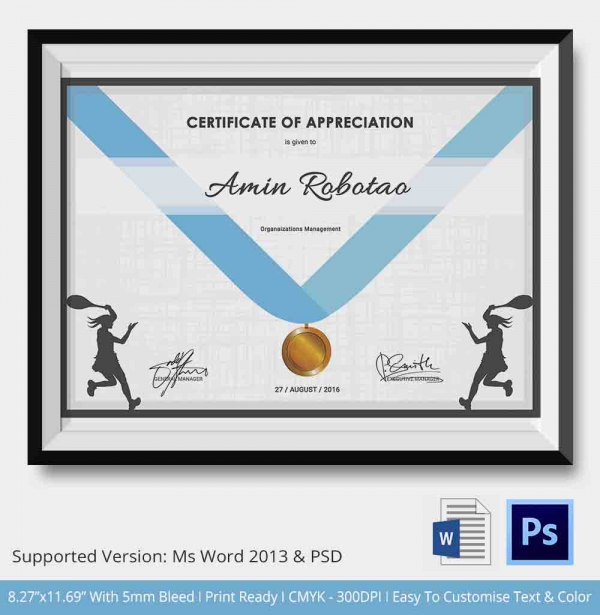 This certificate template comes with an attractive background theme, appealing patterns, easy customisation of colour and text and also Word compatibility. That makes the template exceptionally easy to edit. Download
Tennis Excellence Certificate
This tennis certificate comes in a Word or PSD format, a print ready layout, a standard size with bleed, a CMYK color mode, high resolution of 300 dpi, and easy customization of text and color. Download
Participate Tennis Certificate
Tennis Doubles Champions Certificate
As the very name suggests, this certificate template is to be given to those players who have won a doubles match in Tennis. The players who win are awarded this Double Champions certificate along with the cash and other types of prizes announced. You may also see Medical Certificate Templates.
Table Tennis Certificate
This colorful certificate depicts Table Tennis and its components in a comical manner. It captures details like the name of the Table Tennis player, date of the match, venue and achievement details in a crisp and direct manner. You may also see Training Certificate Templates.
Student Participate Tennis Certificate
Sport Certificate templates are usually light in nature representing the jubilation in winning or participating in the same. The above certificate templates that are exclusively created for recognizing and acknowledging the efforts of Tennis fraternity, must be used for all possible occasions to motivate the future generations.