No one can be successful without following a plan. To achieve great things, you must be organized and efficient. If you intend to be a business owner, you need a checklist that will help you stay on track and make sure that each essential task is accomplished successfully. You may also see Checklist Samples.
So if you're planning on setting up your restaurant, it's important to have a simple restaurant startup checklist of all the things you need for a great start.
Sample Restaurant Checklist Template
Start Up Checklist Template
Restaurant Side Work Checklist Template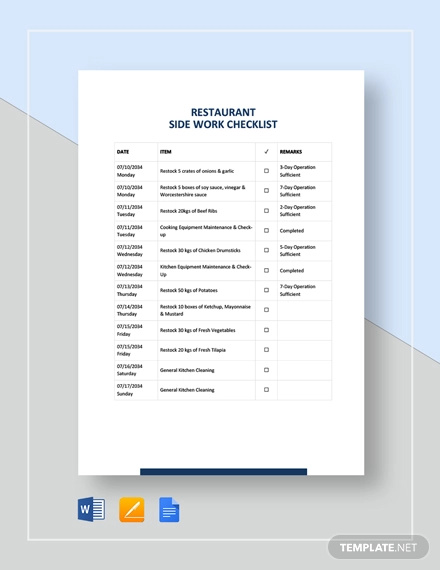 Restaurant Checklist Template
Restaurant Pre-opening Checklist
ggra.org
Restaurant Opening Checklist
scribd.com
Restaurant Startup Checklist in PDF
rrgconsulting.com
Restaurant Startup Requirements Checklist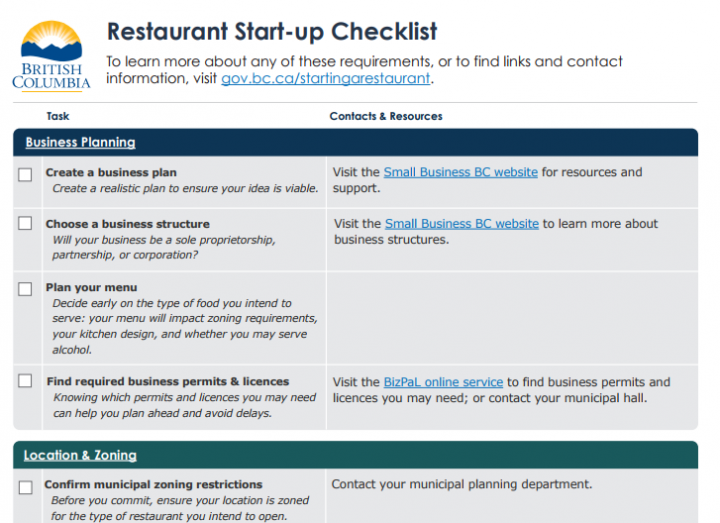 gov.bc.ca
Startup Checklist for a Restaurant in Excel
mymission.lamission.edu
Restaurant Opening and Closing Checklist
kecksfoodservice.com
Basic checklist for opening a restaurant
The idea of opening up your own restaurant is always going to be exciting, but it can also be very overwhelming. There are a lot of things that you need to consider while you're preparing to open up your restaurant. This would include developing your menu design, choosing the right kitchen equipment, and hiring employees. So here are the things you need to include in your checklist:
Develop a solid concept for your restaurant
Your restaurant concept will likely be influenced by the current industry trends. You can also come up with a concept that might not be popular now but may become popular within a couple of weeks, months, or even years. The important thing is to conduct a thorough market study before settling on your final concept.
Check out your local competition
You should never underestimate your competition. Even when you think that you're doing better than them, you still need to keep up with what they're doing if you want to maintain your competitive edge. Just make sure that you do your market research to help you determine how you can compete with them.
Make sure to choose a good location
This should be a no-brainer as a restaurant's location is a great determining factor that can affect its success. It's always a sad thing to see a restaurant in a very poor location. You'll need to find an ideal place for a lot of foot traffic that's easily accessible to both customers and employees. It should also have a low rental cost.
Come up with a good business plan
At this point, you need to come up with a business plan for your restaurant. This will help make sure that your restaurant starts out great and stays great. A business plan has three major parts: the executive summary, the company description, and the marketing analysis. This document gives an overview of your overall idea of your restaurant. Writing a business plan can take up a lot of your time, but it's a small price to pay for something that will definitely help you attract investors as well as manage your business.
Meet with the people investing in your business
After you've come up with a perfect business plan, the next thing that you need to do is to wow your investors with it. It doesn't matter if the people that you are meeting with are from a bank, small business bureau, or private firm. What's important is that you bring all of the paperwork that they need to see. You also want to appear as professional as possible, so make certain that all of the documents are neatly organized in portfolios that your investors can keep for future references.
Hire the right staff
When you're looking for the right people to work for you, you need to hire those who have a good mix of both personality and experience. Although you always have the option to hire any of your family members or friends, make sure that they're right for the roles, or it'll be counterproductive in the end. Get people that you and the rest of the staff can get along with, and make certain that they're willing to do whatever it takes to see that your restaurant becomes a great success.
Develop your restaurant's menu
Of course, a restaurant wouldn't be complete without a menu. A menu showcases what your establishment has to offer to your customers. Before you start planning your restaurant's menu, you need to consider the size of your kitchen first. The kitchen size will directly affect the number and type of items on your menu. So if you have a small kitchen, for example, you need to streamline your menu and only offer a limited assortment of dishes.
Order the restaurant equipment
After you've finalized your restaurant's menu template, you need to buy the right equipment for your kitchen. Often, you'll be able to buy high-quality used equipment at auctions or at supply stores. Buying brand-new equipment may be tempting, but if you're on a limited budget, you need to find more cost-efficient alternatives.
Organize a grand opening
Once everything is all set, start by having a small-scale opening for a limited number of people. This will help you see if there are some issues that you should fix before your grand official opening. If you think that you have everything ready, then you can finally have that big opening that will tell people that you and your crew are ready to serve the public.
Market your establishment on social media
Now that your business is ready, it's time for you to start advertising to the masses. Make use of all available social media options to help spread the word about your restaurant. If you aren't sure where to start with your social media campaign, check what other local restaurants are doing so you can glean a few ideas.
If you would like to learn more about the different types of checklists or how you can start up your own restaurant, then be sure to read our other articles.