Deciding to sell a small business is one complex task that takes a lot of reckoning to finalize considering the legalities involved. It's also not that easy to finally let go of a business that took you years, money, and sweat to build. Some business owners can even get sentimental over parting with what had brought them profit and also brought them closer to people in the community, with the same people also making up their customer base. You may also see Contract Templates
It could be that you own a restaurant that already has too much competition in the same geographical location that it's a wiser call for you to just close it.
Business Sale Contract Template
Sample Sales Contract Template
Business Purchase and Sale Contract Template
Business Contract Template
Sales Contract Example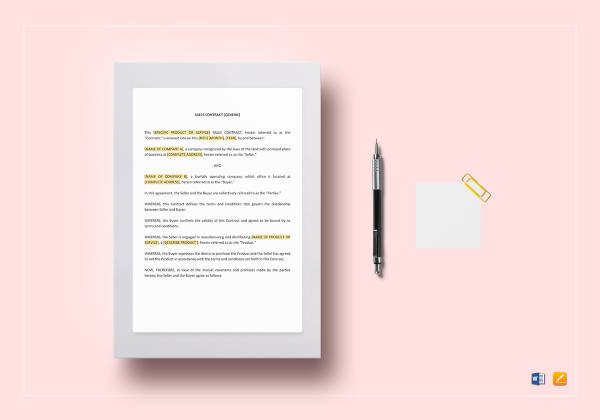 Business Sale Contract Sample
You could also have decided that the type of venture you're currently on, just wasn't made for you, try as you did or it's no match to your management skills and could cripple you financially if you don't sell it. Or you may have found yourself extremely overworked and cannot continue with it anymore as the business doesn't reap in the amount of profit you need and instead gets more demanding whilst not growing. You can also like sample freelance contract templates.
There could be other reasons, with each one just as arguably valid as the next if you take into account profit versus losses. Some of the few reasons why owners want to sell their business could include retirement, partnership issues, and illness among others. Whichever it is, a business sale is often a risk management move to still get something for literally what the business is worth in figures, which means, selling while it still has value.
Because of several considerations, mostly legal, selling a business may require you to hire or work with a broker, accountant or lawyer in the process. Whether or not there's still profit to be had depends on your reason for selling, the timing of the sale, the strength of the operation and the structure you had. Suffice to say, the business sale will take much of your time and once you already got your business sold, it would be up to you how you handle the profit that came with the sale. You can also read free contract templates.
For a buyer, purchasing a business on the brink of loss or one that the owner can no longer manage, is often a better option if they're new to the industry than having to build one from scratch. You can also read photography contract templates.
Here are the things you need to do before drafting or signing a contract with a buyer or vice versa:
1. Set Your Goals
If you're the buyer, it's important to understand the reason behind the decision of buying or acquiring a business and then set realistic goals for that specific move. You may be buying for want of an income stream over the next year and the next one after that, hopeful that it would become profitable enough as a worthy investment. You can also see sample contract templates.
Or you may be interested in something you can upgrade and therefore add value to with the prospect of being able to sell it eventually. Having a good understanding and a clear goal to base your decision in will help you in evaluating the possibility of purchasing a business up for sale and could also be a useful direction for any sales agent or other experts you may hire to help you in finding the business which is the best fit for you. You may also like freelance contract templates.
2. Prepare documents
Get your documents ready. You can start with collecting and filing your financial statements including your tax returns dating back three to four years and go over them with an accountant. You can also make a list of equipment being sold along with the business as well as the contracts related to business transactions in sales, supplies and any other expenses incurred relevant to operations. You would probably also need related paperwork such as the current lease and of course, the business sale contract when everything else is finalized.
Make copies of the documents you have secured for distribution to your possible qualified buyers. The information packet you created should also include a summary of how you operate in the business with an updated operating guideline or manual. Additionally, you would want the business to be in good condition physically, which means it should be presentable for convincing potential buyers to sign the contract. Any part of the business property or equipment that are damaged, worn out or broken, should be replaced or fixed before the sale happens. You can also like consultant contract templates.
Business Sale Contract Guide
Simple Sale Contract for Business
In the buyer's case, the following factors should be considered prior to signing a contract or buying the business being sold:
1. Location Matters
Location is very important in considering a business you wish to buy. Make sure to evaluate if the type of business you have in mind or the concept you have for it, can work in that area. The business should be located somewhere that's visible enough for a customer while also ensuring that it's not in a highly compressed area with too much going on for it to even be noticed or have too much competition surrounding it. For instance, there could be a number of restaurants within a 5-mile radius serving the type of food you also want to sell. You may also see artist contract templates.
Or you could be thinking of having something different to offer if you really like the location. For example, you could turn that restaurant into a diner serving burgers and fries to match with a drive-in and it could prove to be a huge success. With the right location, something new to draw customers, strategy and analysis of the market as well as your competition, should all make up a huge deciding factor in signing the sample sale contract.
2. Let the seller or the landlord know about your plans before the escrow close
A business that enjoys enough success despite the amount of competition it has could afford to pay expensive rent but oftentimes have a landlord who wouldn't like the idea of the buyer wanting to change concepts since it could mean changing the design and having some work done on the property. Should you find a business that has a reasonable rent cost on top of monthly profit or gross sales, the landlord would usually be agreeable with having changes made from the design to the type of services or products you want to sell. You may also see HR contract templates.
The landlord should be notified of the buyer's plans prior to the sale otherwise you may realize too late that another business has an exclusivity clause included in the lease contract that may not work well with what the buyer has in mind. If you're the buyer, you should also take the time to create your own sample business plan even though your operations may be closely related to that of the business you're buying.
Aside from that, there could be other people involved in the sale making it necessary for you to have a basic business plan submitted to all parties involved then get the other party to sign the agreement indicating that you will be able to do your own concept, as part of the terms, after the escrow closes.
As a buyer, you may want to only make a sample agreement with people selling a business that is marketable, have enough value from the services they offer and operations that are already well-established and reputable in the local industry, have a competent team working behind it, attractive profits in the past and a swarm of patronizing customers.
But if you prefer making changes from top to bottom and not settle for the changing the concept o type of services and goods offered only, you may be setting yourself up for risks you cannot afford and then some pitfalls. It is therefore crucial that you read the terms and conditions and make sure you understand everything clearly, including the fine print. You can also read interior designer contract templates.
3. Make Your Offer
It's better to have a solicitor or adviser on your side and if you don't, you should probably get one now. Make your initial offer by phone and make sure to do a follow-up in writing, using "subject to contract" in your correspondence. This would be the time to make requests for conditions of sale such as cases where the current owner stays within the simple business for a certain period of time or while the transition happens.
Sample Sale of Business Contract
Small Business Sale Contract Template
4. Negotiate a Deal
The thing that most people ignore too many times is the fact that contracts can and should be negotiated. It's within your rights as a buyer to do so, especially that there aren't many businesses for sale fighting over them so you can always ask someone with the amount of cash needed to put you in a strong position. In this case, you and your solicitor would be in a process referred to as due diligence where you have to verify the information written or given buy the other party. You can also read event contract templates.
After making sure that you have everything you need and if you have made up your mind, got the terms and conditions clearly and made a simple agreement, it's time to buy the business and start the actual work in making it profitable and successful.