Those of you who have been working in the food industry know that there will always be events where organizers are going to require catering services to feed all of their guests. This is the reason why there are a lot of restaurants, cafes, and bakeries that offer catering services as it's one of the best opportunities to gain more revenue. You may also see Contract Samples.
So in the event that your establishment is going to offer catering services to anyone, you're going to have to learn how to create catering contracts. And this article has all the templates that you're going to need to create your very own contract for catering.
663+ Restaurant Templates in PDF, Word, Excel, PSD, Google Docs, PowerPoint, InDesign, Apple Pages, Google Sheets, Publisher, Apple Numbers, Illustrator, Apple Keynote, Google Slides, HTML5 - START DOWNLOADING
Simple Restaurant Catering Contract Template
Simple Catering Contract Template
Catering Contract Template
Banquet and Catering Contract Sample
gregsdeliandcatering.com
Catering Contract for Schools
fuquaschool.com
Catering Contract for Events
thepeachedtortilla.com
Catering Contract for Birthday Party
explorationstation.org
Catering Services Contract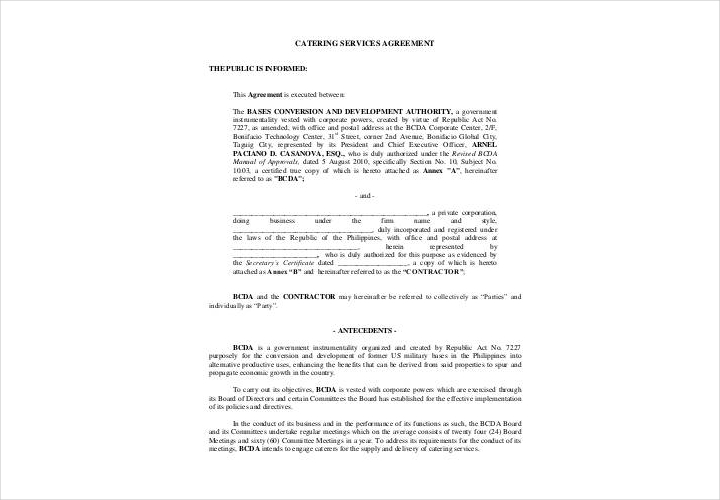 bcda.gov.ph
Blank Catering Contract
theskyroom.com
How to draft a contract for a catering business
For a lot of people, hiring a caterer isn't really something that happens too often as they're usually only required during major events such as weddings or graduation parties. However, there are always going to be big events for various organizations, and businesses in the food industry are quick to take advantage of these opportunities. So when you decide to draft the contract for your catering business, then you'll have to make sure that you understand that most people are unfamiliar with the process caterers develop in order to make events successful. This is why you're going to have to ensure that each aspect of the event is clearly and precisely specified to your client with the help of a properly made and well-written catering contract. So here are the steps that should allow you to create one for yourself:
Create a list of items
You're going to want to make a list of all the items that you're going to cover within your contract. This can include information such as the customer's  name and address, the type of function, the venue of the function, how many guests will be present, the amount of tables and chairs, the menu design, the type of food, and much more.
Amount of deposit and date reservation
You're going to have to be clear on just how much your client is going to have to spend when it comes to paying the deposit and the date reservation. You'll have to clearly state in the contract that when the client books on that particular date, you cannot book that date for anyone else should the client wish to cancel the reservation. This means that you're going to have to include a statement regarding penalties should the client cancel at the last minute. The date reservation deposit is usually 50 percent of the total bill. Then you must state in the contract when the final bill is due. A lot of catering businesses expect full payment at least a few days away from the scheduled event if it ever exceeds a certain amount.
Present a clear cancellation policy
You can mention information on the flexibility for a refund, depending on how far in advance the cancellation was made. Let's say that the client wishes to cancel his or her booking at least three months in advance of the scheduled date. This means there is a good chance of re-booking the date, so you can give your client a much larger refund. You can also opt to refund your clients if they inform you at least two weeks ahead of time before the reserved date. This way, you'll be able to free up that particular date so that other customers can hire your services.
Present a clear liability policy
You should not be held responsible for any damage to the rented equipment or property as well as any losses that are caused by guests who are participating in the event. It's best that you consult a lawyer to guarantee that the other member who is to sign this contract fully understands that you will not be at fault for any property lost, stolen, or damaged. So think of its creation process in the same way as if you were to make a release of liability form. Also, you're going to have to state the things that you are accountable for such as any damages that your employees would cause.
Standard Catering Contract
floridahealth.gov
Wedding Catering Contract
shortstopcustomcatering.co
Food Catering Contract Template
chefmateocatering.com
Event Catering
dineandstyle.com
Food Truck Catering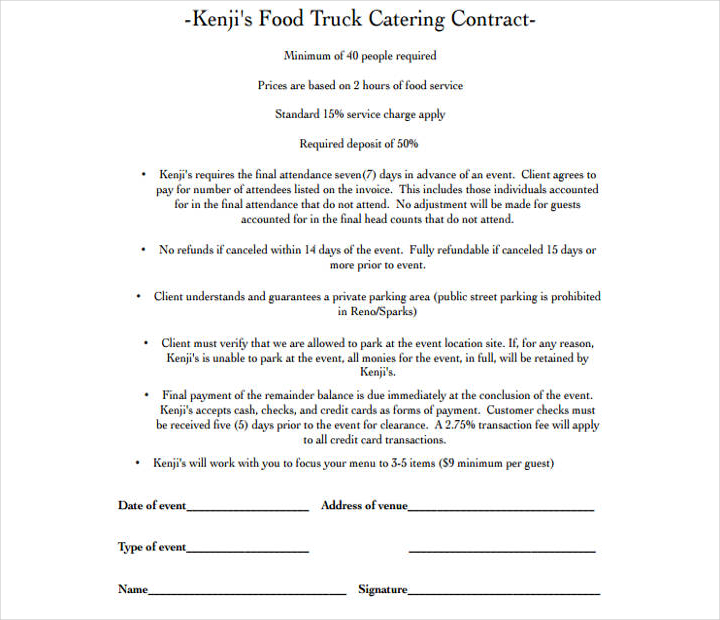 kenjisfoodtruck.com
Catering Contract Example
4lodging.com
Hotel Catering Contract
help.execu-tech.com
Present the policy for leftovers
You're going to have to provide a policy regarding the leftovers once the event is over. There are some states or countries in which health regulations dictate as to whether or not caterers may hand over any leftover food to their clients once the event is over. So you're going to have to clearly state in your contract whether or not your client may take any leftovers, as not doing so can cause disputes. If you are able to and, at the same time, you are willing to leave your leftovers with your client, then you're going to have to negotiate this with them during the contract signing.
Leave a space for signatures
At the very bottom of your contract, you're going to have to make sure that there's a space for your signature as well as space where the client may be able to place his or hers. It should also be enough to the point where you can put in the date of when the contract was signed. You must always include a paragraph before signing a contract that states your guarantee of high-quality service as well as provide a direct number to reach you in the event that there are any problems or if certain things need to be changed regarding the event.
Write a paragraph that offers help
You're going to want to show your clients that you're willing to offer your help should they need any. So that means you're going to have to include a number where they can contact you directly if they have any concerns. This also helps them feel more relaxed, knowing that they can contact card you at any time.
Write down procedures for breach of contract
This is something important as there will be consequences should either party breach the terms of the contract. So you're going to have to write the exact procedures should either party breach the contract, as well as what constitutes a breach of contract. This should also make sure that all parties understand who is responsible for legal fees or other procedures should they become necessary.
You'll have to remember to leave ample room for both your signature and the signature of your client at the bottom as well as the date. The reason for this is because these signatures finalize the contract and you may just need them in the event that certain problematic situations occur. A good example would be a customer claiming that he or she is unwilling to compensate you for the service that you have provided.
Terms and conditions for catering contracts
Considering that catering is reliant on a lot of factors such as the number of guests, you're going to have to be clear when writing the terms and conditions of your contract.  So here are the things that you should consider when the time comes for you to create this portion of your catering contract template:
A lot of catering contracts demand that the client confirm the number of guests who will be participating in the event. It's also required that the client hand over this information at least two weeks before the event takes place. This will give caterers enough time to actually prepare everything that needs to be made for the event.
The catering contract should state the amount of deposit that the client will have to pay for security purposes. It should also state the balance is payable on the date of the event. By having a deposit, caterers will feel more secure knowing that should the client make any last-minute cancellations, the caterer isn't left with anything.
You're going to have to include how you're going to deal with cancellations in your contract. You'll have to state when the client can be issued a refund or if you get to keep the deposit the client made if a certain period of time has already passed. This can serve to protect the cater from any kind of complications.
As said before, a lot of businesses in the food industry take advantage of setting up a catering business service as there are always going to be big events that need them. And having a well-made catering contract ensures that both the client and the catering service get what they deserve.
If you would like more information regarding catering services, such as how to make a catering proposal, then you can go through our available articles to give you what you need.