Photography is a rewarding and lucrative career option that has become pretty popular among amateur photographers and designers alike. however, to be a successful photographer, one must have the right kind of market and audience base. A website helps you with that. A photography contract is a legally binding document that states the client's requirements, fees and duration of the job.
108+ Photography Business Templates in PDF, Word, Excel, PSD, Google Docs, InDesign, Apple Pages, HTML5, Google Sheets, Publisher, Apple Numbers, Illustrator - START DOWNLOADING
5 Steps to Write a Photography Session Contract
Step 1. Fill in the Preliminaries
First of all, you need to include the name and address of your company or photography agency. If you are a solo photographer, then state your contact details accordingly. You should also include the client's information in the contract, complete with their contact information and transaction details.
Step 2. Details and Date of Session
Next, you need to specify the details and duration of the photography contact. If you are hired for an event or for a short session like a wedding, you will have to include space for a pre-wedding photoshoot in the service order. State the calendar date of the photo session, along with the target date and end date when you wrap up the shoot.
Step 3. State the Client's Responsibilities
Photography services are not all about the photographer and the effort he puts in. It is a 2-way process that also involves active participation from the client's side. You will have to state the responsibilities and duties of the client to ensure his willing cooperation. This ensures there are no bitter disagreements once the session is done.
Step 4. Clarify the Services
Not everyone is inclined to your working behavior and schedules. You will have to clarify the details of a photo shoot in the contract. Specify the location, duration, props, costumes and other details of the shoot beforehand to avoid any confusion on the big day. Wedding session photography contracts, generally, are different in the look and language as compared to a newborn baby photography session contract.
Step 5. State the Pricing Policies
Last but not least, a photography session contract must include a set price quote. Like any other business, even your agency must have preliminary charges, advanced payment options, added expenses, taxes, due fees, cancellation policies and more. Check out our list of awesome session photography contracts for your use.
10+ Photography Session Contract to Download
1. Newborn Photography Session Contract Template
The Newborn photography session contract template is suitable for photographers who specialize in clicking pictures of children and their parents. The downloadable and customizable contract template comes with free Google Fonts, colors and designs. plus, it supports all file formats and can be accessed from anywhere.
2. Professional Wedding Session Photo Contract
The Wedding Session Photo Contract template is intuitive, responsive and works well on both Word and PDF formats. It clearly outlines the clauses and services offered, the responsibilities of the client and other details of the sample wedding contract. You can customize this information as well if needed. This is the only wedding session photography template you could ask for.
3. Simple Mini Session Photography Contract
Download
The Mini session photography contract is a stylish and minimalistic photography contract that works well on PDF and DOC formats. Plus, the platform is optimized for Photoshop, Elements, Lightroom, WHCC and more. The text is also customizable and eye-catching. The professional language of the template will impress the clients and also provide for your legal safeguarding.
4. Editable Photo Session Contract Form Template
Download
The template comes with 2 contract layouts, suitable for all occasions and events like weddings, engagements, corporate parties and more. The contract form is worded well, includes all the legal clauses and can be customized to your needs. Plus, there are free fonts and designs to explore. Download this session contract template today.
5. Modern Photography Session Contract Template
Download
The MS Word photography session contract template comes with prewritten text, graphics, and layouts. All you have to do is download the basic contract template and edit it in MS Word. However, you can also edit the template's design and content if you want. The mature and professional look of the template is certain to impress clients.
6. Standard Session Contract Form Template
Download
The V318 Sessions contract sample form template is professional, stunning and aesthetically appealing. The platform is tailor-made to suit your photography branding, comes with a variety of beautiful colors and designs and is fully customizable. The imagery is high class, the language is refined. This makes the template ready to use for all your photography session contract requirements.
7. Wedding Photography Session Contract Template
Download
The Wedding Photography Session Contract can be edited online or downloaded digitally. The 8.5×11 interface comes with free fonts, color schemes, and other graphic designs. The content of the wedding photography contract template is legally accurate and very professionally drafted. The template works well with Photoshop, so download it today and start customizing it as you need.
8. Photo Session Contract Template Sample
Download
The photo session contract template is perfect for professional and amateur photographers alike. for starters, you get all the standard editing options that you'd find elsewhere. Plus, here you can include images, illustrations, colors, fonts and more to make the photography contract template eye-catching. The imagery is highly sophisticated, and the language of the template is also very nice.
9. Session Photo Template for Photographers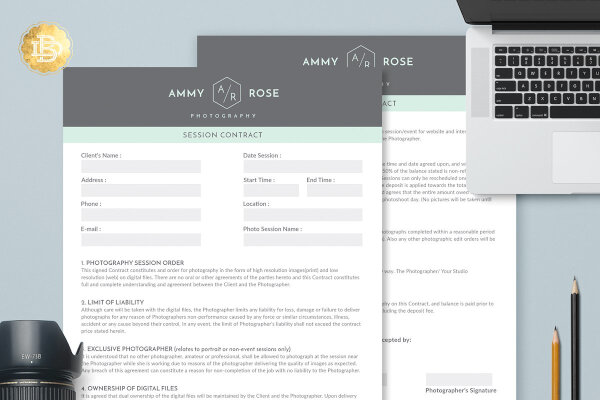 Download
The SC002 session photography contract template is a practical and minimalist platform that incorporates all the necessary elements needed to form your agreement. The content is authentic, well-written and easy to customize. The neatness of the template, in spite of being text heavy, is what impresses the most.
10. Photography Session Contract Agreement Template
Download
Here, users get access to 3 customizable documents that are structured like a formal photography session contract agreement. The platform is great for wedding photographers, commercial projects and mini sessions alike. plus, the contract agreement is optimized for Word and comes with a variety of fonts and colors. The template is easy to download and print, so go for it.