No event is complete without good photographers to capture the moments of celebration and success. Whether you are an event manager creating a portfolio of your best projects or whether you are a freelance/volunteer or full-time event photographer, you will need a simple contract template to officially document your commissions. It is often the contract sample that separates the amateurs from the pros. You may also see photography templates.
108+ Photography Business Templates in PDF, Word, Excel, PSD, Google Docs, InDesign, Apple Pages, HTML5, Google Sheets, Publisher, Apple Numbers, Illustrator - START DOWNLOADING
Basic Photography Contract Template
Newborn/Baby Photography Contract Template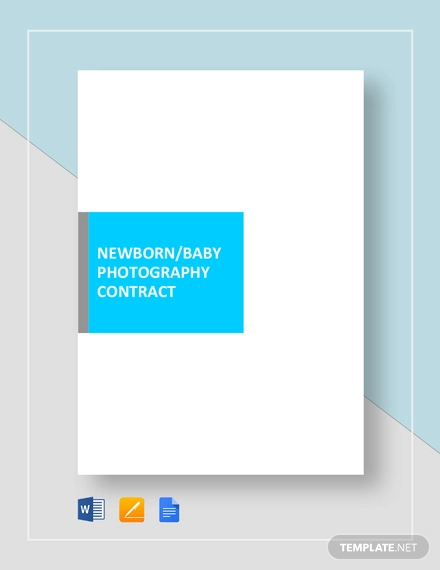 Simple Wedding Photography Contract Template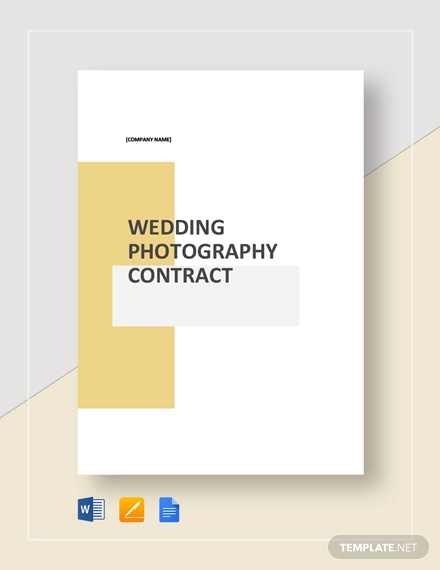 Not sure where to start? This list of free contract samples collected from around the web will be an invaluable reference when drafting your own professional photography contracts for a variety of events.
Event Photography Contract Template
Portrait Photography Contract Sample
Wedding Photography Contract
Birth Photography Contract
How to Use These Contracts
Photographers are often commissioned to work in a wide range of special occasions and in many different settings. Some of these moments are commonplace across all places and cultures. If you are good at it, it is possible to build a reputation as a photographer specializing in these affairs.
These special events include but are not limited to
engagement parties, weddings, and anniversaries;
births and birthdays;
wakes and memorials;
victory celebrations;
baby showers;
bachelor or bachelorette parties; and
press events and product launches, etc.
You could even be hired for a family portrait photo shoot or take photographs of merchandise for a company sales pamphlet.
If you are an all-purpose dabbler suited for any occasion or whether you have a foot in a particular sphere, you can find an Event Contract sample in this list to suit your needs. A Commercial Photography Contract will be your best bet for official, paying commissions, while the general contracts will cover all the necessary details to get you started.
Family Photography Contract Sample
Engagement Photography Contract Sample
Volunteer Photography Contract
General Photography Contract Sample
Free Photography Services Contract Template
Elements of a Photography Contract
Maybe you are hired to cover your brother's wedding because you've always been handy with a camera, or maybe you do this for a living. Either way, you have to make sure you are getting your due as a talent for hire. Your photographer's contract should be as legal and official—like the Wedding Contract of the event—because, after all, it is a business deal. It is not merely an informal favor to point and shoot.
These free templates will guide you on the right way to do it.
You'll notice that whatever the event, we found the certain core details that should be present in each one:
Brief description of event or occasion.
Client's name and address.
Event location.
Event date.
Event start and end time.
Fees agreement (talent fee, transport fee, advance pay, etc.).
Names, addresses, contact information of signatories.
Extra details may include the agreed minimum number of photographs to be taken, date of delivery of the photographs to the client, special equipment to be provided by client, etc.
Use these contracts to show that you take your art form seriously—and that you are to be taken seriously.