Although the customers are considered to be the lifeblood of the business, employees, especially the good ones, are the most important resources business needs to keep running. However, for some a variety of different reasons, employees leave the company. While a company cannot force an employee to stay, low employee retention can mean potentially and negatively affect the overall well-being of your business. Most company management has invested time and effort to train employees about the day-to-day operation of the business. The more employees resigning from their position can mean great monetary loss because it can affect the level or productivity of your business operation.
If you are one of the employees looking to resign from the company that you are currently connected with, it is important to do it formally by submitting a resignation letter, either personally or through email. No matter how much you hate the management and the people around you or how dissatisfied you feel about your monthly pay, submitting a resignation letter shows a level of your professionalism as a person.
Why Employees Resign
Good employees do not just leave their jobs. Surely,  there are a few valid reasons that push them to resign from the position in the company. So, to understand better what their reasons may be, we have rounded a list of the reasons that triggered their resignation:
Overzealous Company Policy

We understand that it is important for employees to follow the company policy. However, some of them are way too strict or unnecessary; thus driving the employees crazy. It is important for the management to understand that they do not need to monitor every move of the employee. Most importantly, employees need their personal space in order for them to function properly.

No Career Growth and Advancement

This is one of the most common reasons why good employees resign. Nobody wants to work in a company for years only to find a dead-end for their career. Career stagnation only means that you lose your chance of growing and advancing in the company.

Autonomy or Lack of Challenge

Companies who fail to offer opportunities for challenging and engaging work have an increased risk of losing a significant number of their employees. Although for some employees routine work is okay, most good employees are constantly looking for challenges so that they can learn more things and help them grow more in terms of knowledge and skills.

Underappreciation

One of the worst mistakes an employer can do is to make his employees feel underappreciated and devalued. Of course, it is in the nature of employees to strive hard so that they may able to contribute to the growth and success of the company wherein they engaged their services. Once the employees feel underappreciated, they lost motivation to continue their hard work and would often find another company that truly appreciate and reward their efforts.
So whenever, you find yourself experiencing the things that are stated above, keep in mind that you always have the option to leave the company and look for a better one, but make sure to end your services professionally with your current employer. And since we now know that reasons why good employees leave their employer, it is time to get to know the reasons why it is important to send a resignation letter. But before we start enumerating those reasons, it would be better to get to know what a resignation letter is.
The Significance of a Resignation Letter
According to an article that is published in Wikipedia, "A resignation letter is a formal act of giving up or quitting one's office or position". Unlike involuntary termination, resignation is viewed to be a personal choice to leave a position without any dispute between the employee and the employer. So when the time comes when you feel like you need to find a company that can offer you a better opportunity, make your first move by submitting a letter of resignation to your supervisor or boss. The following are reasons why it is important to write a resignation letter before quitting your job:
We all know that no company is perfect. It may offer you a good pay but it has an unbelievable set of company rules or vice versa. No matter what your reasons for leaving are, submitting a resignation letter allows you to leave in good terms with the boss and colleague. You might never know when you will need a recommendation letter in the future.
Provides an Opportunity to Thank Your Employer
When writing a resignation letter, make sure to use it as a platform to show your employer your gratitude for the opportunity he has given you and for the skills and knowledge that you have learned while in the company.
Sending a resignation letter to your employer gives them time to look for someone to fill in your position. So make sure to give them a month's or two-week notice before the effective date of your resignation.
Tips on Writing an Email Resignation Letter
While it is advisable to submit your resignation personally to your employer, there are certain instances wherein you are forced to submit it through email. Oftentimes, employees send an email resignation due to unexpected family emergencies to which they need to attend to as soon as possible.
And while sending an email resignation is the last impression that you want to leave behind to your employer, here are some damage-control tips on how to write an email resignation letter effectively:
1. Use a Clear Email Subject Line
When you decide to send a resignation letter through email, it is important to observe a clear subject line. Take for example "Resignation Letter – Your Name", so that the recipient of the email will have an instant knowledge on what the email is all about. Also make sure to carbon copy (CC) the HR department so that they may have a copy of your resignation in their file.
2. Provide As Much Notice If Possible
Most of the time, the amount of time in which you are required to give notice prior your resignation is stipulated in the company policy. So make sure to check whether you are required to provide two-week or 30-day notice. It is often required by the employee to help in the transition period by training the new person who will fill his position. If providing enough notice is impossible, offer your employer your personal contact details so that they can reach you easily if ever they need instructions or assistance.
3. Effective Date of Resignation
One of the most important elements in a resignation letter is the date your resignation is effective. That is why it is extremely crucial not to forget to include the date in your email so that your employer will have an idea of the timeline and can make necessary adjustments on the schedule, if possible.
4. Do Not Dive into Details
Although you may feel that you owe the company an explanation for your decision to resign, you really do not have to go into details. Just keep your email as short as possible.
5. Show Gratitude
Your resignation letter is an important tool that you can use to thank your employer for the period of time you have worked in the company. In case you dislike your employer or is unhappy with the company management, it is still vital to show professionalism in your resignation letter and not include any negative comments. You can also choose to insert a thank you letter for your boss.
Sample Email Resignation Templates that You Can Download and Use
Employee Email Resignation Letter Free Word Format Download
hostos.cuny.edu
Email Resignation Letter to Supervisor Example PDF Free Download
wiregrass.edu
Email Resignation Thank you Letter in PDF
northeastern.edu
Director Email Resignation Letter in PDF
simmondsstewart.com
Best Official Resignation Letter Email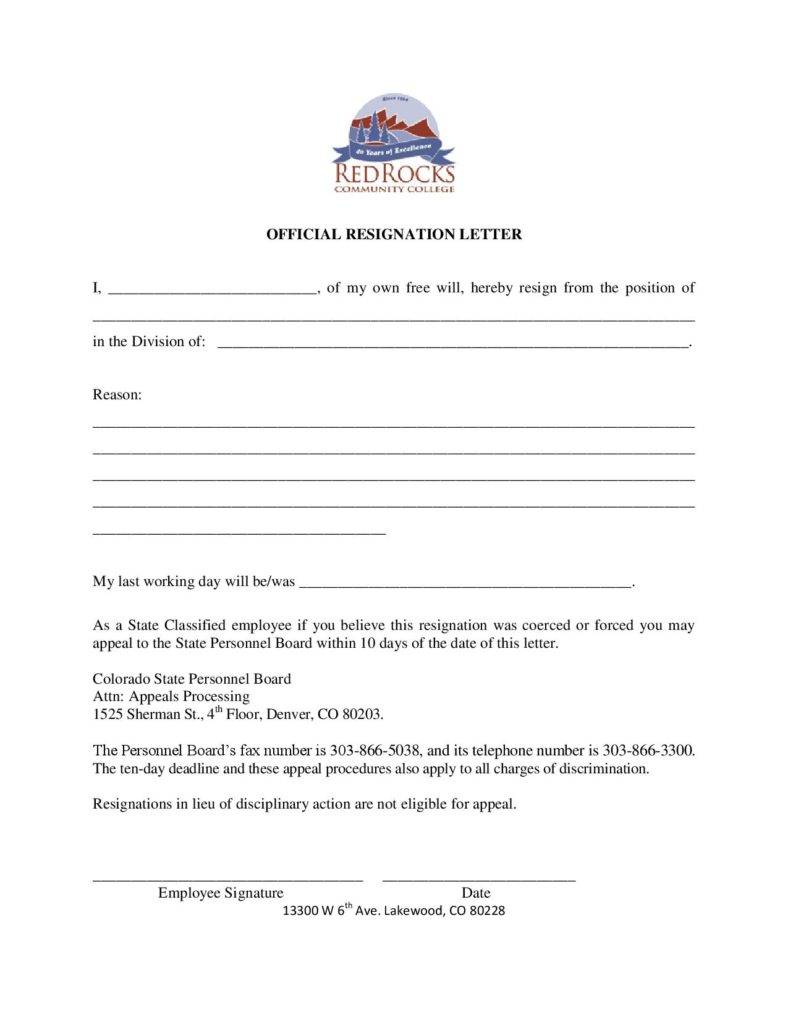 rrcc.edu
Simple Union Resignation Letter Free PDF Download
keyta.org
Formal Email Resignation Letter
nparcseattle.org
New Job Resignation Simple Letter Free Word Download
change-job.com
Simple Relocation Resignation Letter Free PDF Download
sampleandtemplate.com
Effective Immediately Email Resignation Letter Free Word
sloaneassociates.com
Job Dissatisfaction Resignation Simple Letter in MS Word
rsirichfield.com
Final Thoughts
Employment resignation are not meant to cut ties with your previous employer and colleagues. It is no secret that employees resign from time to time because they constantly seek a company who can offer them better benefits and career opportunities. And while submitting an email resignation letter to your employer can be an awkward experience, make sure to maintain a professional tone throughout your letter so that you will continue a professional relationship with your employer with grace and dignity.
Make sure to download our collection of formal resignation letter templates and use the as your personal reference when drafting your own resignation letter. What is great with our website is that we do not only provide our readers with a vast library of resignation letter templates, but they are also available for free downloads. So what are you waiting for? Hurry now and download the best templates from our collections!