When it comes to a business, one of the most important things to focus on would have to be marketing. It's really important that you know how you should go about in marketing your business if ever you want people to learn that it exists. you may also see plan templates.
320+ Marketing Templates in PDF, Word, Excel, PSD, HTML5, WordPress, Google Docs, PowerPoint, InDesign, Apple Pages, Google Sheets, Publisher, Apple Numbers, Illustrator, Apple Keynote, Google Slides - START DOWNLOADING
Marketing Plan Executive Summary Template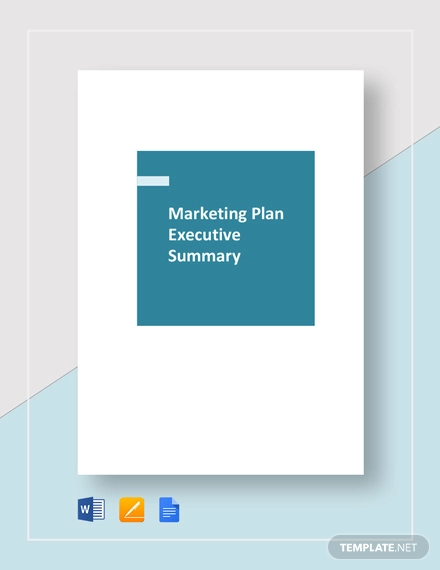 Marketing Plan Executive Summary
Digital Marketing Plan Executive Summary
But that's not going to happen if there isn't any semblance of organization or thought process put into any of your business's marketing efforts. What this means is that you will have to come up with an effective marketing plan and this article is going to teach you all that you need to know that will help you make one for your business. You may also see Marketing Plan Templates in PDF.
Executive Summary Marketing Plan
What Is an Executive Summary Marketing Plan?
While most marketing plans would go into detail as to how a business is going to go about in its marketing efforts, an executive summary marketing plan is basically a shorter version. It basically covers everything that a standard marketing plan would cover, only that it's briefer and takes less time to make. You may also see Microsoft Word Marketing Plan Templates.
If you're going to make one, you still have to make sure that it provides a clear outline on what marketing strategies will be implemented, how it's going to happen, who's going to do them, and when certain goals should be met.
The Benefits of an Executive Summary Marketing Plan
It should be noted that you can gain something from having a shortened version of a marketing plan. Here is a list of what benefits it can give you:
1. Straight to the point
Since it's brief, people will be able to understand the point of the marketing strategy much quicker. There will be those that would rather read the shortened version s all they want to see is if these marketing efforts are ones that can actually be successful.
2. Great for those in a hurry
It should come as no surprise if there are people who don't exactly have time to go through the entire simple marketing plan – namely clients and investors. So having it summarized in one or two pages will definitely save them the trouble of having to skim through everything just to get the information that they need.
Sample Executive Summary Marketing Plan
Simple Executive Summary Marketing Plan
How to Create your Executive Summary Marketing Plan
Now that you have an idea as to what it is and what you can stand to benefit from making one, the next step that you will need to take is to actually make the executive summary marketing plan sample. This isn't thing that you should simply rush through, you still need to make sure that it has all of the information one would expect from a marketing plan. The only difference this time is that this one is shorter.
With that being said, here are the steps that will help you create an effective executive summary marketing plan:
1. Write Down the Mission and Vision
The first step when making one is to write down both the vision and mission statement examples of your business. While it's pretty obvious that this will depend on the type of business that you decide to run, you should still make sure that you include both in the marketing plan.
So let's start with the mission statement. You need to be able to ask yourself this on simple question: What is it that you want your business to achieve? You're going to have to be very specific when writing this down in the plan as it will act as a reminder to your employees as to how important their roles are in fulfilling the company's mission.
Next is that you want to write down the vision statement.The point of this is to show readers how you envision  your business in the future. How do you see it in 5 or even 10 years from now? Write that down in the vision statement so that the people who go through it, specifically your employees, will have something to work towards. You can also see internet marketing plans.
2. Figure Out Your Target Audience
Before you come up with any marketing tactics, you need to understand how exactly you're trying to market your business to. What this means is that you'll need to know the people that you want to frequently do business with so that you can cater to whatever it is that they need or demand. You may also like sales & marketing plan templates.
To help you know who your target audience is, you'll need to take a good look at your current customer base. Now, who do you often see that you do business with? You'll want to gain information on their demographics. So look at everything from their age, gender, how much they spend, their buying patterns and more. The more you understand them, the better you can come up with strategies that will cater towards them. You may also see sample real estate marketing plans.
If you've just started opening up your business and you have no idea as to who your target audience is, then you just need to know who would benefit the most from whatever products and/or services your business has to offer. Make sure that you properly assess who could make the most out of them or who would want to avail them so that you can come up with the right marketing strategies.
B2B Executive Summary Marketing Plan
Cafe Executive Summary Marketing Plan
3. Research on Your Competition
When it comes to running a business, there's no doubt that there are going to be other businesses who are in the same industry as yours that will have their own marketing efforts. These are your competitors and you'll want to figure out the best way in which you're going to deal with them and retain or gain the competitive edge. You may also see non-profit marketing plans.
This means that you'll need to do your research on how they're marketing towards their customers and how they're holding up in the industry. Try to look at the businesses within your area that's similar to yours and have found a measure of success. Then you'll want to do things like going through review sites, asking customers, or even visit your competitor's stores just so you can gain all that you need to learn about them. You may also see financial adviser marketing plans.
Once you've done that, then you can make the necessary strategies that will help you deal with them. Try to see what kind of weaknesses that they have that you can ensure won't be present in your own business. It's also best that you take advantage of opportunities that they didn't— just make sure that these are actual opportunities and not ones that will end up becoming an unnecessary expense. You may also like event marketing plans.
And lastly, take a good look at their strengths that helped make them become successful. It could be that they've implemented a particular marketing technique that's helping them achieve success. So you can decide to take advantage of the situation or use the same strategy, or you can come up with something different and better than theirs. You can also like startup marketing plans.
4. Come Up With the Marketing Strategies
Now comes the part where you 'll have to talk about what kind of sample marketing strategies that your business is going to implement. Remember that this is an executive summary marketing plan, meaning that you shouldn't go too much into detail. Just remember to give enough information to make it clear as to what you want to do.
Now, think about what kind of strengths your business possesses. Do you have any employees who are great at communicating with customers? Is there anyone who's always up-to-date with the current trends? Take advantage of your strengths to figure out the best strategy to use. You may also see sample annual marketing plans.
Then, use the information that you've gathered about your target audience here. So what kind of buying behavior do they show? What kind of products do they usually go for? The answers that you can gain from those two questions alone can help you come up with the best possible strategy that caters to them. You may also see sample b2b marketing plans.
Then you'll need to figure out where you target audience gets their news from. Are they the type who are always active on social media? Or maybe they're the type who frequently listens to radios or watches television. Think of the best media channel that you should go for that will help you promote your business.
And lastly, be sure that the promotional material you come up with actually helps you attract these people to your small business. Try to point things out like discounts or upcoming sales; basically anything that will make them want to go to your establishment or contact your business to avail your products and/or services.
If you would like to learn how to create other types of marketing plans, then all you would have to do is go through our site. It has many of the different articles that you need which should be able to help you out. Just be sure that you are able to read through whatever you decide to go for thoroughly so that you can make effective use out of whatever information they provide. You may also see retail marketing plans.