People are always going to buy something and what helps them decide is whether they want it or need it. So when they do decide to purchase, they can either go to the stores themselves, or they can make use of order forms that they can find online.
With an order form, customers are able to specify the kind of goods they want, as well as when and where these goods should be delivered. Even businesses make use of order forms to make internal purchases in the event that they require certain products or services. So if you ever need anything, be sure to make use and take advantage of order forms.
Grocery Order Form in Word
Grocery Order Form Sample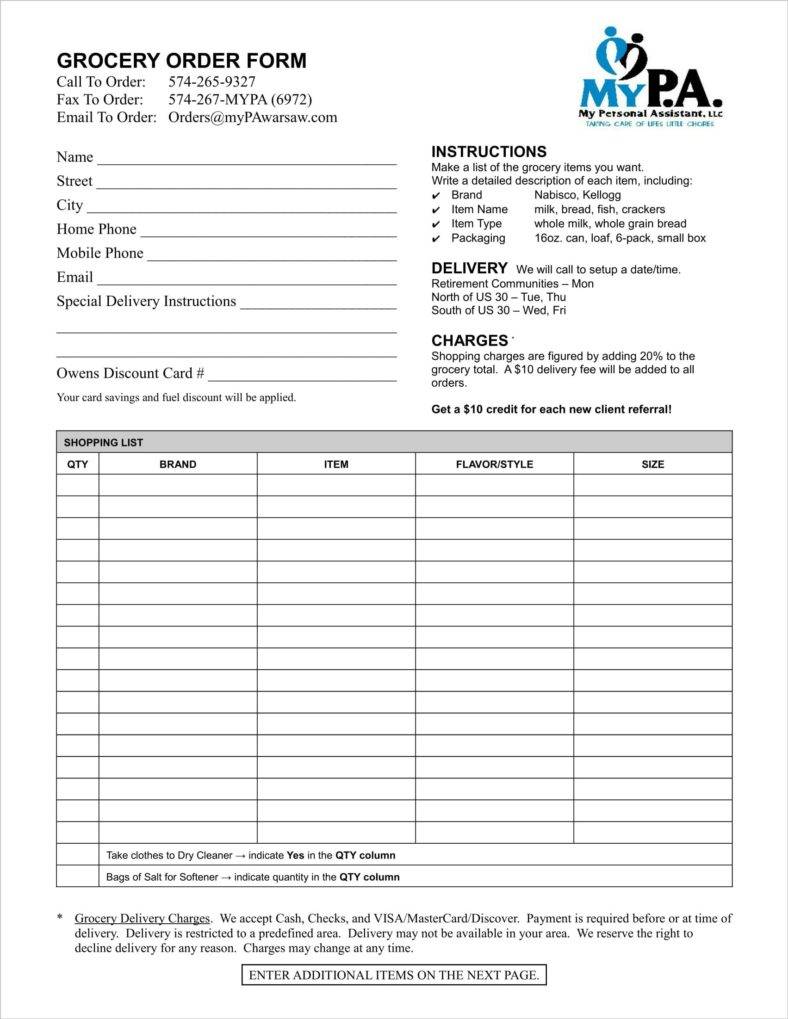 Grocery Delivery Form
Basic Grocery Order Form
What Is a Grocery Order Form?
A grocery order form is what one makes use of in the event that he or she requires certain things delivered to either their homes or certain locations. People make use of this type of form as they are either too busy to do groceries themselves, unable to do it because of certain problems, or because they simply want to take advantage of the convenience. Think of this form in a similar sense to food order forms wherein you don't just order food, but you order a variety of other products as well. So if you've come up with a product list of the things that you need to have purchased, then you can place all of them within the grocery order form.
Reasons for Using Grocery Delivery Services and Order Forms
We all know that grocery shopping can be such a time-consuming task. Because you know that you'll have to make a grocery shopping list, then you'll have to travel all the way to the store, and once you arrive you'll have to go browsing through all of the seemingly endless amounts of products until you're able to find what you're looking for. This is the reason why people nowadays make use of grocery shopping websites and fill out the forms that will show what they both want and need. However, before you start filling these forms and making your order, you'll need to consider the pros and cons of these services. So here are the reasons for making use of grocery delivery services and order forms:
The Pros
It saves you a lot of time. Shopping online alleviates the burden of you being the one to go to the grocery store and doing the shopping yourself. It saves the time of you having to go through each and every aisle to find what you want to buy and the other perk is that you can make the order at any time. Whether you wanna do it at 8 p.m. in the evening or 2 a.m. in the morning, you can fill out these forms whenever and expect your groceries at the appropriate time. And since you're not the one who's going to drive all the way to the store, you'll also be saving on gas money.
It will help reduce any kind of unnecessary spending. You're going to have to admit that there are times that you're in the grocery store and you have the sudden impulse to just grab something that you want but you know you don't need. These kinds of impulse buys can increase your bill by up at least sixty percent. Since you're not at the grocery store and someone is doing it for you, there's no way for you to get tempted to buy that on-sale item that you would have seen if you'd have been the one who went.
There's the convenience of you gaining official coupons that you can use online. You'll have to select the coupon that corresponds with the items on your virtual list of groceries and you can save more than you would by buying in the actual store. So if you're not the type of person who likes to clip out coupons, then making use of online grocery delivery services is for you.
You'll be able to have easy access to online specials. While this may not be able to compare to the feeling of actually taking advantage of ad matching or in-store specials, online retailers have a wide variety of benefits that in-store shoppers won't be able to receive. Think of it like this: instead of you having to go to different stores to get the best deals on certain products, online retailers allow you to save all of your hard-earned money with just a simple click.
The Cons
Since you're paying someone else to do the shopping for you, then you should expect to pay a premium. Considering that you could be paying for high-priced items, the delivery fee that you'll have to pay, the fuel surcharges for the transportation, and the inability for you to bargain on the price can take a good chunk out of your grocery budget. And since you're not the one who's going to the store, you might just miss out on certain deals or discounted items.
You can't select the quality of the products that you want to get. Quality management is just about impossible since you're not the one who gets to pick out the products. You'll have to rely on the person who's doing the groceries for you and hope that he or she is picking out the products that are of top quality. You won't be the one who'll pick out the ripest fruit, nor will you be the one to make sure that the product isn't close to its expiry date. So think about this carefully to help you make the decision as to whether or not you want to make use of online grocery delivery services.
The thought of delivery can be a challenge. Either you or someone else has to be home when the delivery arrives or you run the risk of having your groceries spoil on the front porch or, worse, having them stolen before you even get home. If you're going to make use of online delivery services, then you'll want to pick those that have pickup locations within the store that allow you to pick up everything in the store with you having to go through the hassle of shopping or worrying as to whether or not your groceries are fine.
You won't be able to tell if certain products are out of stock or not. Since you made the order online, you won't have the option of making alternate choices. There's a possibility of even getting products that you didn't even order or you might get those products that are damaged. This is the kind of risk that you'll have to take if you want the convenience of having someone do the groceries for you.
Services Grocery Order Form
Hotel Grocery Order Sample Form
Grocery Order Form Example
Summer Grocery Order Form
Yacht Sample Grocery Order Form
Spa Grocery Order Form
How to Fill Out a Grocery Order Form
There are just some people who don't want to go the stores themselves, so if they decide to make use of online grocery delivery services, then they'll need to know how to properly fill out this type of form. So the following information is what one should place within grocery order forms:
Complete name
Location of where the groceries should be delivered
Time and pickup of delivery
Your contact number
Date of when the order was made
Your account number
The type of service
Authorized signature
Names of the product that you would like
The quantity that you would like to have these products in
It's best that you prepare your grocery list right beside you. This way, you will not be able to forget any important items that you need to have purchased as well as allowing you to go over the list to see if you may need any other additional products. Just be sure that you place all of the information above on the form to ensure that you get what you need and to make sure that you get it at the right time and place.
What You Should do before Using Grocery Order Forms
Think about your grocery budget. As mentioned before, if you're going to make use of online delivery services and decide to fill out their forms, then you can expect that it'll be a bit pricey. So create a budget sheet and see whether or not everything is fine or if it's better for you to do the shopping yourself.
Be sure that you have all of your information right. If you make one mistake in filling out your information within the form, then chances are that your delivery won't push through or you're sending your groceries to someone else. Go through all of your delivery information to be sure that everything is in place and that there are no errors whatsoever.
Make sure that you're getting everything that you need. We've already discussed how important it is to have your shopping list with you, so be sure that when you're filling out this form, you go through your list and place in everything that you need. You may even cross out certain products that you don't necessarily need to save you on a couple of expenses.