Forms
8+ Sample Land Contract Forms
Contract Form Templates are always useful in the land of real estate, where you will need a contract samples for basically every move. From offering to buy, to accepting the offer and making a counteroffer, to agreeing on terms and cancelling agreements, and so much more, the right template can save you a lot of time and effort in getting the legal details right. In this collection of free sample real estate contracts, we focus on land sales and purchase agreements.
Whether you're looking to buy or looking to sell a house or area of land you own, it helps to be familiar with the legal terrain. Download and study these samples to help you navigate or draft your own real estate contracts.
Land Contract Template
Free Printable Land Contract Form
devontitle.com
Land Purchase Contract Form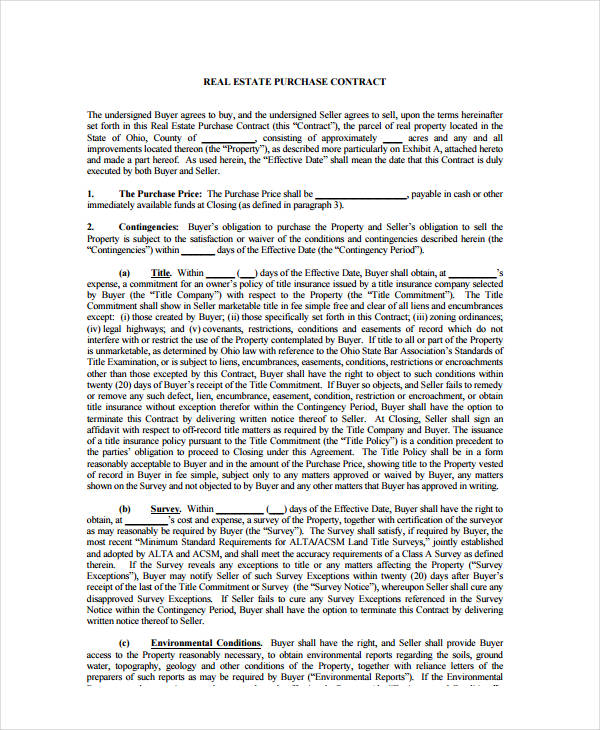 development.ohio.gov
Land Sale Contract Form
rurallawcenter.org
Land Installment Contract Form
cap-press.com
Understanding Land Contracts and How to Draft Them
Signing a land contract as a buyer is like signing up for a mortgage. This is unlike a Lease Contract Form, which is meant for rentals of owned property; it is an agreement to purchase. But instead of applying for a loan, however, the seller provides financing and you make payments in installments to the seller until you've paid for the property in full. In that event, the seller is obligated to transfer ownership rights to you.
The land contract is the document making this transaction official and legally binding.
A land contract might also be known as a contract/agreement for deed, a land installment contract (see Land Installment Contract Form), or installment sale agreement. Like any other basic Real Estate Contract Template, a land contract will include these details:
the heading of "land contract" or "contract for deed"
the names, addresses, and signatures of both buyer and seller
a description of the property (a legal description of a property is usually recorded in a recent ownership affidavit, or it may be requested from the local recorder's office where the property is located and registered)
definition of payment terms
terms, conditions, and limitations of the agreement concerning both parties
the date the agreement was made
the agreed date of conveyance of property under the agreed conditions
A land contract might also be known as a contract/agreement for deed, a land installment contract (see Land Installment Contract Form), or installment sale agreement.
Blank Land Contract Form
accesstitlecompany.com
Simple Land Contract Form
nocbor.com
Land Contract Cancellation Form
highlightrealty.com
Standard Land Contract Form
ree.com
How to Use These Samples
If you understand the basics of a land contract or contract for deed, it is a simple matter of then choosing a form that most closely reflects your circumstances and serves your needs. Download these documents primarily as valuable sources of reference. If you are drafting closely to a chosen sample, make sure you get legal counsel regarding any other terms regarding your specific state laws. Always get an attorney (with or without a real estate license) to look over the form for you.
Bonus template. Usually the onus of property maintenance and repairs, even for leased property, falls on the tenant. In this case, you will want a good Lawn Service Contract Template from our archives to help you out even here.
More in Forms
| | |
| --- | --- |
| 7+ Lawn Service Contract Templates – Free Word, PDF Documents ... | 8+ Investment Contract Templates – Free Word, PDF Documents ... |
| 7+ Land Contract Forms - Free Sample, Example, Format Free ... | 13+ Contract Templates - Free Sample, Example, Format Free ... |
| Sales Contract Template – 12+ Free Word, PDF Documents ... | Lease Contract Template - 7+ Free Word, PDF Documents ... |
| Land Lease Agreement Template - 8+ Free Word, PDF Documents ... | 12+ Buy Sell Agreement Templates – Free Sample, Example ... |