You wouldn't be starting up your own business unless you have some sort of plan now, would you? You'll need to think about things that will determine the success of your business such as what kind of products you're going to sell or who your target market is and how you can appeal to them. You may also Plan Templates
663+ Restaurant Templates in PDF, Word, Excel, PSD, Google Docs, PowerPoint, InDesign, Apple Pages, Google Sheets, Publisher, Apple Numbers, Illustrator, Apple Keynote, Google Slides, HTML5 - START DOWNLOADING
Simple Small Hotel Business Plan Template
Simple Fast Food Restaurant Business Plan Template
Organic Restaurant Business Plan Template
This is especially true if you were to get into the business of owning your own restaurant. In order to make a restaurant function the way you want it to, then that means you're going to have to come up with a business plan. This article will focus on helping you create a business plan template that will ensure the success of your restaurant.
Mexican Restaurant Business Plan Template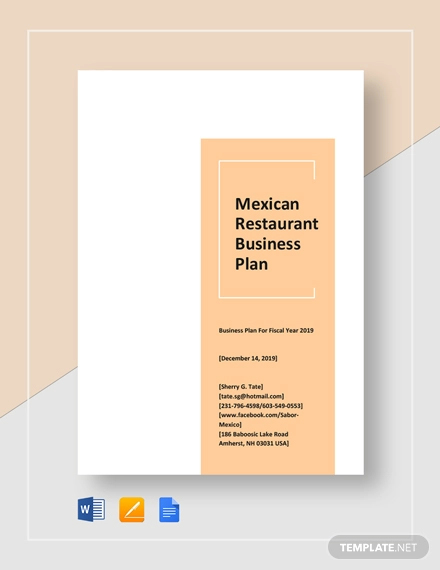 Restaurant Business Plan Template
Restaurant Marketing Plan Template
andrew.cmu.edu
Sample Restaurant Business Plan Template
digitalscholarship.unlv.edu
Restaurant Business Plan Outline
files.franchisedirect.com
Bar Business Plan Template
danielkuhlmantasteswinebar.weebly.com
Fine Dining Restaurant Marketing Plan Template
fthm.uniri.hr
Creating a Restaurant Marketing Plan Template
coastal.edu
Chinese Restaurant Marketing Plan Template
yourbizplan.org
Bar and Restaurant Marketing Plan Template
digitalscholarship.unlv.edu
What's needed in a restaurant business plan?
While a sample business plan is required for starting just about any type of business, there are some things that you're going to have to plan out that are specific to opening up a restaurant. So here's a breakdown of all the things that you're going to need if you're going to create a restaurant business plan:
Company description
This part of the marketing business plan can also be considered as your business analysis section. What this does is tell the reader the legal name, location, and style of restaurant that you're going to create. This is where all the details are listed regarding things such as your local competition, population base, and other information that you have gathered to help you with the startup of your own restaurant.
Executive summary
This is an overview of your entire business. You can think of it as an introduction to the reader with regard to what your restaurant is going to be. Be sure that you make it really interesting so that you'll capture the reader's attention. Here are a couple of things that you're going to have to take note of when writing your executive summary:
You'll want to give the reader (a potential investor) the basics of the business idea that you have in mind. What kind of style does your restaurant have? How do you plan on opening it?
Explain in your summary why you're well-suited to run your own restaurant. This is better if you've had experience working in a restaurant before because most investors trust those who have already tried their hands at actually working in one. However, if you've never had any kind of experience, then you'll need to sell them on the idea that despite you having never worked in the restaurant industry before, you're still the perfect type of person to open up and manage a new restaurant.
Market analysis
This is the part of the business plan that can also be referred to as the marketing strategy. There are three parts of the marketing analysis and these are:
Competition. You're going to have to find out just who exactly you're up against. Many new restaurant owners have made the mistake that people are going to prefer their restaurant over others in their area. These restaurants already have their own customer base, so taking away those customers are not going to be easy. You'll have to gather as much information as you can such as the type of menu they have for their restaurant, the number of hours that they operate, and the prices of the items that they serve. Once you have gathered all of this data, you're going to have to write a paragraph that states how you're going to compete with these businesses that have already established themselves.
Marketing. What kind of methods are you planning on using to promote your new business? How are you going to get your target audience interested enough to actually come and try out your new restaurant? You'll need to know what's going to set you apart from the rest of the competition by placing it within your simple business plan. You can come up with great ideas such as giving the adults a free dessert during a certain day of the week. Then once you've thought of the idea, you must then put it in writing in the most detailed way possible.
Industry. This is the part where you point out the type of people that your restaurant would be primarily catering proposal to. Is your restaurant mostly focused on serving those with large families? Is it trying to reach out to teenagers? Explain your customer base and why they're going to flock to your restaurant and not to that of your competitors'.
Management and ownership
Who's going to be the person in charge? Are you going to be the restaurant's general manager, head cook, or bartender? If so, then how are you going to go about handling all of your responsibilities? There are a lot of restaurant owners that usually hire someone to run things such as a general dining room manager or a kitchen manager. In this part of the non-profit business plan, you're going to have to explain who does what, as well as provide information on those employees you think are great assets to your restaurant.
Business operation
This is usually referred to as products and services. This is the part of the business plan where you tell the reader the number of hours your restaurant is going to operate and the number of employees that you plan on hiring. This is also where you explain the benefits of your establishment should customers decide to dine in it. A few things you should consider is how convenient your restaurant's location is or if it has enough parking space to accommodate a large number of customers. This is also a good place to explain the close ties you have with restaurant vendor agreements such as food supply companies or local farms. Things like these give you a competitive edge over your competition and will most likely attract potential investors.
Small Restaurant Business Plan Sample
psu.edu
Organic Restaurant Business Plan in PDF
calpoly.edu
Sample Business Plan for a Startup Restaurant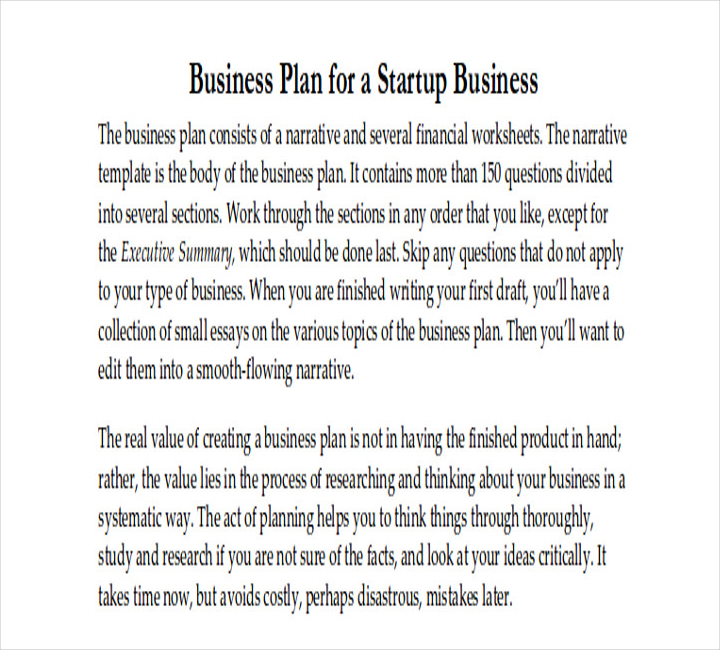 ymcdn.com
Budget for Restaurant Business Plan Example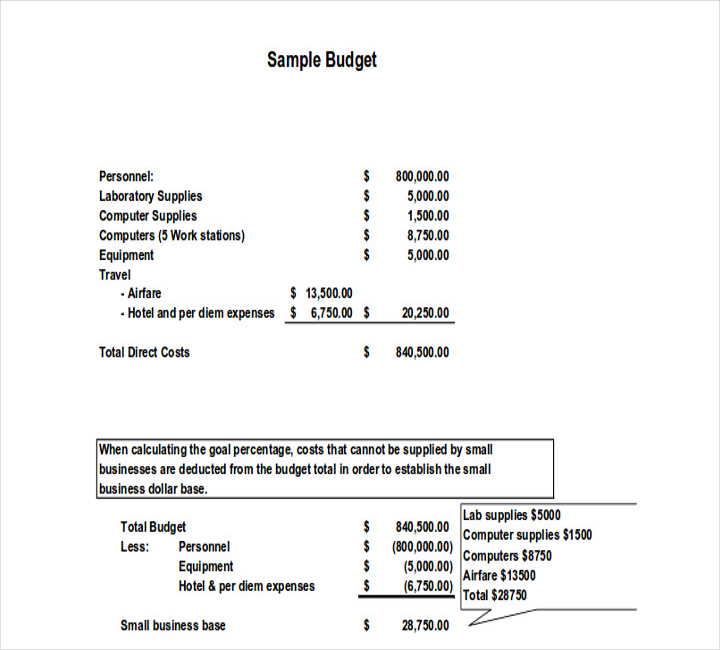 umn.edu
Basic Restaurant Business Plan Sample
fapc.biz
Restaurant Business Plan Template PDF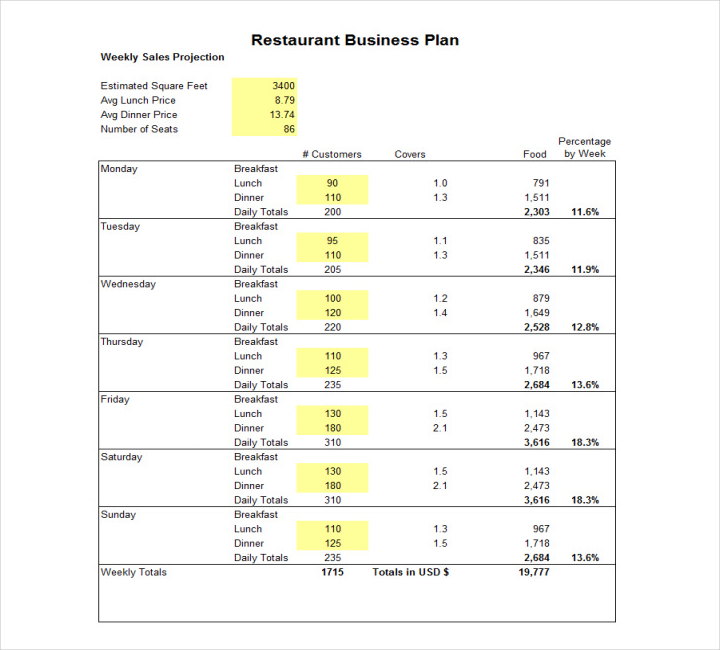 fastbusinessplans.com
Tips for starting a successful restaurant
If you don't have a proper plan, then your restaurant is not going to do as well as you would have hoped. So if you're going to start one, then here are some steps that should help guarantee that you start off your new restaurant with success:
A solid business plan
This should be obvious from the start. You'll need to have a well-made restaurant business plan to help you pave the path to success. It should include the basics such as information regarding marketing analysis, competition research, and solid financial and budgeting projections.
Location
When it comes to restaurants, location is pretty much everything. You'll want a spot that gathers a lot of people, is easily accessible, and has a lot of room for potential growth. However, you also have to make sure that your sample budget can cover the expenses of purchasing such an area. You're going to have to do a lot of thinking on the best location where you should set up shop. You'll have to do research to see if there are any vacant lots where you can start creating your establishment, or if there are any startup incubator spaces for your restaurant to keep initial costs low.
Test your menu
After you've finished deciding what you're going to serve to your customers, you're going to have to test it out to see if they're going to enjoy it. You can try hosting a party and have people come over and test out your newly devised restaurant menu. You may then ask them to provide you with feedback so that you can gain the information that you need. It's also best that you consider having these people provide you with feedback anonymously. This way, they're able to provide you with honest opinions regarding how they feel about the food.
Hire essential help
How many people do you need in order for your restaurant to operate smoothly? Take time when it comes to hiring your staff and figure out what you're going to need. You should consider doing a soft opening so that you'll be able to see how smoothly things run with your current staff. After that, you can make the necessary adjustments and hire the personnel your restaurant lacks.
If you would like to know more about starting a restaurant or how to create your own restaurant business plan, then check out the other informative articles on our site.