In practically any business, there would always be a need for invoices to serve as a record of a given transaction. For a business' part, it would be wise to have basic invoice templates to serve as frameworks for making invoices for particular businesses so as to save time.
Of course, there are some considerations one should keep in mind. While there are proforma invoice template samples that you can use to aid you, you would still have to do much of the work yourself. As such, it would be to your advantage to have some background information to help you use these templates more effectively.
Business Service Invoice
Business Consultant
Business Tax Invoice
Sales Invoice
Simple Business Invoice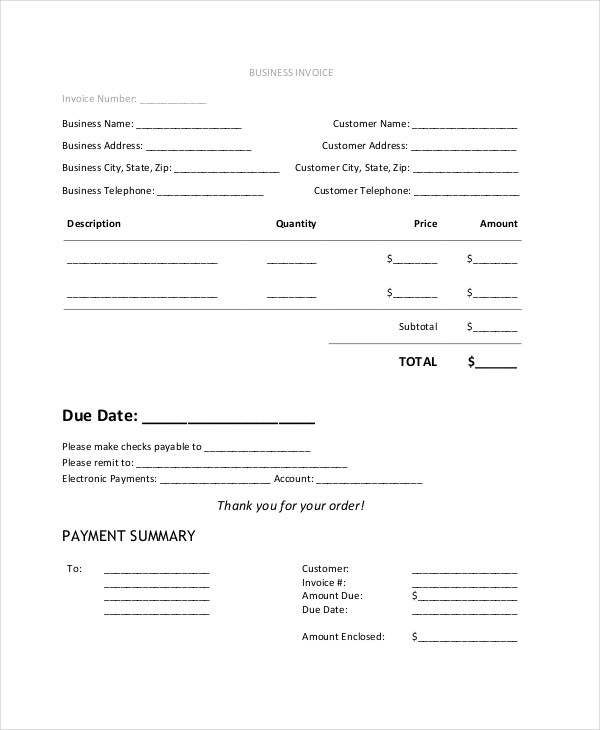 Components of a Business Invoice
There are some parts of a business invoice template that you might expect to find by default, including invoice templates in Excel, such as:
Invoice number, which makes the job of keeping records much easier. The invoice number makes it easier to find particular transactions if you ever have to refer to them in the future.
Personal information, so as to give you a record of the client's personal information.
Item list, so that you can also have a record of what items were purchased.
Total, which gives you more convenience as there is a tally of all the individual prices. These elements should be found even on blank invoice templates for the sake of convenience.
How to Write a Professional Business Invoice
With the help of sample invoice templates, you can make your own business invoice templates, though there are some steps to consider when doing so.
At the top of the page, include the invoice number for that transaction.
Next, include space for the client's personal information.
Place the transaction information in table form, like you might find in estimate invoice templates.
Include the product's name, quantities, prices, etc.
Include a space for a total, so that you can tally everything.
Also be sure to include payment information, including due dates for payment.
Professional Business Invoice
Travel Business Invoice
Invoice for Construction
***
Tips for Making a Business Invoice
When using any printable invoice templates, your work can be made much easier with the help of certain guidelines. Like with other templates, these particular templates can be made much easier to use by adhering to these guidelines. After all, such guidelines are meant to make your work with these templates considerably more convenient.
Always include an invoice number. Professional invoice templates always include a unique invoice number for transactions. This makes it easy to find particular transactions in case of any dispute with your clients.
Always be specific with client information. This is another measure that would make it easier for you to find specific transactions.
Make your invoice table as complete as possible. This makes it easier to specify all the details of a transactions, so that your information is more complete. Naturally, this also serves to make record-keeping easier, as you have all the relevant information at hand.
Always have a total and subtotal. This makes tallying the total cost of a transaction much easier, for both parties in the transaction. This also allows you to add any extra costs such as shipping and taxes.
These are only some of the templates available on this site, so if you should need more, they are readily available.