Due to its importance, there is an ever growing demand for an invoice template. This would make printing the piece of document in a quick and easy manner. You wouldn't have to make your own format, structure and columns. You'd just edit, or copy what the template has and you'd be good to go. You may also see invoice samples.
45+ Accounting Services Templates in PDF, Word, Excel, PSD, Google Docs, InDesign, Apple Pages, Google Sheets, Publisher, Apple Numbers, Illustrator - START DOWNLOADING
Contractor Invoice Template
Independent Contractor Invoice Template
Electrical Contractor Invoice Template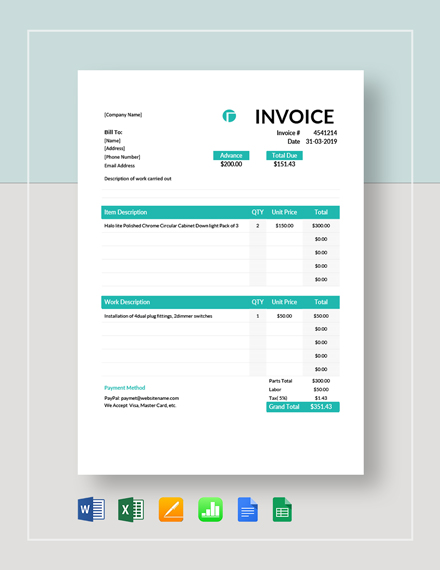 Self Employment Contractor Invoice Template
Customers, companies, businesses and stores, are not the only ones using invoices. With it being a very important document, there is an invoice for almost any kind of financial transaction. One example is a freelance writer invoice, which is mainly used by people who are freelancers and aren't bound to only one employer.
Contractor Billing Invoice
Tax Invoice
Hourly Contractor Invoice
Independent Contractor
How to Write a Free Independent Contractor Invoice Template in Excel
There are numerous ways to write a free independent contractor invoice template. Just like some self-employed invoice templates, the job can be done using a plethora of computer programs. For now, we'll learn how to write these types of invoice templates in Excel:
The date and invoice number should be located at the top, beside your client's name.
Prepare a description about what kind of work was done, along with the price and quantity.
Input the grand total and include comments, who approved it and tax, if there are any.
How to Write an Invoice Template for Contractors
Since an in invoice template for contractors have distinct details, compared to the usual invoices, writing it requires a bit of research. It's important that you take your time to checkout some sample invoice templates. Things like estimate invoice templates, would be truly helpful. When writing one, you should always remember the:
Valuable details like the invoice number, the price, dates, and the client details.
Company details like VAT registration number, address, email address, telephone number, and name.
Payment terms and conditions should also be in the invoice as well, to help clients understand what they agreed to.
Construction Contractor Invoice
Estimate Invoice
General Contractor Invoice Form
Five Unique Bookkeeping Tips For New Contractor Startups
It's quite difficult to start bookkeeping, especially if you're the new kid on the block. However, it is possible and you just need a push in the right direction. You can start by studying some printable invoice templates. To help you further, we also have a couple of tips:
Develop a solid business plan. You won't have a specific direction to achieve your goals if you don't have a plan. Create, analyze and finalize your plan first, before anything else.
Get yourself a bookkeeping software. You're going to need all the help you can get, and that means everything from manpower, business templates, and computer programs.
Concentrate on the cost-effective clients/customers. If done right, bookkeeping can help you decide the most profitable move. You'll get analysis templates and apply the 80/20 rule.
Create multiple checking accounts. It may sound complicated, but it's a very effective strategy. You can make three checking accounts for petty cash, payroll and a primary one.
Back it up. You'd want to back your bookkeeping, similar to how you'd save some freelancer invoice template for later use. This ensures that you'll always have the records with you in case something bad happens.