Job Descriptions
12+ Human Resources Assistant Job Description Templates
The human resource department might be one of the busiest department of the company in terms of their workload every month. Can you just imagine all the employees who need their payrolls, the hiring and employment process, coaching, retention programs, employee activities, and monitoring all of those at the same time?
The implementation of all those activities may be too hard for a Human Resource Manager alone, that is why Human Resource Associates or Human Resource Assistants sample are hired. You may take a look at our Job Description Template for other job functions as this article will already discuss the jobs and duties of a Human Resource Assistant.
Human Resources Assistant Job Description Template
Free HR Assistant Manager Job Description Template
Free Assistant HR Manager Job Description Template
Senior Human Resources Assistant Job Description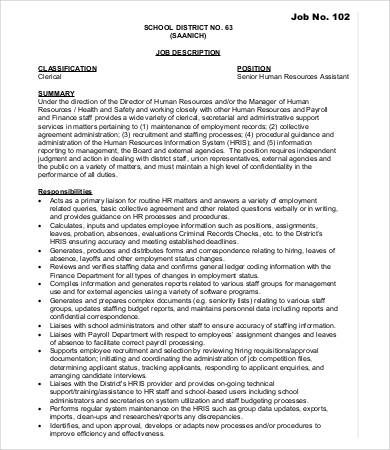 sd63.bc.ca
Assistant Director for Human Resources Job Description
cravencc.edu
Military Human Resources Assistant Job Description
vaforvets.va.gov
Human Resources Assistant Recruiter Job Description
powertochange.com
Army Human Resources Assistant Job Description
inghro.state.id.us
Roles and Responsibilities
A Human Resource Assistant is hired for the main purpose of being able to assist all the human resource activities that a company has. He or she shall provide administrative support to the Human Resource Manager or Director and must be able to assure that all the functions of the department are being done properly and accordingly.
A few of the duties of a Human Resource Assistant include the following:
Ability to answer employee inquiries
Assist employees with their needs concerning the company and its operations
Provide the company employees information about the human resource procedures and other processes related to it
Update employee information in the company system
Help in keeping documents for the assessment of candidates for certain positions and promotions
Filing duties
Bookkeeping
Input employee data including leaves, absences, and others that may be used for references
Calculate the monthly salary that an employee is to receive based on his number of work hours rendered in the company facility and other factors affecting it
Ensure the accuracy of the information about the company's staffing
Encode details to be used for executive meetings
Know the organizational and human resource department schedule of activities
Perform administrative functions
Develop new human resource practices and processes for the approval of the Human Resource Manager or Director
If you want to know more specific items about this line of job that you did not see in this article, you may browse through our offering of downloadable Human Resource Job Description and HR Assistant Job Description samples.
Human Resources Administrative Assistant Job Description
resources.workable.com
Assistant Human Resources Manager Job Description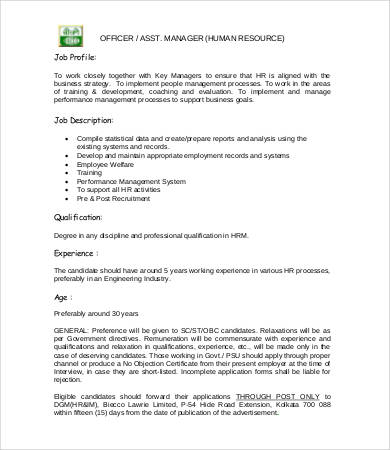 biecco.gov.in
Human Resources Personal Assistant Job Description
mssociety.org.uk
Human Resources Program Assistant Job Description
tripangle.com
Human Resources Payroll Assistant Job Description
vacancies.sa.gov.au
It may be hard at first for any Human Resource Assistant to familiarize him or herself in the process as there are a lot of things to be done. Nonetheless, once all functions have already been done and is repeated for a period of time, it will be easier to do the tasks that are assigned to the individual.
Human Resource Assistants may be lower in terms of position ranking in the organizational structure compared to Human Resource Supervisors, but they also do a lot of hard work. They need to have the skills and abilities of supervisors as well because they will be handling concerns from different people and departments.
If you have already worked for a long time in the human resource industry and you think that you need an advancement in terms of your career, you can apply as a Human Resource Supervisor or Manager. You may take a look at our HR Manager Job Description examples to know additional functions that you need to do should you be hired for the position.
More in Job Descriptions