In the event that a person runs into a problem that has become a major concern, then that person will want to notify specific authoritative figures. The best way that one can go about in reporting these problems is through the use of a complaint letter. This article will teach you all that you need to know in regards to how you should make one. You may also see Letter Samples.
5 Steps for Creating a Complaint Letter
Step 1: Provide Your Basic Information
If you are going to send a complaint letter, then the recipient will want to be able to identify who you are. So what you will need to do is to provide your complete name, along with your address and contact information. That way, the recipient can communicate with you whenever he/she has any questions that will be used to verify the complaint.
Step 2: Greet the Recipient
Much like any kind of letter you end up making, you are going to have to start by greeting the recipient. It is important that you treat this as a business letter., meaning that you will need to keep the tone formal throughout the entire letter. Address the recipient appropriately by putting in "Mr." or "Mrs." followed by his/her last name.
Step 3: Explain the Problem You Wish to Report
Now comes the part where you will need to focus on the body of the letter. Start by providing the issue that you have encountered that forced you to write this letter in the first place. Then, explain as to how this issue has negatively affected you and any others that are involved. Think of this as similar to a problem analysis report where you will need to provide as many details as you can.
Step 4: Provide a Solution
If you are going to point out all of the problems that you have encountered, then you will also need to provide on what you think is the best solution to solve it. Make sure that whatever you come up with is one that benefits everyone that is involved and not just you or one particular side.
Step 5: Close the Letter
Lastly, you will want to close the letter properly. Make sure that you are able to thank the recipient for the time he/she has used to go through your complaint letter. Once that's done, then the last thing that you have to do is to place your complete name and signature at the bottom of the letter.
11+ Complaint Letter Templates
Restaurant Complaint Letter Template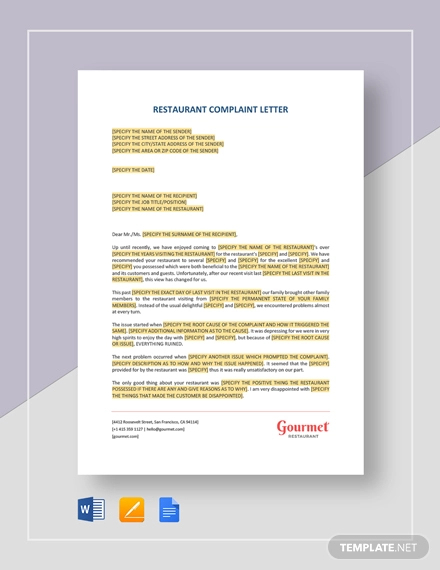 Complaint Letter Against Employee
Let's say that a customer has been encountering numerous problems in dealing with a particular employee of a company. Should that ever happen, then the customer will want to notify the company as to what those problems are. This template will allow you to make a letter which points out the details regarding the employee that the complaint is focused on.
Complaint Letter About Environmental Problems
There are times when companies or organizations conduct activities that may end up harming the environment. In the event that one has any complaints regarding these activities, then one of the first things to normally do is to send a complaint letter. This template will make sure that you are able to make a proper one.
Bad Customer Service Complaint Letter
A company that has bad customer service is more than likely to receive complaints from its customers. Should you find yourself in a situation where you've been disappointed by a company's ability to provide company service, then use this template to help point out exactly what it is that is being done wrong.
Complaint Letter Against an Employee Misconduct
If an employee has not been behaving properly within the workplace and it has caused major problems with the rest of the staff, then that employee must be reported. The one way to do that is by using this template to come up with an effective complaint letter that will provide details on the employee's misconduct.
Complaint Letter to Landlord about Parking
When a landlord and a tenant come to a parking agreement, it usually means that the landlord will have to deal with any parking problems raised by the tenant. If you're one that has managed to encounter these problems, then download this template and use it to come up with the right type of complaint letter.
Complaint Letter Sample to Landlord
As a tenant, you may encounter neighbors that may be too noisy to the point where they have become too disruptive. To make sure that the landlord knows about this problem, you can use this template to file a complaint letter. Use it to provide details on who these neighbors are, where they're located, what they're doing to cause the problem and so on.
Complaint Letter Against Tenant
It is entirely possible that the building you are living on has tenants that have caused problems that have not only affected you but other tenants as well. Should you find yourself in such a situation, then this complaint letter template is definitely what you'll need.
Complaint Letter to HR Template
As an employee, it is your responsibility to report any issues that you have encountered directly to Human Resources. In the event that you have managed to spot problems that affect everyone within the workplace, then you should consider downloading this template to help make the right kind of complaint letter.
Complaint Letter for Poor Service Template
As much as we don't want it to be, it's common for there to be businesses that provide poor service to its customers. If you have ever encountered a business that has low-quality service, then use this complaint letter template to help point out what they can do to improve their situation,
Complaint Letter Against Supervisor
In the event that you are planning to make a complaint letter that focuses on any problems you have with a supervisor, then this is the template for you. Know that you can use Microsoft Word, Google Docs, or Apple Pages to access and open it. Make the necessary changes to ensure that you point out the problems that need to be looked into.
Complaint Letter to Bank Template
It is possible that you may have been dealing with a bank that has done nothing but gives you problems. If you like, you can use this template to make a complaint letter which points out exactly what those problems are, as well as other things such as what is the cause of them and so on.