Letters
18+ Letter Templates in Google Docs
Every day, people communicate with one another in order to exchange information which allows them to whatever tasks that they need to. Whether it's students or employees, these exchanges are important in order for them to know or do whatever they're supposed to.
Table of Content
One of the best ways of ensuring that these people get the information they need is through a letter. This article is going to teach you all that you need to know in order for you to be able to come up with an appropriate letter.
Elements of a Letter
Coming up with a letter of your own isn't a difficult task, but you need to know the basic elements of one if you want it to have all the information that it's supposed to. By knowing what a letter should consist of, you can guarantee that the people who receive it will know who it's from, and what it's for.
So with that being said, here are the basic elements that just about every good letter template will need.
1. Heading: When it comes to any letter, you're always going to need a heading. This is where you share the basic personal information of both the sender and the receiver. Be sure that you are able to include everything from their names, addresses, and their contact details.
2. Date: Never forget to include the date. This will tell the recipient the day in which the letter was made and sent to him/her. Make sure that you include the day, month, and year to ensure that the recipient knows exactly when you made the letter.
3. Salutation: A greeting is something that you must never take for granted. The tone that you set here will define the entire tone of the letter. So depending on what you're going for, it's all going to start with how you plan on greeting the recipient.
4. Body: This would be the main source of information. It's here where you're going to type out all of the information that you wish to share to the recipient. Make sure that you are able to explain everything clearly with every sentence, as well as checking if there are no mistakes to whatever you've typed down.
5. Closing: Make sure to close the letter by thanking the person for his/her time. Also, be sure to point out your name at the end as well as your signature.
18+ Sample Letters in Google Doc
Restaurant Complaint Letter Template
Interview Appointment Letter Template
Advertisement Approval Letter Template
Construction Progress Application Letter Template
Restaurant Application Response Letter Template
Letter to Stockholders Holiday Template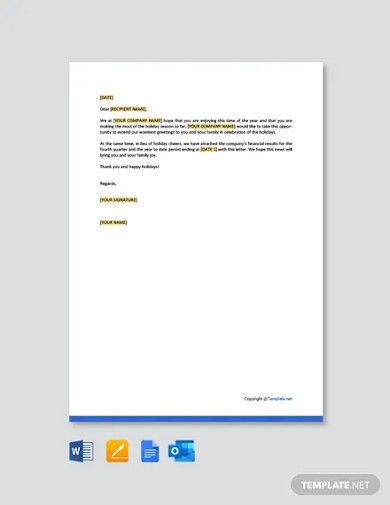 Advertising Sales Letter Template
Employment Offer Letter Template
Letter of Reference Template
Letter of Recommendation for Award Sample
Letter of Intent for Job Example
Letter of Intent to Purchase Land
Letter of Interest Sample
Job Offer Letter Format
Letter of Customer Complaint
Resume Cover Letter Template
Cover Letter Template
How to Make a Letter in Google Doc
Now that you've managed to learn what it is that should be in a letter, the next thing that you're going to have to do is to learn how to make it. You need to make sure that you're able to make the right type of letter for the right situation. For example, if you want to be able to send information regarding your resignation, then you'll obviously want to make a resignation letter. The only way that you'll be able to make one is if you know what it should contain and how you're going to present the information it should have.
Knowing that, here are the steps that will allow you to come up with a proper letter:
1. Access Google Docs: If you're going to make a letter in Google Doc, then you'll obviously need to access it. So you have to make sure that you're able to do the following:
Access your Gmail and click on the "Drive" option.
From there, click on "New" and choose "Google Docs" and click on whether you'd like to start from a blank document or a template.
You will then be directed to a new page, come up with a title that's appropriate for your letter and start typing away.
As you can tell, making a letter in Google Docs is fairly simple. So long as you have Gmail account, then you should be able to access Google Docs without any problems.
2. Provide all of the necessary information: Now that you know how to use Google Docs to make your letter, next is that you have to make the letter itself. Make sure that you are able to do the following:
Be sure that you are able to provide an appropriate heading. This should be at the top of your letter and it must consist of the names, addresses, and contact details of both the recipient and the sender.
Place the date at the top of the heading. Remember that this is something that you must not forget to include as it tells the recipient when you managed to make and send the letter.
Start with an appropriate greeting. Keep the tone formal at all times if you want to make your letter look professional. If it's a letter to a close personal friend or family member and it has nothing to do with anything business-related, then you can be a bit more loose with your greeting.
Proceed to provide all of the details regarding whatever it is that you're trying to share via the letter. Be sure that you explain everything with clear sentences and that you provide necessary pieces of information such as date, time, place, and even the purpose of the letter.
When closing the letter, make sure that you address the recipient one last time by thanking him/her for the taking the time and effort to go through whatever you've written down.
Close the letter with "sincerely" or any similar word along with your complete name and signature at the bottom. The point of the signature is to verify that the letter did in fact come from you so never forget to include it.
Types of Letter
You should know that there are many different letters that you can make. Since there are a number of them, it stands to reason that each of them has their own specific purpose. By knowing even some of the types that you can make, then you should have an idea as to which one you should create that will help you create the one that currently meets your needs. So knowing that, here are a few examples of the types you can make:
Medication Schedule
Production Schedule
Appointment Schedule
Hourly Schedule
Weekly Schedule
Cleaning Schedule
Study Schedule
Workout Schedule
If you would like to learn about the other types of schedules that you can make, then you simply need to go through our site until you are able to get all of the information that you're going to need.
Letter FAQs
Is Google Doc the only way to make a letter?
No. There are many different types of programs that can help you make one, Microsoft Word being the most common and popular among them. However, using Google Docs is one of the more convenient ways of making a letter as you can do this at just about any time and any place so long as you have access to the internet and a Google account.
How do I save my letter?
You don't have to worry about that as any letter made in Google Docs is automatically saved. If something happens that forces you to close Google Docs, then opening it up again will simply allow you to go back to your letter and start from where you left off.
Are there enough templates to help me make any type of letter?
No. There isn't a specific letter template for just about every type that you want to make. If you don't find one that matches your needs, then you simply have to make the letter from scratch.
Remember that making a letter is something that can be easily done, but it's how you make that will determine whether it's well-made or not. So if you want to make sure that you are able to make a polished letter, no matter what format it may be in, then it's best that you make use of all the information that is presented in this article to help you.