Employers who see hardworking employees may just be inclined to help them advance further in their career. One of the best ways that they are able to do so is by sending the higher-ups a promotion recommendation letter. This article will provide you with the information you need to help you make one properly.
If you are going to make a promotion recommendation letter, then you will need to know what goes inside it and how you should go about in making it. To help you out with that, here are a few steps that should help you make a proper promotion recommendation letter:
Step 1: Point Out Your Basic Information
As the person who is going to be making the recommendation letter, you will want to place your basic information in it. You will want to include your complete name, contact details, and address when doing so. This ensures that the recipient of the letter has a way to contact you in the event that there are any questions concerning who you are recommending.
Step 2: Place Information on the Recipient
If you want to make sure that the letter makes its way to the right person, then what you are going to have to do is to place that person's details into the letter. Just make sure that you put his/her complete name and address to guarantee that the letter makes its way to the right hands.
Step 3: Start With a Good Introduction
Next is for you to come up with a proper introduction. You will want to perfectly address the person that you are sending the letter to. Think of this is a formal letter wherein you will want to write down the recipient's last name followed by the appropriate "Mr." or "Mrs.".
Step 4: Present the Person You Are Recommending
When starting the body of your letter, you will want to introduce the employee that you want to recommend for a promotion. First, share that employee's complete name followed by his/her job title. Next is to point out the position that you want him/her to be promoted to. Remember to keep the tone respectful and professional at all times.
Step 5: Explain Why the Employee Should be Promoted
After introducing the employee, next is to explain the number of reasons as to why you think he/she deserves the promotion. Make sure to point out all of the positive traits the employee has that will help secure him/her the position. If there were any hardships, focus on how the employee managed to effectively deal with them.
Step 6: Close the Letter
When you are finally done, the only thing left for you to do is to properly close the letter. So what you are supposed to do here is to thank the recipient for his/her time and ask that he/she informs you about the decision as soon as possible. Place your complete name and signature at the bottom of the letter once you are finished.
Here are a few examples of letter of recommendation for promotion templates that you can choose to download:
There are times where one simply wishes to show off himself or herself to the higherups in the hopes of getting the promotion. If you think that you have the qualifications that allow you to nab it for yourself, then get this template so that you can make the letter which can help you.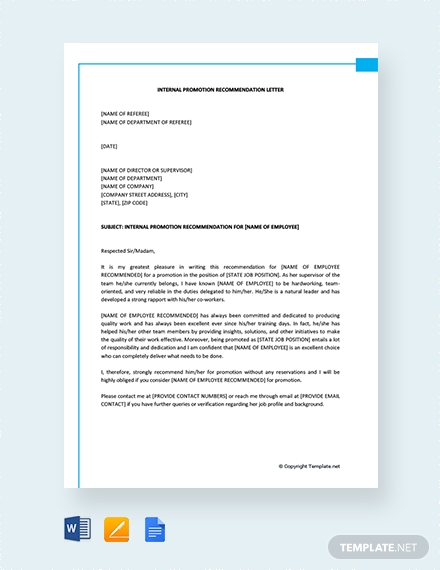 Within a company, an employer may see that a particular employee has performed to the point where he/she has warranted a promotion. So to help out with that, this particular letter template can be used to show who that specific employee is and why the employee has earned the promotion.
Even software engineers need to get promoted at some point in their careers. So if you were asked by one to help recommend him/her for a promotion, then you will want to download this template. Get it so that you can start making a recommendation letter which can point out why a particular software engineer deserves the highly coveted promotion.
Project managers are in charge of overseeing everyone's performance. So if a particular worker has performed well enough for a promotion, then the manager will need to bring up the matter with the higher-ups. This template will help make a letter that the manager can present to discuss the matter of the worker's promotion.
In the event that you are going to make a letter that can help someone get his/her promotion, then this is the template that you will need to download. You can use programs such as Google Docs, Microsoft Word, or Apple Pages to open and then customize the template until it has all of the information you want it to be able to show.
There are times where you may be asked to recommend someone for tenure or promotion. In the event that either or both cases happen, then you will want to download this template. Getting it allows you to create a letter which points out why a particular person deserves either the tenure or promotion.
Should the time come when you want to learn about other types of recommendation letters, then you always have the option to go through our site. It has all of the information you need and it has enough templates that should cover for any of your business-related needs.