Letters
12+ Samples of Retirement Letter Templates – PDF, DOC, Pages, Docs, Outlook
In a company, managers might come across situations wherein specific employees are no longer able to continue working. The reasons that lead situations could be because of old age or an incident that has injured the employee which forces him/her to stop working. In any case, an employee who will have to retire must notify management beforehand. You may also see simple retirement letter templates.
Which is exactly the reason why one must learn how to create retirement letters. With this type of document, any kind of employee who's ready or forced to stop working may notify the company regarding his/her inevitable departure. This article is going to teach you how to create the letter and anything else that you'll need to know.
Free Sample Retirement Letter Template
Free Retirement Letter Example
Free Retirement Farewell Letter
Free Retirement Letter Format
Free Early Retirement Resignation Letter
Free Simple Retirement Letter Template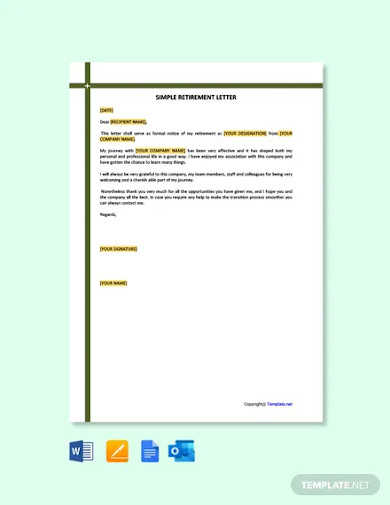 Free Retirement Resignation Letter to Employer
Free Retirement Letter to Employer Template
Sample Retirement/Farewell Letter

findlegalforms.com
Notice of Retirement Letter

osstf11.com
How to Create a Retirement Letter
The main point as to why one would have to create this sample letter is so that he/she may inform management about no longer being able to provide work for the company. Although this is something that a lot of people would rather not do, it's required if they want to make their retirement official.
So if you want to ensure that you're able to create a proper letter which contains all the information one needs to approve of your retirement, then here are the things that you'll need to do:
1. Mention the date in which you are going to retire. If you're going to leave the company, then your employer would want to know the exact date that you plan on doing so. The reason as to why is because while you may think that it's the appropriate time for you to leave, your employer might think otherwise. This way, the two of you may discuss the date in which you may officially retire as there may still be things that have to be taken care of before you may properly exit the company. So while you're writing down the date, you need to think about how much time you should give your employer so that you can take care of any unfinished business. You may also see letter of resignations.
The usual amount would be around two to three weeks as that should be more than enough to take care of anything that the organization still needs you to do before you can make your exit. You may also see formal letter.
2. Provide all of the achievements you have been able to gain throughout your entire tenure in the company. This is something you should do especially if you've stayed in a company for a good number of years. There are bound to be a couple of things that you've achieved which you want to share with your employer. Doing this will show your employer that you have been a valuable asset to the company and that you have done more than enough to earn the approval of your retirement. You may also see professional resignation letters.
Even when you think that you haven't exactly achieved anything that's worth mentioning, you should still put something into the letter. A good example would be stating the many years of service that you've provided the company as well sharing what you have contributed throughout your entire run. You may also see sample retirement resignation letters.
3. Show your employer your appreciation. You were given the opportunity to work at a company and make a living, that alone should be more than enough reason as to why you'll have to express your thanks to your employer. Thanking the person and company that hired you is a good show of respect. If you're going to thank the company, then you'll want to mention all of the experiences you have been able to gain, as well as the opportunities that you were able to take. You may also see retirement resignation letter templates.
Even if you haven't exactly been happy with the company that you work for, it's still best that you show your gratitude to your employer as you don't want to leave any bad blood behind. If you're having a hard time showing your appreciation through the letter, then you can always just say something simple such as "I am thankful for what the company has done for me and the opportunities it has presented me." or anything else similar. You may also see thank you resignation letters.
4. Write down your contact information into the letter. During the entire transition period, your employer might run into a couple of problems that he/she will need you to help in dealing with. This would mean that he/she will require your contact information so that the two of you can communicate at any given point of time. Which is exactly the reason why it's very important that you put in your contact details into the letter. When you're writing it down, be sure that you provide everything from the phone number, home number, email address and just about anyway your employer can contact you.
You're going to have to do this because a time may come where your employer will need to inform you that there are certain matters regarding your retirement that only you can deal with, and your employer can only tell you about it if he/she is able to contact you. Because if you don't hand out any means of how your employer can reach you, then there's a huge chance that your retirement could be postponed. You may aslo see sample personal resignation letters.
5. Send the letter to both your employer and to the people at Human Resources. If you have already written down everything that the letter needs, then the next thing that you are going to have to do is create copies of it. One copy you'll need to hand over to your employer, the other you'll need to give to Human Resources. The reason as to why you'll need to hand this over to the people at HR is because you have to ensure that they have a record of your retirement letter.
There are times where one's retirement has to be verified in order for the transition to go smoothly, and providing Human Resources with the letter can definitely help ensure that everything happens without undergoing problems. Also, this will also help you avoid any issues when it comes to receiving your benefits as you transition into your retirement. You may also see resignation letter word templates.
In the event that you plan on sending your retirement letter via email, then you'll need to come up with a good subject line. The point of the subject line is so that your employer will have an idea as to what the contents of the letter are going to be without even having to open it. So as you're creating the letter, the subject line can be something like "Retirement – Last name and a First name" or just about anything else that's similar; just remember that you point out clearly that it concerns your retirement. Also, don't forget to put in any other means of contact so that your employer can still reach you if you aren't able to access your email.
Retirement Incentive Resignation Letter

decaturea.org
Sample Retirement Notification

wpengine.netdna-cdn.com
How to Give Your Employer Notice Before Your Departure
Before you can retire, you'll have to notify your employer that you're going to do so. There are those that find this difficult as they have no clue how to break it to their boss. This doesn't have to be much of a problem though.
So here are steps that will help you properly notify your employer before your departure.
1. Before you tell your employer that you're going to retire, you'll need to have a good understanding of the company policies regarding the retirement procedure. Whether you're leaving the company because you want to or not, you'll need to know that there are certain rules and regulations that you'll need to do so in order to make a proper exit. Which is exactly the reason why you'll need to learn these policies so that the transition process can go as smoothly as possible. Also, knowing ahead of time will definitely be a lot of help in terms of knowing what you're going to have to do or prepare during the retirement process.
2. Be sure that you're able to have a one-on-one meeting with your employer. The best way to notify your employer is by talking with him/her in person. While the letter is one way for you to tell him/her, it's just a formality that reiterates everything that you and your employer have already discussed during your particular meeting. So if you plan on talking with your employer, you'll need to make sure that he/she is available and that the two of you have the discussion in a private area. This way, you can guarantee that the two of you have enough time to talk about your retirement, and so that you can discuss all matters openly with one another without the fear of anyone listening in. You may also see funny resignation letters.
3. Be sure that you give your employer more than enough time to find your replacement before your departure. This basically means that you'll need to give him/her notice at least 2-3 weeks ahead of time. While this has already been discussed earlier, it's important that you remember this because it'll definitely help out your employer a lot. He/she will a good amount of time to find your replacement so that the company won't suffer from having a position being left unfilled. This is especially true if the position you once held is one that's considered as high within a particular organization. You may also see resignation letter formats.
4. Discuss the possibilities of you providing the company part-time work or whatever you can do to help with the transition period. If you would like to continue your association with the company on a limited basis, then you always have the option to bring it up to management. If there's any way you can help them, then you may decide to do so. However, just make sure that it doesn't eat too much of your time or that what you're tasked to do is something that isn't too taxing. There's a good reason as to why you're retiring and you don't want to keep working in a manner that will make your condition worse.
5. Remember that you'll need to be gracious about your exit. Retiring is basically the same as you handing out a resignation letter for leaving the company for just about any other type of reason. So what you'll need to do is keep a positive tone on your letter all throughout, while at the same time remaining professional. Thank the employer for the experiences that you've gained and resist to bring up anything that may have upset you during your entire stay with the company; that's something which you give during your exit interview.
In the event that you would like to learn more regarding how you should go about in creating your retirement letter or anything related to the topic, you should definitely consider going through our site. We might just have the articles you need that contain the information that's able to help you and your business out. You may also see retail resignation letters.
More in Letters