Letters
10+ Sponsorship Request Letter Templates in MS Word | Pages, Docs, Outlook, PDF
An event would not survive without sponsorship. This is one of the driving factors for funding and for the event organizers to pull off the event and make it successful. For sponsorships, event organizers call different companies and propose a scheme on how to get funds and do some business favors for them in return. For doing that, a sample sponsorship request letter needs to be written down.
A sponsorship letter contains the breakdown of expenses for the event. It must also convince the business owners why your event deserves the funding it needs. A sponsorship letter is an outline of the benefits the business owner can get in your event.
If you plan on writing a sponsorship request letter template, take a look at some of our templates for references.
Sponsorship Request Letter Template
Free Sponsorship Request Letter For Student
Sponsorship Request Letter for Event Template
Personal Sponsorship Request Letter Template
Free Sports Sponsorship Request Letter Template
Free Food Sponsorship Request Letter Template
Corporate Sponsorship Request Letter Template
Request for Sponsorship Letter Template
Event Request for Sponsorship Letter Template

sourcetemplate.com
Sample Non-Profit Letter for Request Sponsorship

sbc.edu.hk
How to Write a Sponsorship Request Letter
The fine line between acceptance and rejection of your sponsorship request letter in pdf can be very blurry. It depends on how you write your letter. While writing this kind of letter, some steps need to be followed.
1. List the Goals You Want to Achieve
In the letter, you need to be very specific about the goals that you want to achieve. Explain to your sponsors why you need to achieve those smart goals. A very vague set of goals might lead to the rejection of your request. State what you want to do and how you are going to do it. You also need to convince the business owners why your event is worth spending their time and money on. If your goals are backed by passionate explanations, business owners might consider your request.
2. List of the Prospect Sponsors
Now that you have the goals that you want to achieve, you have to make a list of the possible businesses that can sponsor your event. Out of all the sample businesses you know, pick those you have a personal connection with. This can help you in asking for sponsorship easier as they may have a reason to support your cause. Do not just go for big businesses but try reaching out to small ones as well. Some are willing to give while you give them what they deserve in return. The list of prospective sponsors should cover huge and small-scale businesses. You may also see examples of sponsorship letters.
Aside from listing down the sponsors, try putting yourself in their situation. This will help you in writing your request letter well since you know the perspectives of both sides. It is a big help in balancing what you will write in the letter later on. You may also see sample donation request letters.
Do not forget to do some research on your prospective sponsors. Through this, you can determine who can give you more money for your event. But it does not mean that small businesses are incapable of giving money. It's your call on who you choose to send your request letter to after it is written. You also have to look for the names of the recipients of your sample letter.
3. Write a Good Introduction
For the first part of the letter, write a good introduction that gets the interest of the business owners. Tell them about your company, what it does, the causes it fights for, and some background on the event. Sponsorship letters need to be straightforward and focused. Include the company's accomplishments so sponsors won't think twice about spending money for you. Tell them how the money will be used, and why are you seeking for sponsorship in the succeeding paragraphs. You may also see formal letter.
4. Provide an Outline of the Benefits
After the introduction, give the sponsors the outline of benefits that they can get from you. Seeking for sponsorship is a two-way relationship between you and the sponsor. You get something from them and they get something from you. Benefits such as promotion and advertisement of their product is a good option to get the approval you need. A television commercial is also a good way to seal the deal. Give them options on what they can get from it. You may also see appointment request letters.
Along with the outline is the supporting evidence for each of the numbers that you have specified in the letter. This will make the sponsors think that they are dealing with the right people. Include your contact number and the number of days of your expected response. Give a little background on the event as well for the sponsors to be enlightened. You may also see blank letter templates.
5. Proofread the Letter
Before sending the letter, do the last run-through on the spelling, grammar and structure of the whole content. Minor glitches in the letter can ruin your hopes of getting a sponsor. Use simple language and a formal tone when writing. Always proofread what you write to avoid minimal mistakes. You may also see transfer request letters.
6. Follow up the Letter
Do not forget to make some follow-up on the letter that you have sent. You would know who approved your sponsorship and who rejected it, even if it hurts. Your event may end up as nothing to the sponsors. It's better to know the truth ahead of time than wait for the answers to come. You may also see requesting a promotion. You may also see Retirement Letter.
Free Basic Donation Sponsorship Proposal Letter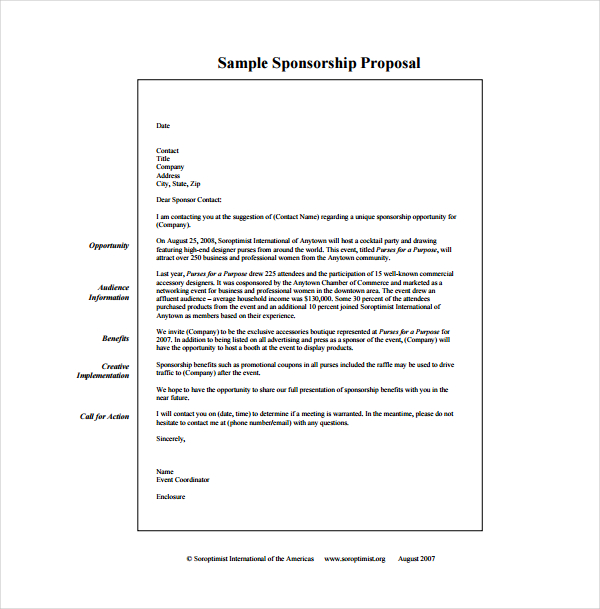 soroptimist.org
Why Ask for Sponsorships?
As we all know, event sponsorships bring in the funds an event needs to make it work. In return, their products and services get the promotion it needs. Here are other reasons why sponsorships are very important for an event:
1. Improving the Brand Image
Sponsorships are a good way of improving the image of a brand to the public. Companies sponsor events that cater to the target market for their product to be able to sell themselves to the people. It helps a lot in how they are perceived by their audiences. With positive reception, the customer's attitude toward the brand shift from bad to good. Making a product's mark on a person's mind is psychological warfare companies are working so hard for. You may also see transfer letter templates in google docs.
2. Boost Sales and Reach
Companies aim to sell their products to people faster and more effectively. Aside from making advertisements for television, radio, print, and the internet, companies sponsor events to have their products seen and bought by people. This increases the number of sales. Along with this, products are improvised in the hopes of boosting sales. Sponsorships are also a great tool for increasing the reach and awareness of the product. The most common method is the word of mouth, which is proven to be an effective marketing tool. The product becomes more visible to the people and leads to an increase in sample sales. And with visibility, means the product can be seen in print, television, and in the digital realm.
3. Build More Connections
Sponsorships help companies in building more connections with the people and other businesses as well. As their products gain more interest on the people, they get to talk to them about how it works and other stuff. They showcase themselves and the product without going beyond the line. They have to be helpful to potential customers so they can be called again in the future. You may also see letter format templates.
4. Have an Edge Over Competitors.
Competition is commonplace in business. For the product to stand out, it has to have an edge over its competitors. Find the unique quality of your product and showcase it as its best asset. This is a surefire way in picking people's interest in your product above anything else. You may also see printable letter templates.
Asking for sponsorship does not only mean reaching out and getting it. It also means that they get the maximum attention as the event goes on and talking to them after the event is over. Asking for sponsorship requires confidence and the spunk to get it in many ways. You may also see simple Basic letter templates.
More in Letters